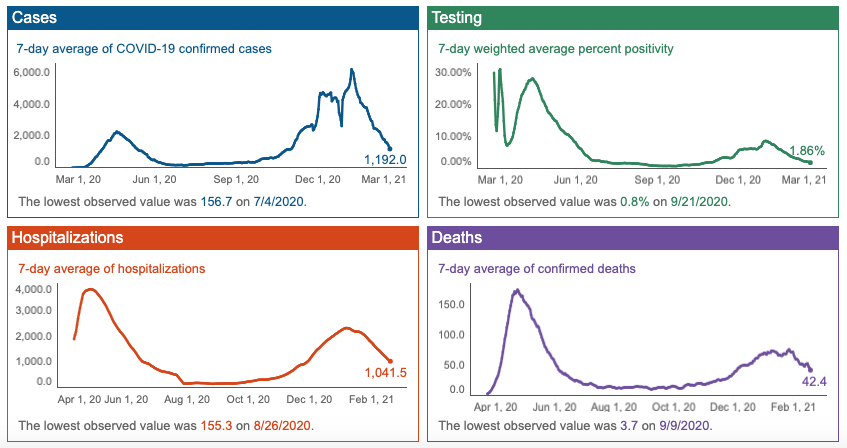 BY THE NUMBERS: Berkshire County saw two new COVID-19 deaths over the weekend, for a new total of 250 deaths, with the confirmed case count up 22 on Saturday and Sunday to 4,806, the state Department of Public Health said. A week ago, the death total was 242 and the case total was 4,730. A month ago, the death total was 192 and the case total was 4,161.
The DPH said 46 new deaths were reported in Massachusetts, pushing the statewide total to 15,508. Confirmed cases rose 1,316 to 539,644.
NUMBER OF ACTIVE CASES: 35,874 statewide, down from 45,916 a week ago.
COVID-19 WEBSITE AND INFOLINE: For information on vaccines and to schedule an appointment, when you are eligible, visit getvaccinatedberkshires.org. The city of Pittsfield is providing access by phone to regular updates about access to the novel coronavirus vaccine in the city and in Berkshire County. A recorded message is posted at 413-449-5575.
VACCINE INFORMATION: A statewide call center is available to help people schedule vaccination appointments. The hours for the call line are 8:30 a.m. to 5 p.m. on weekdays. The helpline is available by calling 211. People in the Berkshires can continue to use local telephone numbers as well, calling councils on aging. Here is a recap of those numbers: Williamstown: 413-458-8250; Adams: 413-743-8333; North Adams: 413-662-3125; Sheffield: 413-229-7037; Pittsfield: 413-499-9346; Great Barrington: 413-528-1881; Lee: 413-243-5545; Dalton: 413-684-2000; Lenox: 413-637-4787; Cheshire: 413-743-9719.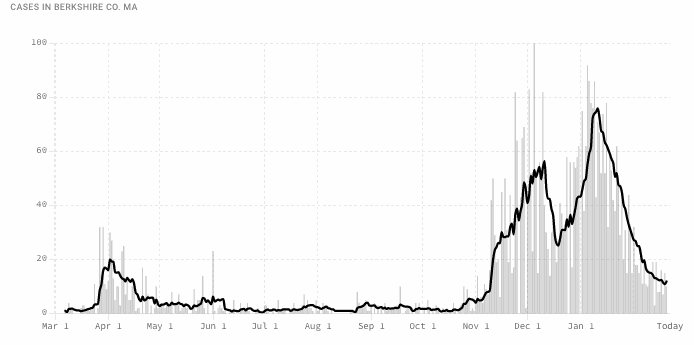 WESTERN MASS. PICTURE: The case totals (and death counts) in neighboring counties: Franklin, up 7 to 1,953 (100); Hampshire, up 39 to 7,104 (255); Hampden, up 100 to 40,740 (up 4 to 1,305).
HOSPITAL CHECK: Statewide, 927 people are hospitalized, down from 1,125 a week ago. Of those hospitalized, 234 are in ICU and 153 are on ventilators.
LEADING INDICATORS: The DPH provides the following statistics as indicators in the fight against coronavirus infection. Sunday's figures:
– Seven-day average of new confirmed cases: 1,192. That is down from the recent high of 6,239 on Jan. 8.
– Seven-day weighted average of positive test rate: 1.86. That is down from the recent high of 8.7 on Jan. 1.
– Seven-day average of number of COVID-19 patients in hospitals: 1,041.5. That is down from the recent high of 2,336 on Jan. 9.
– Seven-day average of COVID-19 deaths: 42.4. That is down from the recent high of 73.9 on Jan. 11.
INFORMATION ON TESTING: "Stop the Spread" testing sites are open at three Berkshire Health Systems locations. Tests will be conducted for any reason, with the state picking up the cost. To schedule a test, call the toll-free hotline, 855-262-5465, from 8 a.m. to 4:30 p.m. daily.
Locations are: Pittsfield, 505 East St., St Luke's Square, adjacent to BHS Urgent Care Center; North Adams, 98 Church St., next to the city library; Great Barrington: 475 Main St. Tests can also be obtained through CVS by filling out a form online.
JOIN US: Quality local journalism, like you find in The Checkup, needs your support. When you and your family subscribe to us, that's the fuel we need to keep reporting the essential news you want. Join us. Help us build our community. We are offering a 30-day free trial to readers of The Checkup.
How can we make The Checkup better or more informative? Email us at lparnass@berkshireeagle.com.