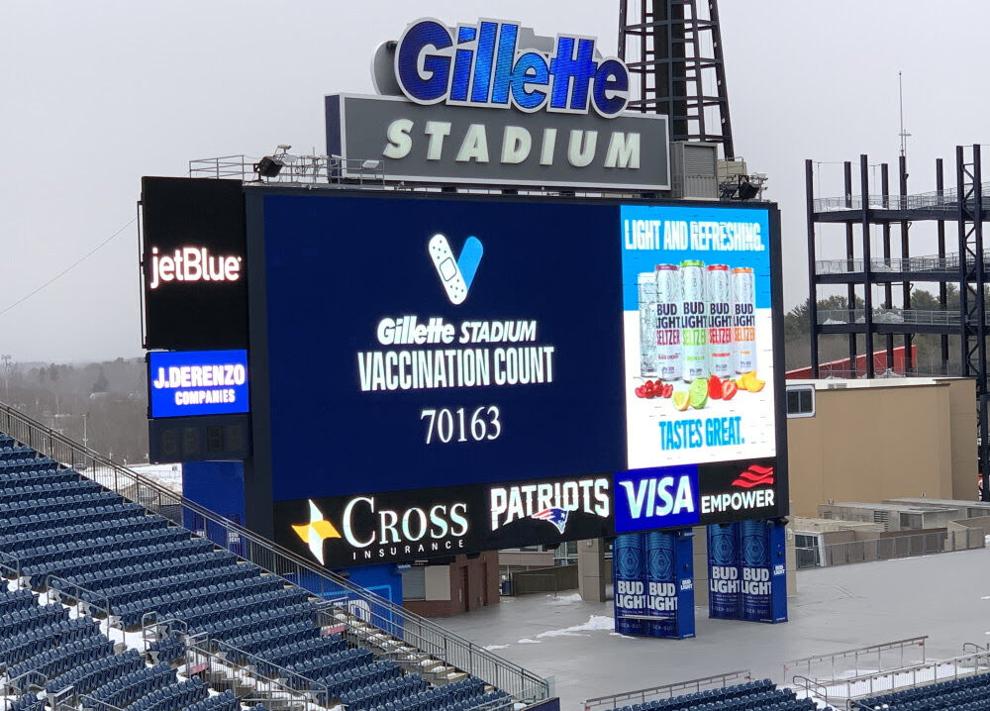 BERKSHIRE NUMBERS GOOD: Berkshire County has both the lowest positive test rate for COVID-19 among all state counties and the lowest infection rate.
According to the nonprofit COVIDACTNOW, Berkshire County is showing a 0.8 percent positive test rate. That means that for every 1,000 COVID-19 tests, just eight are coming back positive. The rate is well below even the next-best county on that same measure, Hampshire, with a 1.3 percent positive test rate. Others doing well are Middlesex and Suffolk (1.4 percent) and Franklin (1.5 percent.) The counties with the highest positive rates are Nantucket (4.7), Bristol (4.5), Plymouth and Hampden (3.7) and Essex (3.4).
On infection rates, the group said Monday that Berkshire County is showing a 0.74 percent transmission rate. Any rate below 1 shows the virus to be in decline rather than advancing. The other counties with relatively low infection rates are Franklin (0.75), Bristol and Plymouth (0.79) and Worcester (0.8). The highest is Hampshire County (0.91), likely due to tests coming out of the University of Massachusetts Amherst.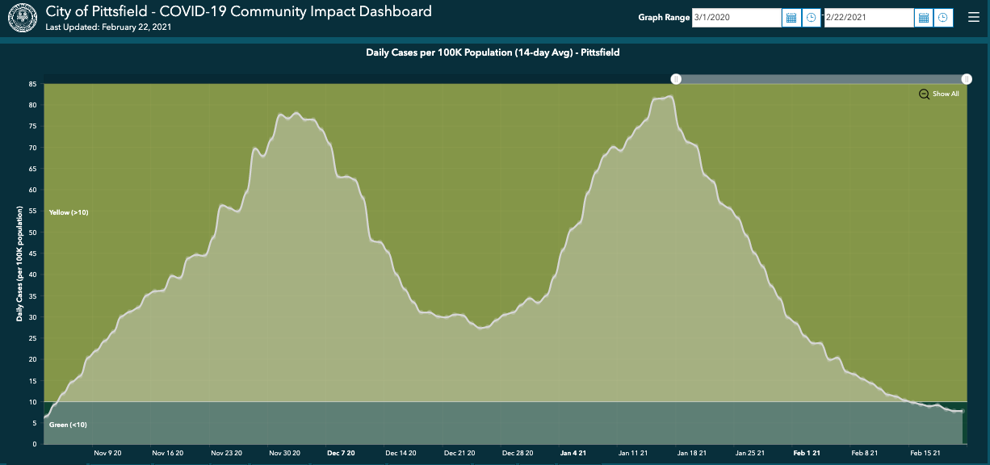 BY THE NUMBERS: Berkshire County saw one new COVID-19 death as of Monday, for a new total of 251 deaths, with the confirmed case count up eight to 4,814, the state Department of Public Health said. A week ago, the death total was 242 and the case total was 4,738. A month ago, the death total was 180 and the case total was 4,223.
The DPH said 26 new deaths were reported in Massachusetts, pushing the statewide total to 15,534. Confirmed cases rose 1,150 to 540,794.
MILESTONE PASSED: The nation's COVID-19 death toll exceeded half a million on Monday. President Biden asked for everyone to observe a moment of silence at sunset on Monday. He issued a proclamation, saying: "As of this week during the dark winter of the COVID-19 pandemic, more than 500,000 Americans have now died from the virus. That is more Americans who have died in a single year of this pandemic than in World War I, World War II, and the Vietnam War combined. On this solemn occasion, we reflect on their loss and on their loved ones left behind. We, as a Nation, must remember them so we can begin to heal, to unite, and find purpose as one Nation to defeat this pandemic."
VACCINE STATS: In Berkshire County, frustration continued to build as local vaccination centers held off on scheduling new appointments for the big new group of those eligible, due to limits on vaccine supplies from the state. But overall, the numbers of successful vaccinations continues to grow. More than a million residents of the state have now received at least their first dose of a COVID-19 vaccine.
Monday's vaccine report from the Department of Public Health showed that 399,638 people have now received both doses of their COVID-19 vaccine, and 1,044,210 have received at least one dose. The combined total 1.44 million doses administered is up from 1.14 million a week ago.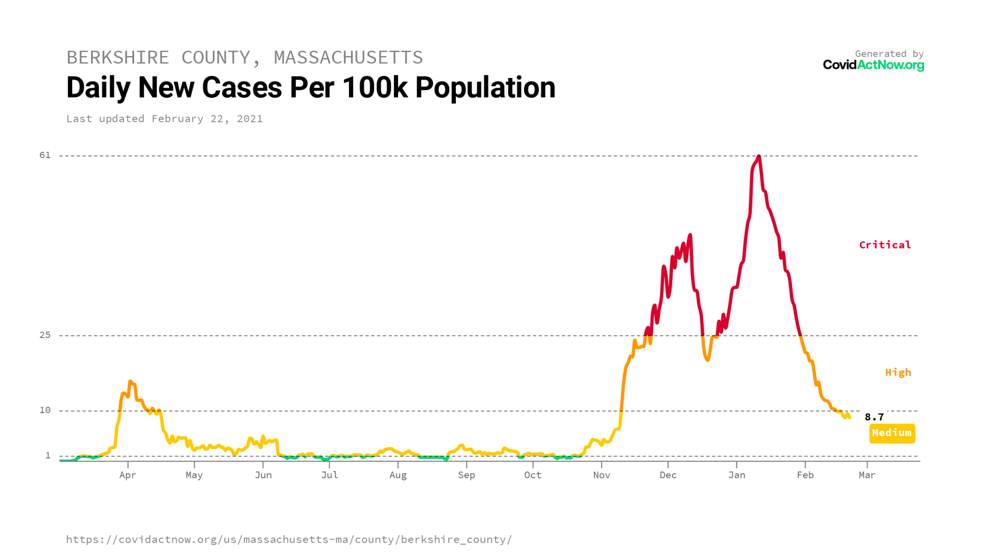 NUMBER OF ACTIVE CASES: 35,660 statewide, down from 45,833 a week ago; 246 in Pittsfield (down from 485 a week ago); 295 Pittsfield households are in quarantine, down from 357 a week ago.
JUST THE FAQS: The Berkshire Eagle is regularly updating answers to frequently asked questions about access to the COVID-19 vaccine. Visit the Vax FAQs in the Coronavirus section on the home page at berkshireeagle.com.
COVID-19 WEBSITE AND INFOLINE: For information on vaccines and to schedule an appointment, when you are eligible, visit getvaccinatedberkshires.org.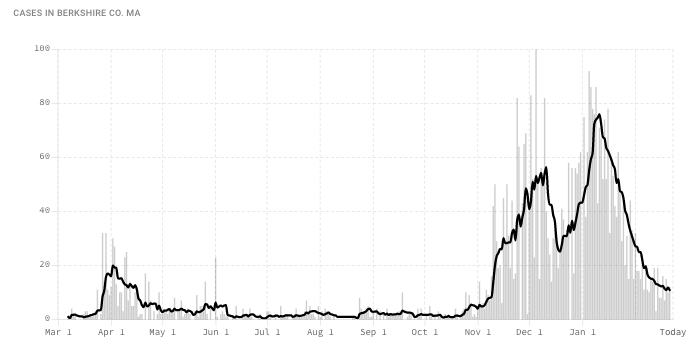 WESTERN MASS. PICTURE: The case totals (and death counts) in neighboring counties: Franklin, up 2 to 1,955 (100); Hampshire, up 13 to 7,117 (up 1 to 256); Hampden, up 119 to 40,859 (up 3 to 1,308).
HOSPITAL CHECK: Berkshire Medical Center reported caring for six COVID-19 patients, down from 17 from a week ago and 34 a month ago. Statewide, 888 people are hospitalized. Of those hospitalized, 229 are in ICU and 140 are on ventilators.
WIDER WORLD OF COVID: Global cases top 111,642,024, with 2,471,801 deaths, according to data provided by Johns Hopkins University. The U.S. has seen at least 28,174,133 cases and 500,071 deaths.
LEADING INDICATORS: The DPH provides the following statistics as indicators in the fight against coronavirus infection. Monday's figures:
– Seven-day average of new confirmed cases: 1,245. That is down from the recent high of 6,239 on Jan. 8.
– Seven-day weighted average of positive test rate: 1.9. That is down from the recent high of 8.7 on Jan. 1.
– Seven-day average of number of COVID-19 patients in hospitals: 1,012. That is down from the recent high of 2,336 on Jan. 9.
– Seven-day average of COVID-19 deaths: 40.9. That is down from the recent high of 73.9 on Jan. 11.
MONEY FOR NOTHING? The State House News Service obtained payment records for the company that provided the online appointment platform for COVID-19 vaccinations that crashed last week. Here's their report, by Colin A. Young:
The Maryland-based software company whose technology played a role in the state's COVID-19 vaccine scheduling system fiasco last week appears to have cost Massachusetts almost half a million dollars, according to the Baker administration. PrepMod, an offshoot of the Maryland Partnership For Prevention and Multi-State Partnership for Prevention that says it is "the state's biggest online appointment vendor," accepted responsibility for the chaos that ensued when about one million more people became eligible to get a vaccine appointment last Thursday, though other systems are believed to have failed as well.
The state's COVID-19 Command Center provided a bundle of documents related to the contract with PrepMod to the News Service on Monday afternoon. A purchase order dated Aug. 21, 2020, billed the Department of Public Health's Bureau of Infectious Disease and Laboratory Sciences $318,000 for "Enterprise Resource Planning Bundle and Services and Support." A separate document labeled as a quote indicates that the "Enterprise Resource Planning" bundle includes PrepMod, a clinic management system and an online consent form, and that the price tag includes a "statewide, lifetime user license" and one year of technical support. A subsequent purchase order, this one dated Jan. 7, bills the BIDLS a total of $120,531.
That total is split between $43,086 for a "Maryland Partnership for Prevention Project Manager" and $77,445 for "Maryland Partnership for Prevention Senior Development." In each case, the payments appear to be for three months of work.
In sum, the two purchase orders detail $438,531 worth of costs due to PrepMod or its parent organizations.
INFORMATION ON TESTING: "Stop the Spread" testing sites are open at three Berkshire Health Systems locations. Tests will be conducted for any reason, with the state picking up the cost. To schedule a test, call the toll-free hotline, 855-262-5465, from 8 a.m. to 4:30 p.m. daily.
Locations are: Pittsfield, 505 East St., St Luke's Square, adjacent to BHS Urgent Care Center; North Adams, 98 Church St., next to the city library; Great Barrington: 475 Main St. Tests can also be obtained through CVS by filling out a form online.
JOIN US: Quality local journalism, like you find in The Checkup, needs your support. When you and your family subscribe to us, that's the fuel we need to keep reporting the essential news you want. Join us. Help us build our community. We are offering a 30-day free trial to readers of The Checkup.
How can we make The Checkup better or more informative? Email us at lparnass@berkshireeagle.com.