THE WAIT FOR VACCINE ACCESS: The state reported Tuesday that since Feb. 17, about a week ago, the state has received 144,345 doses of vaccine. That's not nearly enough to accelerate vaccinations for all the people who became eligible last Thursday for Phase Two shots. Those who have been trying to schedule appointments know this all too well. Local officials say people should keep checking the websites for appointment times. Once vaccine deliveries are assured, new appointments will be made available.

As of Tuesday, 1,729,550 doses had been sent to Massachusetts, a state of 6.89 million people.
Compared to other states, Massachusetts has been doing relatively well, though that will not mollify the thousands who have lived at their computers, hoping to pounce on an available vaccination appointment. The crush is due in part to the state's move last week to open its eligibility criteria to include more of the population — those 65 to 74 and people with medical conditions that put them more at risk.
As of Tuesday, 1,061,335 people in Massachusetts had received the first dose of a COVID-19 vaccine — up by more than 17,000 from Monday — and 414,941 people had received both doses and are fully vaccinated against COVID-19, up by about 15,300 from Monday, DPH said. Massachusetts has administered about 85.4 percent of the 1,729,550 vaccine doses that have been shipped here, according to the DPH.
JOIN US ON ZOOM THIS THURSDAY: The Berkshire Eagle's Larry Parnass and Francesca Paris will discuss the latest news and updates concerning COVID-19 and the vaccination program in Berkshire County during a live-stream broadcast at noon on Thursday.
The 45-minute program is free and open to the public. Watch online at berkshireeagle.com, facebook.com/berkshire.eagle or register to watch via Zoom at https://tinyurl.com/VaxForum. Only Zoom attendees will be able to submit questions during the live program. Parnass authors The Eagle's Checkup feature, while Paris has been reporting on the vaccination progress in the Berkshires.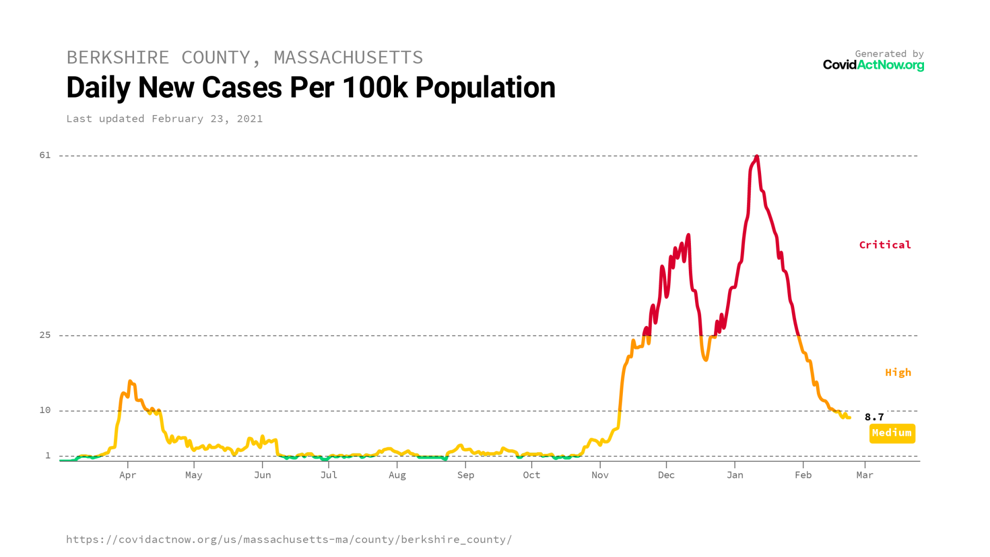 BY THE NUMBERS: Berkshire County saw no new COVID-19 deaths as of Tuesday, leaving the total number of deaths at 251, with the confirmed case count up just 5 to 4,819, the state Department of Public Health said. A week ago, the death total was 243 and the case total was 4,746. A month ago, the death total was 194 and the case total was 4,270.
The DPH said 30 new deaths were reported in Massachusetts, pushing the statewide total to 15,564. Confirmed cases rose 1,114 to 541,908.
NUMBER OF ACTIVE CASES: 33,951 statewide, compared to 92,193 a month ago, when the Christmas outbreak was still in evidence; 246 cases in Pittsfield (down from 356 a week ago); 295 Pittsfield households are in quarantine, down from 364 a week back.
JUST THE FAQS: The Berkshire Eagle is regularly updating answers to frequently asked questions about access to the COVID-19 vaccine. Visit the Vax FAQs in the Coronavirus section on the home page at berkshireeagle.com.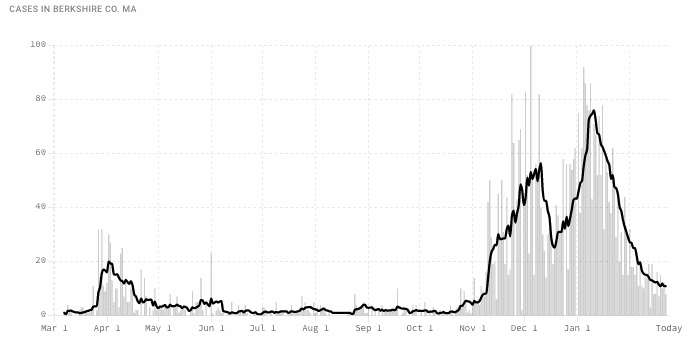 COVID-19 WEBSITE AND INFOLINE: For information on vaccines and to schedule an appointment, when you are eligible, visit getvaccinatedberkshires.org. The city of Pittsfield is providing access by phone to regular updates about access to the novel coronavirus vaccine in the city and in Berkshire County. A recorded message is posted at 413-449-5575.
WESTERN MASS. PICTURE: The case totals (and death counts) in neighboring counties: Franklin, up 2 to 1,957 (100); Hampshire, up 24 to 7,141 (256); Hampden, up 138 to 40,997 (up 3 to 1,311). As that shows, there were just three COVID-19 deaths in all of Western Massachusetts as of Tuesday, one of the lowest numbers in a long time.
HOSPITAL CHECK: Berkshire Medical Center reported caring for 7 COVID-19 patients, down from 14 a week ago and 34 on Jan. 22. Statewide, 879 people are hospitalized, compared to 2,055 a month ago. Of those hospitalized, 225 are in ICU and 147 are on ventilators.
WIDER WORLD OF COVID: Global cases top 111,974,905, with 2,481,140 deaths, according to data provided by Johns Hopkins University. The U.S. has seen at least 28,239,571 cases and 502,005 deaths.
LEADING INDICATORS: The DPH provides the following statistics as indicators in the fight against coronavirus infection. Tuesday's figures:
– Seven-day average of new confirmed cases: 1,182. That is down from the recent high of 6,239 on Jan. 8.
– Seven-day weighted average of positive test rate: 1.89. That is down from the recent high of 8.7 on Jan. 1.
– Seven-day average of number of COVID-19 patients in hospitals: 983. That is down from the recent high of 2,336 on Jan. 9.
– Seven-day average of COVID-19 deaths: 35.7. That is down from the recent high of 73.9 on Jan. 11.
BAKER TO TESTIFY: Gov. Charlie Baker is expected to testify Thursday before the Joint Committee on COVID-19 and Emergency Preparedness. It will be the first hearing convened by the panel.
The State House News Service reports that lawmakers are planning to question Baker about how his administration has handled the rollout of the coronavirus vaccine program, among other topics.
The Centers for Disease Control and Prevention ranks Massachusetts 15th out of 50 for doses administered per capita and 11th for people with at least one dose per capita.
Lawmakers may also quiz Baker about last week's vaccine registration website crash and the decision to stop distributing vaccine to local clinics in favor of high-capacity vaccination sites.
INFORMATION ON TESTING: "Stop the Spread" testing sites are open at three Berkshire Health Systems locations. Tests will be conducted for any reason, with the state picking up the cost. To schedule a test, call the toll-free hotline, 855-262-5465, from 8 a.m. to 4:30 p.m. daily.
Locations are: Pittsfield, 505 East St., St Luke's Square, adjacent to BHS Urgent Care Center; North Adams, 98 Church St., next to the city library; Great Barrington: 475 Main St. Tests can also be obtained through CVS by filling out a form online.
JOIN US: Quality local journalism, like you find in The Checkup, needs your support. When you and your family subscribe to us, that's the fuel we need to keep reporting the essential news you want. Join us. Help us build our community. We are offering a 30-day free trial to readers of The Checkup.
How can we make The Checkup better or more informative? Email us at lparnass@berkshireeagle.com.