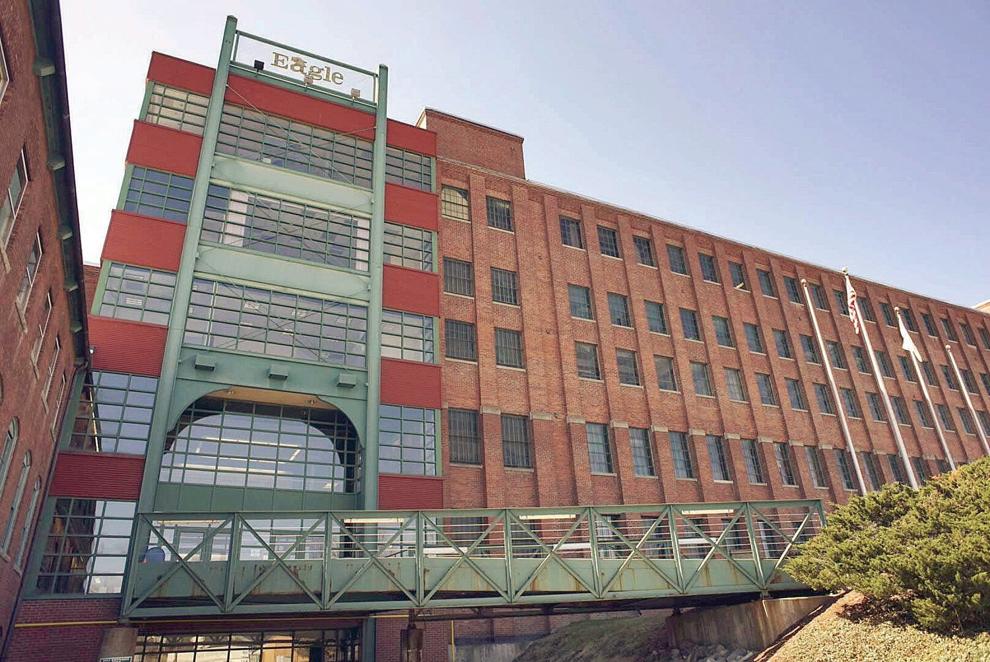 JOIN US FOR A LIVE COVID-19 CONVERSATION THURSDAY: I will join two of my colleagues, reporter Francesca Paris and Executive Editor Kevin Moran, for a live conversation at noon Thursday on several streaming channels. We'll be talking about the current state of COVID-19 in the Berkshires, focusing on the continuing vaccination program. Please consider joining us — and bring your questions.
The 45-minute program is free and open to the public. You can watch online at berkshireeagle.com, facebook.com/berkshire.eagle or register to watch via Zoom at https://tinyurl.com/VaxForum. (Only Zoom attendees will be able to submit questions during the live program.)
I've been the primary author of this daily column since March. Francesca has reported extensively for The Eagle on the vaccination rollout in the Berkshires. We've got a long list of things to brief you about, and will do our best to answer your questions.
BY THE NUMBERS: Berkshire County saw three new COVID-19 deaths as of Wednesday, for a new total of 254 deaths, with the confirmed case count up 16 to 4,835, the state Department of Public Health said. A week ago, the death total was 244 and the case total was 4,762. A month ago, the death total was 195 and the case total was 4,299.
The DPH said 60 new deaths were reported in Massachusetts, pushing the statewide total to 15,624. Confirmed cases rose 1,788 to 543.696.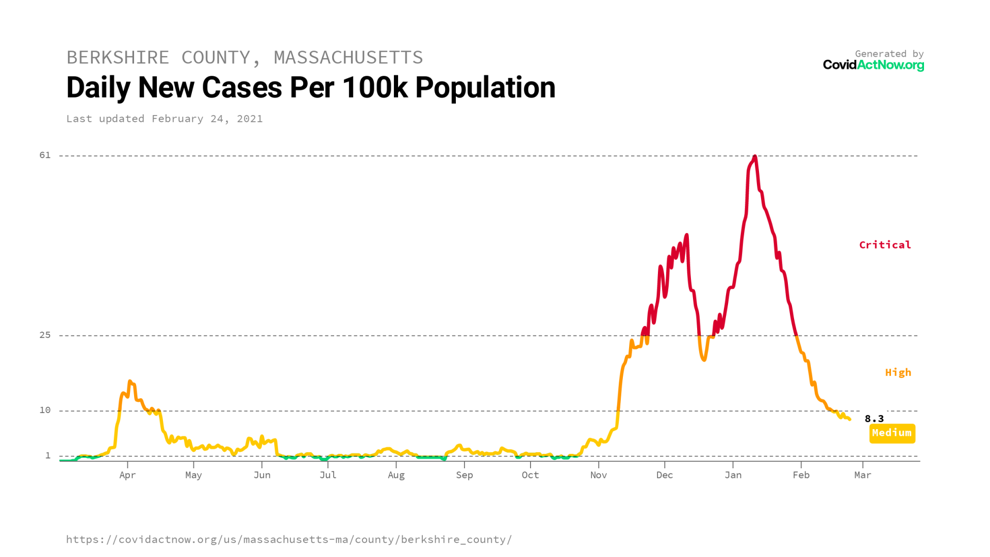 NUMBER OF ACTIVE CASES: 33,332 statewide, down from 85,395 a month ago. As of Monday there were 252 active cases in Pittsfield (compared to 895 a month ago); 295 Pittsfield households are in quarantine, down from 509 a month back.
NOT GETTING CALLS BACK FROM COUNCILS ON AGING? We've gotten comments from Checkup readers who feel frustrated with their efforts to secure help from local councils on aging. Some say that they've reached voicemail accounts that are not accepting messages.
Laura Kittross, who leads the regional vaccination effort, says that for people who have no access to the internet, the councils remain an important part of the picture for people seeking to make appointments for vaccines. She said the councils are working to take information received from callers to schedule vaccinations. Kittross said some councils have backlogs of more than 50 names. In some cases, people who have left messages may not get calls back from the council involved until an appointment has been secured, Kittross said.
Here is a recap of those numbers: Williamstown: 413-458-8250; Adams: 413-743-8333; North Adams: 413-662-3125; Sheffield: 413-229-7037; Pittsfield: 413-499-9346; Great Barrington: 413-528-1881; Lee: 413-243-5545; Dalton: 413-684-2000; Lenox: 413-637-4787; Cheshire: 413-743-9719.
MASS SITE APPOINTMENTS COMING ONLINE: Another 50,000 vaccine appointments at mass vaccination locations in the eastern part of the state are scheduled to become available for online booking Thursday. Gov. Charlie Baker said Wednesday that improvements have been made to the appointments website to improve its ability to withstand large numbers of visits, including the addition of what's known as a digital waiting room. A week ago, the site crashed on the day that nearly a million new people became eligible for vaccinations.
COUNTING THE DOSES: This item comes courtesy of the State House News Service:
More than 1.5 million doses of COVID-19 vaccine have been administered in Massachusetts as of Wednesday, the Department of Public Health said. There were 1,084,888 people as of Wednesday who had received at least one dose of a vaccine -- an increase of 23,553 people since Tuesday -- and 433,593 people have gotten both doses of the vaccine, an increase of 18,652 people from Tuesday's report. In all, Massachusetts has administered 1,518,481 doses of the vaccine, which is 76.9 percent of the 1,973,900 doses the federal government has shipped here.
JUST THE FAQS: The Berkshire Eagle is regularly updating answers to frequently asked questions about access to the COVID-19 vaccine. Visit the Vax FAQs in the Coronavirus section on the home page at berkshireeagle.com.
COVID-19 WEBSITE AND INFOLINE: For information on vaccines and to schedule an appointment, when you are eligible, visit getvaccinatedberkshires.org. The city of Pittsfield is providing access by phone to regular updates about access to the novel coronavirus vaccine in the city and in Berkshire County. A recorded message is posted at 413-449-5575. As of Wednesday afternoon, though, the most recent update was from Feb. 18.
WESTERN MASS. PICTURE: The case totals (and death counts) in neighboring counties: Franklin, up 2 to 1,959 (100); Hampshire, up 61 to 7,202 (256); Hampden, up 128 to 41,125 (up 5 to 1,316).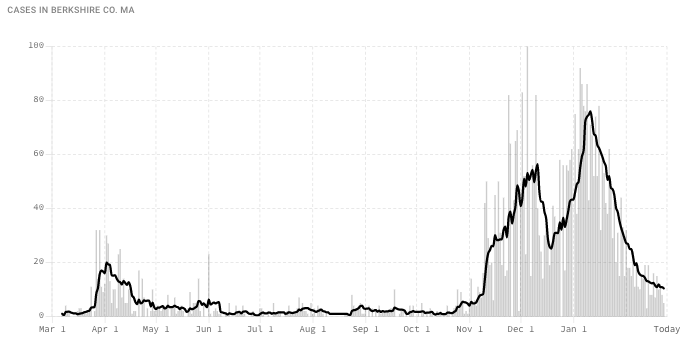 HOSPITAL CHECK: Berkshire Medical Center reported caring for 8 COVID-19 patients, down from 11 a week ago and 34 on Jan. 25; no cases were reported at Fairview Hospital. Statewide, 875 people are hospitalized, compared to 1,951 a month ago. Of those hospitalized, 219 are in ICU and 151 are on ventilators.
WIDER WORLD OF COVID: Global cases top 112,409,584, with 2,492,420 deaths, according to data provided by Johns Hopkins University. The U.S. has seen at least 28,313,003 cases and 504,295 deaths.
LEADING INDICATORS: The DPH provides the following statistics as indicators in the fight against coronavirus infection. Wednesday's figures:
– Seven-day average of new confirmed cases: 1,159. That is down from the recent high of 6,239 on Jan. 8.
– Seven-day weighted average of positive test rate: 1.89. That is down from the recent high of 8.7 on Jan. 1.
– Seven-day average of number of COVID-19 patients in hospitals: 956. That is down from the recent high of 2,336 on Jan. 9.
– Seven-day average of COVID-19 deaths: 37.9. That is down from the recent high of 73.9 on Jan. 11.
INFORMATION ON TESTING: "Stop the Spread" testing sites are open at three Berkshire Health Systems locations. Tests will be conducted for any reason, with the state picking up the cost. To schedule a test, call the toll-free hotline, 855-262-5465, from 8 a.m. to 4:30 p.m. daily.
Locations are: Pittsfield, 505 East St., St Luke's Square, adjacent to BHS Urgent Care Center; North Adams, 98 Church St., next to the city library; Great Barrington: 475 Main St. Tests can also be obtained through CVS by filling out a form online.
JOIN US: Quality local journalism, like you find in The Checkup, needs your support. When you and your family subscribe to us, that's the fuel we need to keep reporting the essential news you want. Join us. Help us build our community. We are offering a 30-day free trial to readers of The Checkup.
How can we make The Checkup better or more informative? Email us at lparnass@berkshireeagle.com.