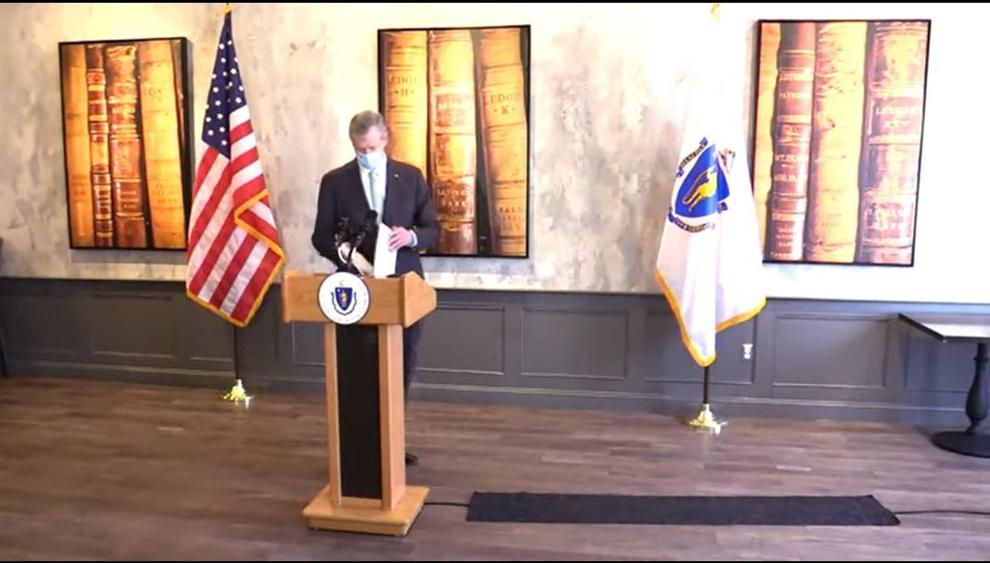 THE GOVERNOR'S DILEMMA: On the one hand, Gov. Charlie Baker had plenty of good news to share with legislators when he joined them Thursday to be questioned about his management of the pandemic.
Yes, but. His story about data trends was winning the month, but losing the day. All because there aren't enough vaccine doses available. Before Baker joined the legislative panel, his administration's tweak to an overloaded and frustration-inducing vaccination scheduling online platform had another meltdown.
The addition of a "waiting room" feature, as 50,000 appointments at mass vaccination sites went up for grabs, resulted in people getting comically absurd screen messages — of wait times that bounced wildly.
State Sen. Jo Comerford, D-Northampton, who co-chaired the panel quizzing Baker, tweeted about one constituent's experience with the platform: "Since logging in — and getting the 7 hour wait time — the timer has varied like some sort of wild accordion, going down to 13 minutes then back up to 232 minutes then down to 30 minutes," she wrote. The waiting room was yanked from the site.
Later, Baker argued that people should take a longer view.
"As I sit here today, much of the news on COVID is better than it's been in quite some time," he said. "The number of new COVID cases being identified each day by our nation-leading COVID testing program has been falling for almost a month, our seven-day new case count is at its lowest level since November, and our new case count has dropped by 75 percent since its peak in January. COVID hospitalizations during this second surge have also fallen dramatically since peaking in early January."
All true.
As for the failed attempts to get vaccine appointments, this was the state's message on Twitter: "It may take several attempts over the course of a few weeks to get an open slot."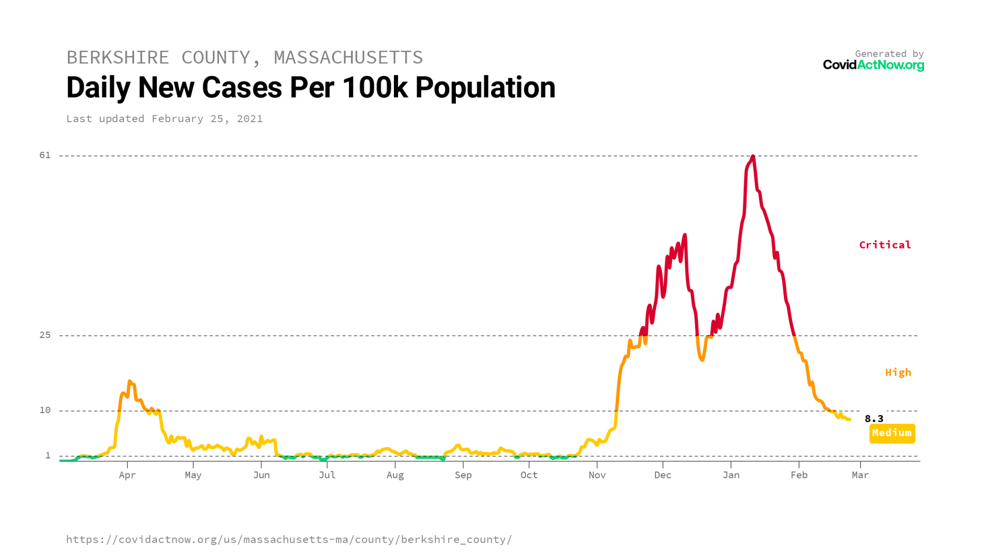 BY THE NUMBERS: Berkshire County saw no new COVID-19 deaths as of Thursday, leaving the total number at 254, with the confirmed case count up 9 to 4,844, the state Department of Public Health said. A week ago, the death total was 246 and the case total was 4,769. A month ago, the death total was 199 and the case total was 4,343. The DPH said 33 new deaths were reported in Massachusetts, pushing the statewide total to 15,657. Confirmed cases rose 1,928 to 545,624.
NUMBER OF ACTIVE CASES: 32,117 statewide; a month ago, that number was 92,035. Pittsfield reports 252 active cases (down from 400 a week ago); 210 Pittsfield households are in quarantine, down from 290 a week ago.
COMMUNITY DATA: Here are this week's figures from the DPH on confirmed coronavirus cases by city and town. In alphabetical order, this lists all Berkshire County communities. The first number is the total number of cases during the pandemic. The second is the number of new cases in the last 14 days.
Adams: 237, 5
Alford: fewer than 5, 0
Becket: 53, fewer than 5
Cheshire: 94, 6
Clarksburg: 33, 0
Dalton: 217, 5
Egremont: 13, 0
Florida: 7, 0
Great Barrington: 383, 6
Hancock: 16, 0
Hinsdale: 52, fewer than 5
Lanesborough: 89, fewer than 5
Lee: 258, 7
Lenox: 196, 13
Monterey: 16, 0
Mount Washington: 6, 0
New Ashford: fewer than 5, 0
New Marlborough: 23, 0
North Adams: 368, 38 (yellow)
Otis: 47, 0
Peru: 11, 0
Pittsfield: 2,200, 48
Richmond: 36, fewer than 5
Sandisfield: 29, fewer than 5
Savoy: 13, 0
Sheffield: 82, fewer than 5
Stockbridge: 61, fewer than 5
Tyringham: 8, 0
Washington: 6, 0
West Stockbridge: 34, 0
Williamstown: 222, 20
Windsor: 19, fewer than 5
JUST THE FAQS: The Berkshire Eagle is regularly updating answers to frequently asked questions about access to the COVID-19 vaccine. Visit the Vax FAQs in the Coronavirus section on the home page at berkshireeagle.com.
COVID-19 WEBSITE AND INFOLINE: For information on vaccines and to schedule an appointment, when you are eligible, visit getvaccinatedberkshires.org. The city of Pittsfield is providing access by phone to weekly updates about access to the novel coronavirus vaccine in the city and in Berkshire County. A recorded message is posted at 413-449-5575.
VACCINE COUNT: According to figures released Thursday by the state, 2,970 additional vaccines were provided to Berkshire County over the past seven days.
Number of doses shipped to date to Berkshire County: 30,845
Doses shipped as percentage of county's population: 24.2 percent (up from 21.8 percent a week ago)
Doses as percentage of county's population actually administered to a person with a Berkshire County address: 20.7 percent.
WESTERN MASS. PICTURE: The case totals (and death counts) in neighboring counties: Franklin, up 7 to 1,966 (100); Hampshire, up 52 to 7,254 (up 2 to 258); Hampden, up 176 to 41,301 (up 4 to 1,320).
HOSPITAL CHECK: Berkshire Medical Center reported caring for 9 COVID-19 patients, down from 10 a week ago and 34 a month ago; no cases were reported at Fairview Hospital. Statewide, 853 people are hospitalized, compared to 1,955 a month ago. Of those hospitalized, 221 are in ICU and 142 are on ventilators.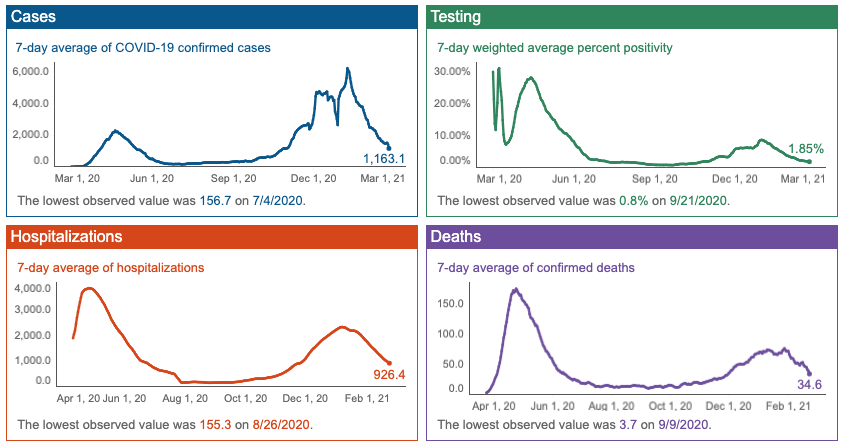 WIDER WORLD OF COVID: Global cases top 112,868,301, with 2,504,036 deaths, according to data provided by Johns Hopkins University. The U.S. has seen at least 28,397,735 cases and 507,806 deaths.
LEADING INDICATORS: The DPH provides the following statistics as indicators in the fight against coronavirus infection. Thursday's figures:
– Seven-day average of new confirmed cases: 1,163. That is down from the recent high of 6,239 on Jan. 8.
– Seven-day weighted average of positive test rate: 1.85. That is down from the recent high of 8.7 on Jan. 1.
– Seven-day average of number of COVID-19 patients in hospitals: 926. That is down from the recent high of 2,336 on Jan. 9.
– Seven-day average of COVID-19 deaths: 34.6. That is down from the recent high of 73.9 on Jan. 11.
JOIN US: Quality local journalism, like you find in The Checkup, needs your support. When you and your family subscribe to us, that's the fuel we need to keep reporting the essential news you want. Join us. Help us build our community. We are offering a 30-day free trial to readers of The Checkup.
How can we make The Checkup better or more informative? Email us at lparnass@berkshireeagle.com.