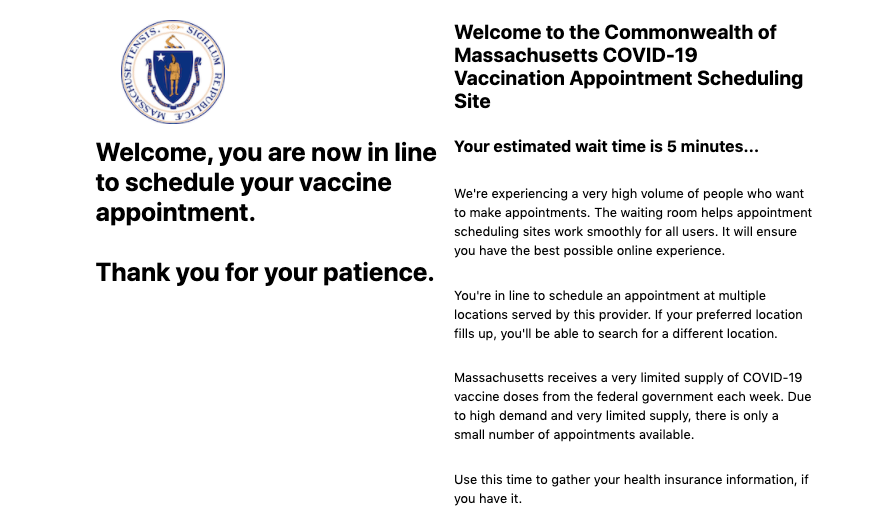 In a story last week, I reported on two web projects that have been helping people navigate a time-sucking online registration process for COVID-19 vaccines.
Today, meet Olivia Adams, who created macovidvaccines.com. I wasn't able to reach Adams before the story appeared online and in print. But we connected later by email. Her first order of business was to clarify what she sees as her goal. Adams said the tool she created shouldn't be blamed for problems people have been having with the official site — maimmunizations.org — including the digital arrest it suffered on the first day that people age 65 and over tried to make appointments.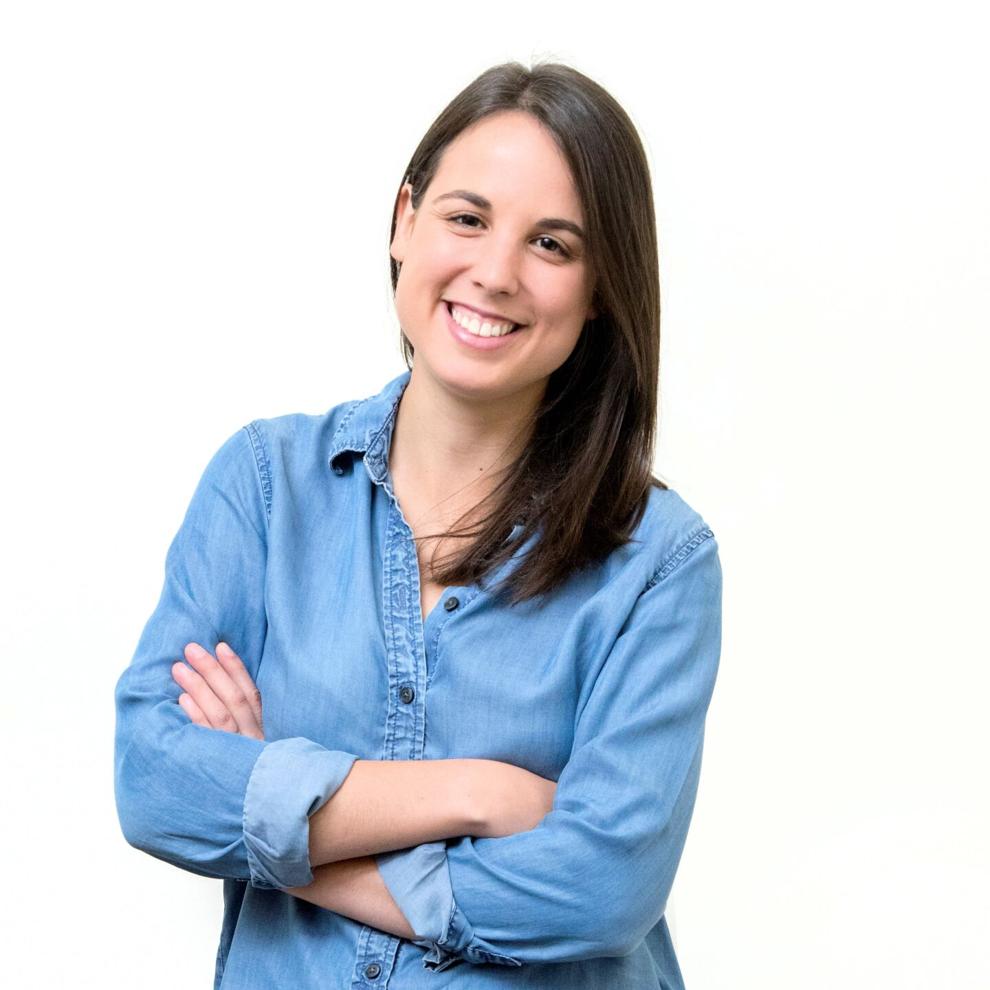 "My website absolutely did not contribute to the website crashes and ridiculous wait times that we saw today and last Thursday," Adams said in a note this past Thursday. "Us querying the website once a minute pales in comparison to the thousands of people constantly hitting 'refresh' in front of their computers."
"I argue that our tool can actually decrease the load put on the state websites because we can inform people that appointments are booked and they therefore don't have to visit a bunch of pages on the official state websites, contributing to increased traffic there," she wrote
Fair enough.
One of the reasons local vaccine program staff flagged Adams' site as a concern was territorial. Her program's ability to relay nearly real-time information on available appointments did result in many Berkshire clinic times going to people who live outside the region. As much as two-thirds of them in one instance, local vaccine leaders believe.
But those vaccines are, by the state's design, available to all.
Gary Soucie of Williamstown views Adams' project as a breakthrough that puts officialdom — perhaps that's official-dumb — to shame. "Until Olivia Adams created her site, macovidvaccines.com, I found it almost impossible to make an appointment," Soucie told us, when he responded Sunday to an invitation to talk about the registration process.
"Even then, the nonsensical forms provided by the state — requiring the entry numerous times of name, birthdate, gender, race, 'Self,' etc. — made it far too vexing. It's simply absurd that it took a 27-year-old woman on maternity leave to create a workable site for finding slots for making appointments. The commonwealth has failed miserably during the vaccine rollout," Soucie said.
Adams says she's heard from lots of people who were able to land appointments through her software, including many elders. "Navigating the system of dozens of websites and questionnaires prevents so many of our residents from being able to book an appointment and get their vaccine," she said. "My website cuts through a bit of that noise and lowers the bar of tech literacy so that our residents who are not so tech-savvy can sign up for appointments. The idea that sites like mine give an edge to the 'tech-savvy' is ludicrous and just plain wrong."
Instead, she believes people should seek accountability from the people who created and rolled out an unworkable platform.
Gov. Baker, she's talking about your team — and what she terms "the real problems of this distribution system put in place by the governor."
"We must not distract from the real problem we have of a failed vaccine distribution system that gives advantage to those who are technically savvy, can drive long distances, have free time to stare at their computer, and listen to all of Gov. Baker's press conferences so that they know when appointments will likely open up," Adams says.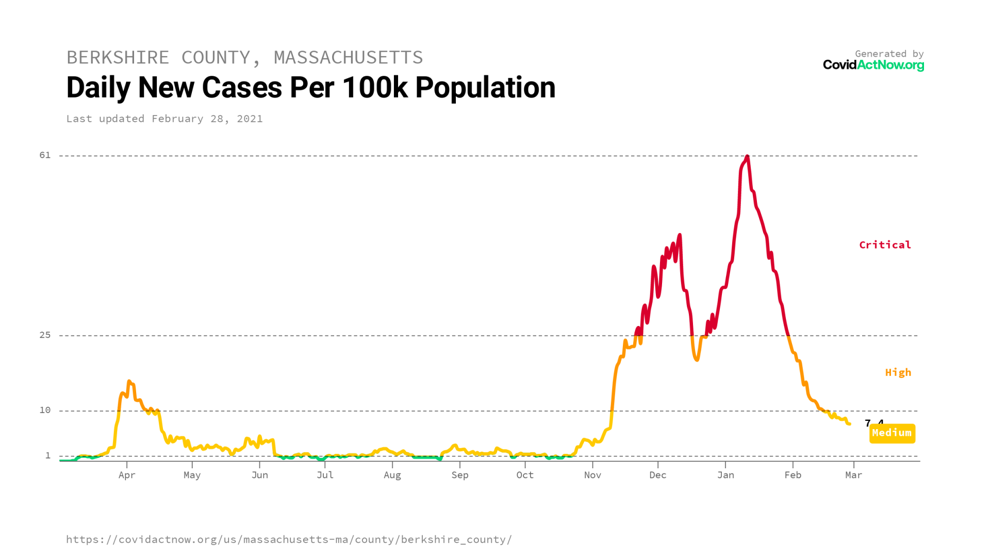 BY THE NUMBERS: Berkshire County saw four new COVID-19 deaths over the weekend, with one reported Saturday and three reported Sunday, for a new total of 261 deaths, the same as Hampshire County, which has 35,886 more residents.
The Berkshire County confirmed case count rose by 17 over the two days to 4,867, the state Department of Public Health said. A week ago, the death total was 250 and the case total was 4,806. A month ago, the death total was 206 and the case total was 4,409.
The DPH said 52 new deaths were reported in Massachusetts, pushing the statewide total to 15,796. Confirmed cases rose 1,428 to 550,302.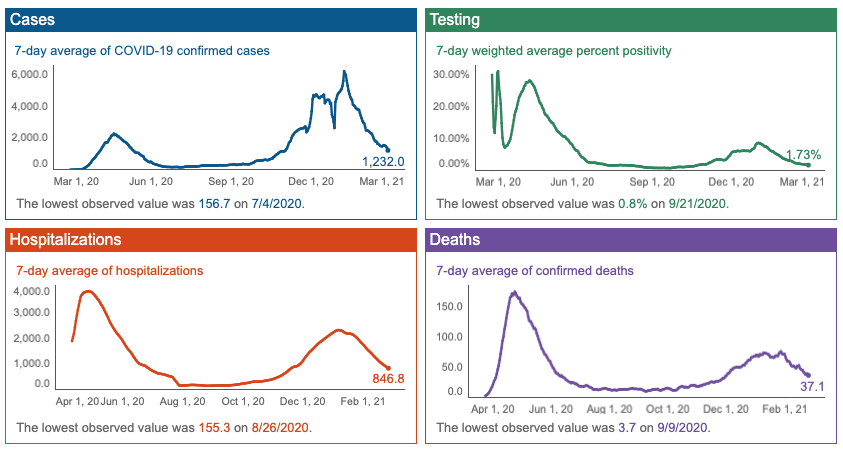 NUMBER OF ACTIVE CASES: 30,062, down from 35,874 a week ago.
JUST THE FAQS: The Berkshire Eagle is regularly updating answers to frequently asked questions about access to the COVID-19 vaccine. Visit the Vax FAQs in the Coronavirus section on the home page at berkshireeagle.com.
WESTERN MASS. PICTURE: The case totals (and death counts) in neighboring counties: Franklin, up 6 to 1,978 (101); Hampshire, up 56 to 7,395 (261); Hampden, up 134 to 41,742 (up 4 to 1,332).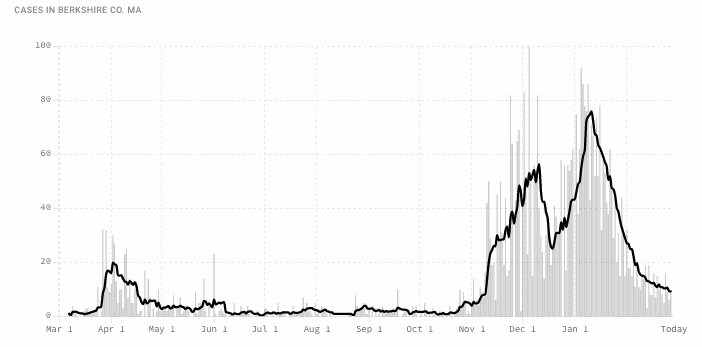 HOSPITAL CHECK: Berkshire Medical Center does not report its COVID-19 patient census over the weekend. Statewide, 760 people are hospitalized, down from 927 a week ago. Of those hospitalized, 183 are in ICU and 124 are on ventilators.
WIDER WORLD OF COVID: Global cases top 113,996,445, with 2,529,857 deaths, according to data provided by Johns Hopkins University. The U.S. has seen at least 28,597,609 cases and 513,065 deaths.
LEADING INDICATORS: The DPH provides the following statistics as indicators in the fight against coronavirus infection. Sunday's figures:
– Seven-day average of new confirmed cases: 1,232. That is down from the recent high of 6,239 on Jan. 8.
– Seven-day weighted average of positive test rate: 1.73. That is down from the recent high of 8.7 on Jan. 1.
– Seven-day average of number of COVID-19 patients in hospitals: 847. That is down from the recent high of 2,336 on Jan. 9.
– Seven-day average of COVID-19 deaths: 37. That is down from the recent high of 73.9 on Jan. 11.
JOIN US: Quality local journalism, like you find in The Checkup, needs your support. When you and your family subscribe to us, that's the fuel we need to keep reporting the essential news you want. Join us. Help us build our community. We are offering a 30-day free trial to readers of The Checkup.
How can we make The Checkup better or more informative? Email us at lparnass@berkshireeagle.com.