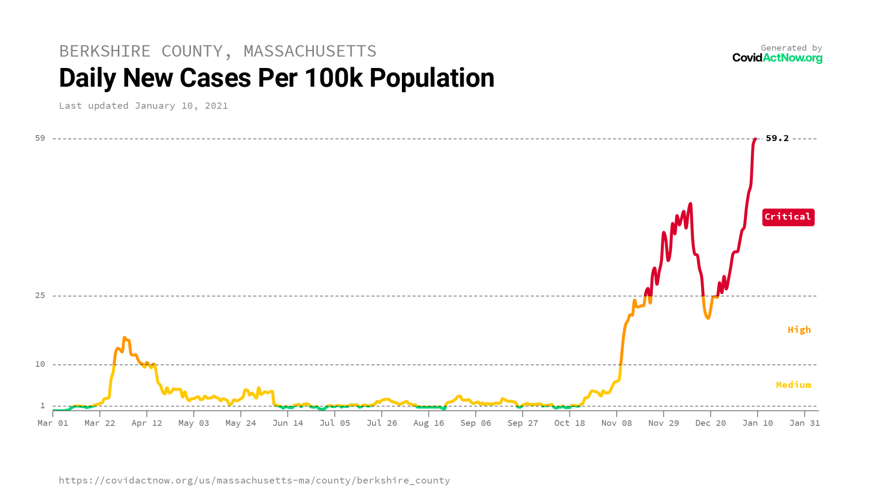 BY THE NUMBERS: No new COVID-19 deaths were reported Sunday in Berkshire County. The number of people lost to COVID-19 remained at 163, with the confirmed case count up 43 to 3,543, the state Department of Public Health said.
With this daily feature, The Eagle runs down breaking local developments in the coronavirus crisis.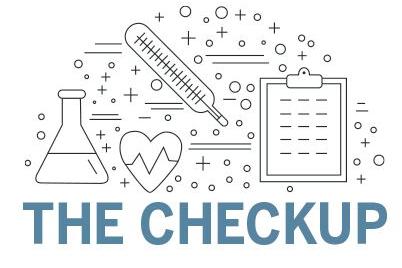 The DPH said 77 new deaths were reported in Massachusetts, pushing the statewide total to 12,875. Confirmed cases rose 5,396 to 413,329.
NUMBER OF ACTIVE CASES: 90,567 statewide.
WESTERN MASS. PICTURE: The case totals (and death counts) in neighboring counties: Franklin, up 20 to 1,458 (93); Hampshire, up 64 to 4,553 (up 1 to 209); Hampden, up 394 to 30,270 (up 8 to 1,101).
MONEY IN THE MAIL: Attorney General Maura Healey says she's heard of cases in which residents of long-term care facilities did not get pandemic relief payments. So the state's top law enforcement official issued a reminder Friday that stimulus checks sent to residents of nursing homes belong to residents, not their caretakers.
Healey said her office has gotten reports of facilities taking possession of CARES Act checks issued to residents. She issued an advisory Friday clarifying that people are free to use the payments as they see fit.
"Nursing home residents and their families have faced enormous challenges and hardship during the COVID-19 pandemic and my office is committed to protecting them however we can," Healey said. "Long-term care residents are entitled to receive their stimulus checks, in full and in a timely manner, for their own use." The office is accepting reports of fraud related to stimulus checks. People can call in tips to the AG's Medicaid Fraud Division at (617) 963-2360.
LONG-TERM CARE WATCH: As of Sunday, 31,983 cases have been confirmed among residents and staff of long-term care facilities, up 59 since Saturday. In all, 417 facilities have had at least one confirmed case and have seen 7,596 deaths linked to COVID-19, a one-day increase of 28.
HOSPITAL CHECK: Berkshire Medical Center does not report COVID-19 patient numbers over the weekend. Statewide, 2,255 people were hospitalized as of Sunday. Of those hospitalized, 459 are in ICU and 282 are on ventilators.
LEADING INDICATORS: The DPH provides the following statistics as indicators in the fight against coronavirus infection. Sunday's figures:
– Seven-day average of new confirmed cases: 4,756
– Seven-day weighted average of positive test rate: 7.21 percent
– Seven-day average of number of COVID-19 patients in hospitals: 2,335.9
– Seven-day average of COVID-19 deaths: 55.1
INFORMATION ON TESTING: "Stop the Spread" testing sites are now open at three Berkshire Health Systems locations. Tests will be conducted for any reason, with the state picking up the cost. To schedule a test, call the toll-free hotline, 855-262-5465, from 8 a.m. to 4:30 p.m. daily.
Locations are: Pittsfield, 505 East St., St Luke's Square, adjacent to BHS Urgent Care Center; North Adams, 98 Church St., next to the city library; Great Barrington: 475 Main St.
Tests can also be obtained through CVS by filling out a form online.
To contribute news to The Checkup, please email lparnass@berkshireeagle.com or call 413-588-8341.