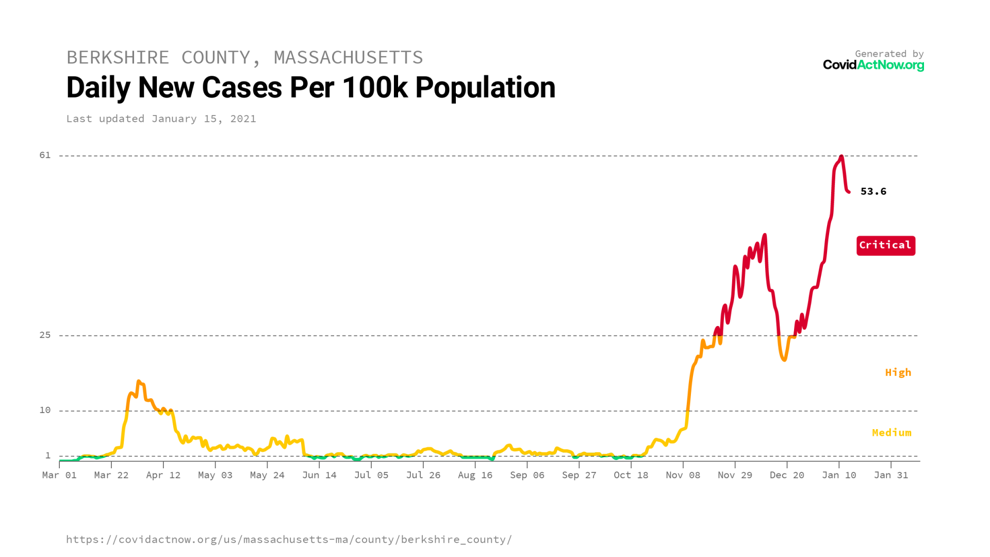 BY THE NUMBERS: Berkshire County saw two new COVID-19 deaths as of Friday, for a new total of 180 deaths, with the confirmed case count up 52 to 3,859, the state Department of Public Health said.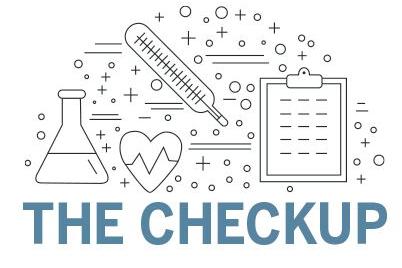 With this daily feature, The Eagle runs down breaking local developments in the coronavirus crisis.
The DPH said 75 new deaths were reported in Massachusetts, pushing the statewide total to 12,231. Deaths including those listed as probably caused by COVID-19 is 13,433. Confirmed cases rose 5,074 to 438,371. According to data provided by Johns Hopkins University, at least 324,203 people in Massachusetts have recovered from COVID-19.
SCHOOL TALLY: In the past few days, Massachusetts has reported 4,000 to 5,000 new cases a day. In that light, the case numbers at public schools appears to be relatively minor. But they are infections nonetheless. The state said that in the past week, 930 new cases were reported in public schools that are engaging in hybrid of in-person learning.
The Department of Elementary and Secondary Education reported 523 cases among students participating in hybrid or in-person learning who had building access and 407 cases among staff. The data covers school districts, education collaboratives and approved special education schools.
NUMBER OF ACTIVE CASES: 93,597 statewide; 686 in Pittsfield (up 55 from Thursday); 403 Pittsfield households are in quarantine.
WESTERN MASS. PICTURE: The case totals (and death counts) in neighboring counties: Franklin, up 24 to 1,550 (94); Hampshire, up 62 to 4,887 (up 1 to 214); Hampden, up 413 to 32,211 (up 6 to 1,124).
LONG-TERM CARE WATCH: As of Friday, 32,568 cases have been confirmed among residents and staff of long-term care facilities, up 107 since Thursday. In all, 418 facilities have had at least one confirmed case and have seen 7,724 deaths linked to COVID-19, 30 more in a day.
HOSPITAL CHECK: Berkshire Medical Center reported caring for 36 COVID-19 patients, down from 40 on Thursday. Meantime, BMC reported having tested 50,315 people, with 3,000 positive results since the pandemic began. There were 693 pending test results.
Statewide, 2,201 people are hospitalized. Of those hospitalized, 451 are in ICU and 293 are on ventilators.
To date, 12,046,398 tests for the virus have been conducted in Massachusetts, according to Johns Hopkins.
WIDER WORLD OF COVID: Global cases top 93,626,393, with 2,004,269 deaths, according to data provided by Johns Hopkins University. The U.S. has seen 23,475,380 cases and 391,098 deaths.
LEADING INDICATORS: The DPH provides the following statistics as indicators in the fight against coronavirus infection. Friday's figures:
– Seven-day average of new confirmed cases: 3,591
– Seven-day weighted average of positive test rate: 6.45
– Seven-day average of number of COVID-19 patients in hospitals: 2,236.1
– Seven-day average of COVID-19 deaths: 55.6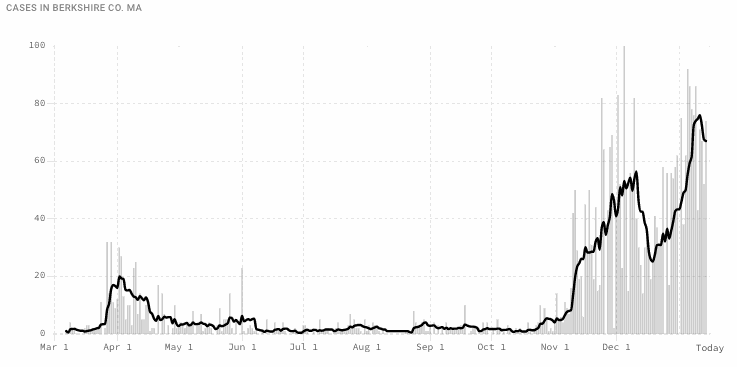 FILE A BALLOT, GET A SHOT? Secretary of State William Galvin is proposing that polling places this spring for local elections, or somewhere close, could double-up as vaccination sites. His reasoning, in part, is that the time frame for voting will be when vaccines become available to the general public. Galvin pitched this Tuesday in a letter to Gov. Charlie Baker.
"With planning, this opportunity presents geographically organized populations which are specifically identified and where appropriate age can be verified," Galvin wrote. And the official likened vaccinations to elections. Both, he said, "involve an army of trained temporary workers and enough space to accommodate large crowds with detailed record-keeping."
INFORMATION ON TESTING: "Stop the Spread" testing sites are now open at three Berkshire Health Systems locations. Tests will be conducted for any reason, with the state picking up the cost. To schedule a test, call the toll-free hotline, 855-262-5465, from 8 a.m. to 4:30 p.m. daily.
Locations are: Pittsfield, 505 East St., St Luke's Square, adjacent to BHS Urgent Care Center; North Adams, 98 Church St., next to the city library; Great Barrington: 475 Main St.
Tests can also be obtained through CVS by filling out a form online.
To contribute news to The Checkup, please email lparnass@berkshireeagle.com or call 413-588-8341.