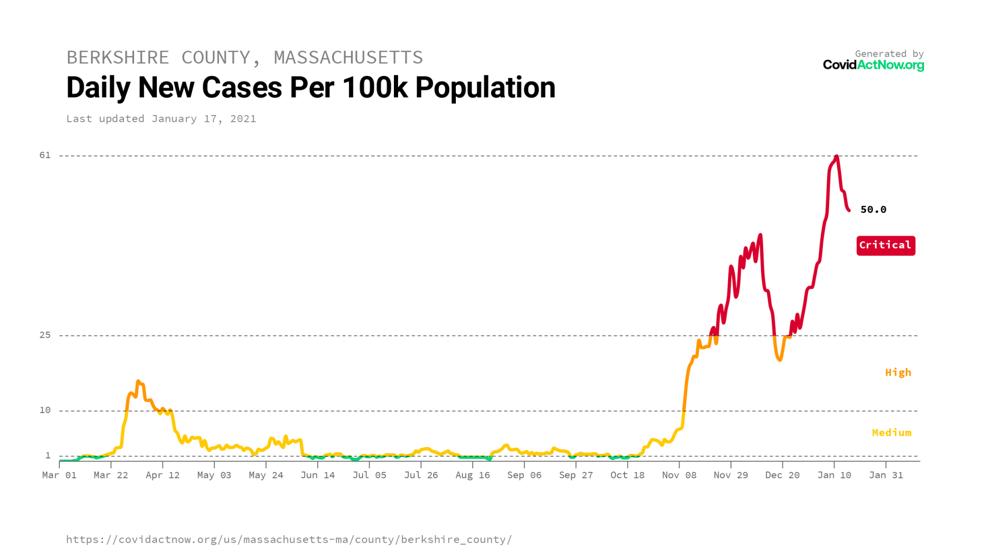 CHASING FREQUENTLY ASKED QUESTIONS: A big tip of the hat to our colleague, Francesca Paris, for gathering up questions about the availability of the coronavirus vaccines in Western Massachusetts — and lack thereof. You can find Frankie's report at berkshireeagle.com by searching for "FAQ Paris."
With this daily feature, The Eagle runs down breaking local developments in the coronavirus crisis.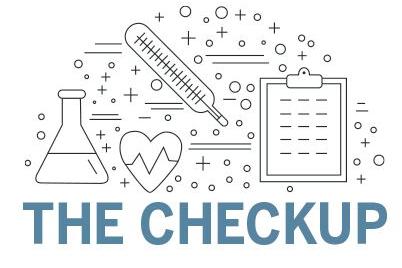 While our report explained a lot about the state's vaccine rollout logistics, some of the answers people are seeking don't exist yet. For most people, the questions are these: When exactly will my turn come? How will I know?
This is frustrating all around. While the state lists age groups, health statuses and occupations eligible for vaccines in Phase Two, come February and March, much is unclear about now those 60 days will play out.
Many readers of The Checkup have contacted us with questions about vaccines. We have noted those and will do all we can to bring you answers.
BY THE NUMBERS: Berkshire County saw one new COVID-19 death as of Sunday, for a new total of 184 deaths, with the confirmed case count up 32 to 3,969, the state Department of Public Health said. Over the weekend, the Berkshires saw 110 new cases and four COVID-19 deaths.
The DPH said 67 new deaths were reported in Massachusetts, pushing the statewide total to 13,372. Deaths including those listed as probably caused by COVID-19 is 13,583. Confirmed cases rose 4,283 to 448,311. According to data provided by Johns Hopkins University, at least 324,203 people in Massachusetts have recovered from COVID-19.
THE WAIT FOR VACCINES, PART I: Teachers in Massachusetts come up for vaccinations in February. Educators in a dozen other states, though, are already receiving them, including in neighboring New York. Teachers in the Empire State started started getting the vaccines last week, according to EducationWeek. Educators in some of the states are eligible based on age and medical status, not just because they are teachers.
THE WAIT FOR VACCINES, PART II: People who work in funeral homes should be moved up the vaccination list. That's the point 118 lawmakers advanced in a letter to Gov. Charlie Baker. State Rep. Sally Keran, D-Danvers, says she believes people in the funeral business are the only "COVID-19 facing workers" not in the group of people already eligible. Right now, they are in Phase II, along with teachers and a host of other occupations.
NUMBER OF ACTIVE CASES: 98,476 statewide.
WESTERN MASS. PICTURE: The case totals (and death counts) in neighboring counties: Franklin, up 9 to 1,589 (up 1 to 95); Hampshire, up 44 to 4,996 (219); Hampden, up 309 to 32,936 (up 7 to 1,134).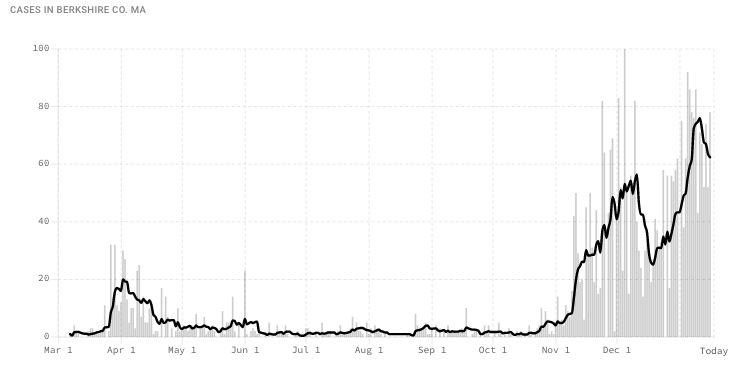 LONG-TERM CARE WATCH: As of Sunday, 32,779 cases have been confirmed among residents and staff of long-term care facilities, up 118 since Saturday. In all, 419 facilities have had at least one confirmed case (up one since Saturday) and have seen 7,762 deaths linked to COVID-19, 15 more in a day.
HOSPITAL CHECK: Berkshire Medical Center does not report COVID-19 patient census numbers over the weekend. Statewide, 2,165 people are hospitalized with an average age of 73. Of those hospitalized, 433 are in ICU and 288 are on ventilators.
To date, 12,259,486 tests for the virus have been conducted in Massachusetts, according to Johns Hopkins.
WIDER WORLD OF COVID: Global cases top 94,935,551, with 2,028,779 deaths, according to data provided by Johns Hopkins University. The U.S. has seen 23,896,221 cases and 397,258 deaths.
LEADING INDICATORS: The DPH provides the following statistics as indicators in the fight against coronavirus infection. Sunday's figures:
– Seven-day average of new confirmed cases: 3,668.7
– Seven-day weighted average of positive test rate: 5.86
– Seven-day average of number of COVID-19 patients in hospitals: 2,206.1
– Seven-day average of COVID-19 deaths: 65.7
INFORMATION ON TESTING: "Stop the Spread" testing sites are now open at three Berkshire Health Systems locations. Tests will be conducted for any reason, with the state picking up the cost. To schedule a test, call the toll-free hotline, 855-262-5465, from 8 a.m. to 4:30 p.m. daily.
Locations are: Pittsfield, 505 East St., St Luke's Square, adjacent to BHS Urgent Care Center; North Adams, 98 Church St., next to the city library; Great Barrington: 475 Main St.
Tests can also be obtained through CVS by filling out a form online.
TESTING AT UMASS AMHERST: The Mullins Center at the University of Massachusetts Amherst is now providing free COVID-19 testing for people without symptoms of the disease. For information, and to make an appointment (which is required), visit the UMass homepage at umass.edu click on the "communitycovidtest" link in the yellow box.
To contribute news to The Checkup, please email lparnass@berkshireeagle.com or call 413-588-8341.