ELEPHANT IN THE ROOM: VACCINES. The Checkup team continues to get requests from older readers for a specific piece of information that remains unavailable. When, they ask, can we sign up to get one of the new COVID-19 vaccines?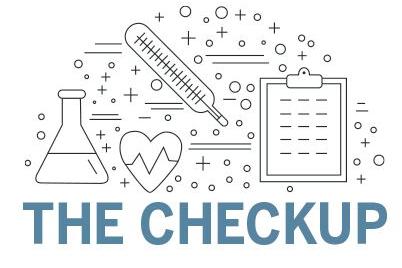 It is the question — but the answer appears to be weeks away. While many other states have begun to vaccinate people age 65 and over, that's not the case in Massachusetts. Those folks are in Phase II of the rollout, with a lot of other people, which is to begin in February and continue until complete, according to the state's plan.
But first, the state has to obtain enough vaccines to get through Phase I. Last week, Gov. Charlie Baker said that to provide two injections to the 660,000 people designated to receive the vaccine in Phase I, the state needs 1.3 million doses. As of last Thursday, a DPH report said the state had received 347,450 doses.
First responders still need their second injections; vaccinations are to begin this week for residents of congregate care centers and others.
Pittsfield Mayor Linda Tyer said Monday she hopes that President-elect Joe Biden can accelerate shipments of vaccines. Like municipal officials across the state, Tyer and her team hustled this month to get a vaccination site set up for first responders. She said they brought 300 vaccine recipients through a field house at Berkshire Community College without a hitch last week.
"I'm confident that we could do a thousand a day," she said. "We just need the vaccine.
Baker has said that four or five "mass vaccination" locations, like one at Gillette Stadium, could come into service. "But again, we need to know that the vaccine is actually going to be coming in volumes that are great enough to actually make sure that we can take advantage of that," he told reporters last week.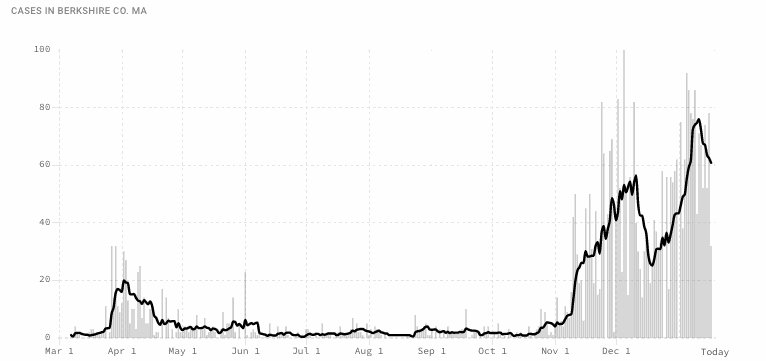 BY THE NUMBERS: No new COVID-19 deaths were reported in Berkshire County on Monday. The total number of people lost during the pandemic remained at 184. The confirmed case count for the county rose 59 to 4,028, the state Department of Public Health said.
The DPH said 52 new deaths were reported in Massachusetts, pushing the statewide total to 13,424. Deaths including those listed as probably caused by COVID-19 is 13,705. Confirmed cases rose 3,224 to 451,535. According to data provided by Johns Hopkins University, at least 422,408 people in Massachusetts have recovered from COVID-19.
NUMBER OF ACTIVE CASES: 98,750 statewide; 782 in Pittsfield; 403 Pittsfield households are in quarantine.
WESTERN MASS. PICTURE: Just one death was reported in the four western counties of the state on Monday. The case totals (and death counts) in neighboring counties: Franklin, up 11 to 1,600 (95); Hampshire, up 44 to 5,040 (219); Hampden, up 298 to 33,234 (up 1 to 1,135).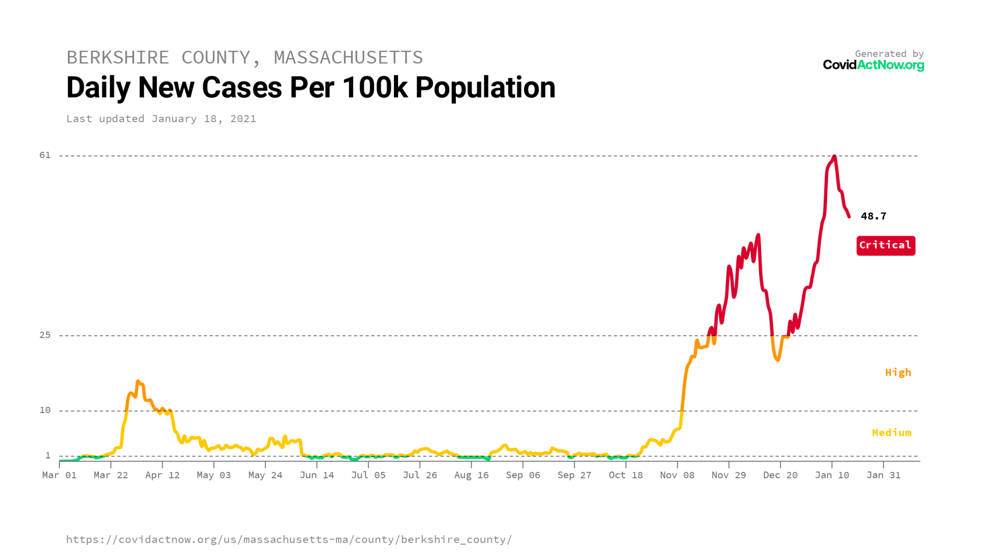 LONG-TERM CARE WATCH: As of Monday, 32,829 cases have been confirmed among residents and staff of long-term care facilities, up 50 since Sunday. Pittsfield has seen 392 cases in long-term care. In all, 419 facilities statewide have had at least one confirmed case and have seen 7,771 deaths linked to COVID-19, nine more in a day.
HOSPITAL CHECK: Berkshire Medical Center reported caring for 39 COVID-19 patients, up from 36 on Friday. Meantime, BMC reported having tested 51,015 people, with 3,142 positive results since the pandemic began. There were 25 pending test results.
Statewide, 2,206 people are hospitalized. Of those hospitalized, 427 are in ICU and 288 are on ventilators.
To date, 12,398,580 tests for the virus have been conducted in Massachusetts, according to the DPH.
WIDER WORLD OF COVID: Global cases top 95,435,122, with 2,037,200 deaths, according to data provided by Johns Hopkins University. The U.S. has seen 24,045,025 cases and 398,588 deaths.
LEADING INDICATORS: The DPH provides the following statistics as indicators in the fight against coronavirus infection. Monday's figures:
– Seven-day average of new confirmed cases: 3,786.3
– Seven-day weighted average of positive test rate: 5.91
– Seven-day average of number of COVID-19 patients in hospitals: 2,203.8
– Seven-day average of COVID-19 deaths: 62.1
INFORMATION ON TESTING: "Stop the Spread" testing sites are now open at three Berkshire Health Systems locations. Tests will be conducted for any reason, with the state picking up the cost. To schedule a test, call the toll-free hotline, 855-262-5465, from 8 a.m. to 4:30 p.m. daily.
Locations are: Pittsfield, 505 East St., St Luke's Square, adjacent to BHS Urgent Care Center; North Adams, 98 Church St., next to the city library; Great Barrington: 475 Main St.
Tests can also be obtained through CVS by filling out a form online.
TESTING AT UMASS AMHERST: The Mullins Center at the University of Massachusetts Amherst is now providing free COVID-19 testing for people without symptoms of the disease. For information, and to make an appointment (which is required), visit the UMass homepage at umass.edu click on the "communitycovidtest" link in the yellow box.
To contribute news to The Checkup, please email lparnass@berkshireeagle.com or call 413-588-8341.