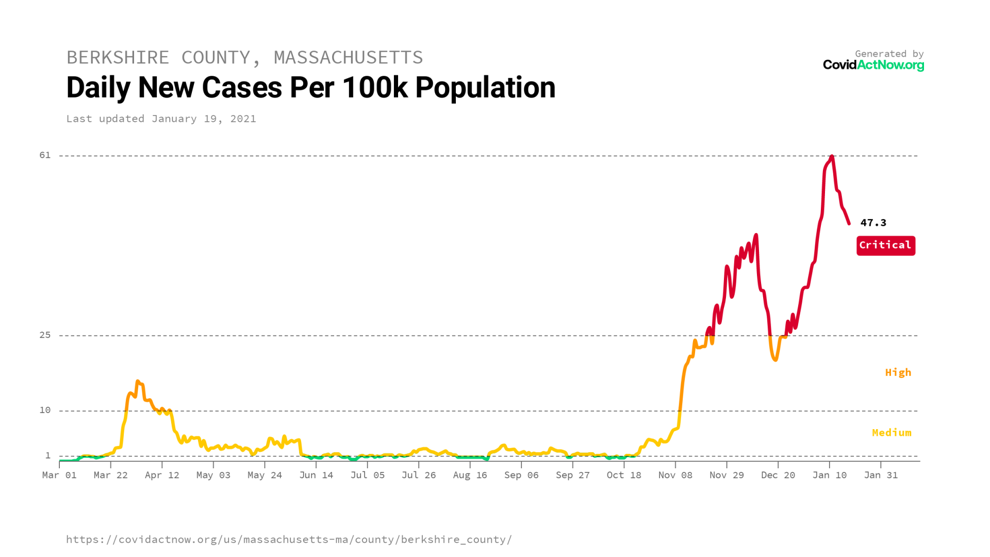 ANOTHER MILESTONE: As of Tuesday, the United States has seen more than 400,000 deaths due to COVID-19. That milestone came almost exactly one year after the first case of the coronavirus was confirmed in the United States, in Washington State.
With this daily feature, The Eagle runs down breaking local developments in the coronavirus crisis.
As of about 2 p.m. Tuesday, 400,022 people in the United States have died of COVID-19, according to Johns Hopkins University. The first case in the U.S. was confirmed Jan. 20, 2020.
President-elect Joe Biden predicted, several weeks ago, that the milestone would be crossed by the time of his inauguration Wednesday.
BY THE NUMBERS: Berkshire County saw three new COVID-19 deaths as of Tuesday, for a new total of 187 deaths, with the confirmed case count up 53 to 4,081, the state Department of Public Health said.
The DPH said 45 new deaths were reported in Massachusetts, pushing the statewide total to 13,469. Confirmed cases rose 2,567 to 454,102. According to data provided by Johns Hopkins University, at least 324,203 people in Massachusetts have recovered from COVID-19.
NUMBER OF ACTIVE CASES: 93,300 statewide; 792 in Pittsfield (down 8 from Thursday); 461 Pittsfield households are in quarantine.
WESTERN MASS. PICTURE: The case totals (and death counts) in neighboring counties: Franklin, up 15 to 1,615 (95); Hampshire, up 41 to 5,081 (up 1 to 220); Hampden, up 313 to 33,547 (up 3 to 1,138).
VACCINE UPDATE: The city of Pittsfield is providing access by phone to regular updates about the novel coronavirus vaccine in the city and in Berkshire County. A recorded message is posted at 413-449-5575. Tuesday's messages suggests that residents need to be patient. Only those in Phase 1 of the vaccine rollout should be scheduling shots.
LONG-TERM CARE WATCH: As of Tuesday, 33,022 cases have been confirmed among residents and staff of long-term care facilities, up 193 since Monday. In all, 419 facilities have had at least one confirmed case and have seen 7,789 deaths linked to COVID-19, 18 more in a day.
HOSPITAL CHECK: Berkshire Medical Center reported caring for 31 COVID-19 patients, down from 39 on Monday. Meantime, BMC reported having tested 51,299 people, with 3,162 positive results since the pandemic began. There were 350 pending test results.
Statewide, 2,213 people are hospitalized. Of those hospitalized, 432 are in ICU and 277 are on ventilators. To date, 12,454,145 tests for the virus have been conducted in Massachusetts, according to the DPH.
WIDER WORLD OF COVID: Global cases top 96,058,991, with 2,053,384 deaths, according to data provided by Johns Hopkins University. The U.S. has seen 24,216,856 cases and 401,174 deaths.
The United States leads the list of nations that have lost citizens to the disease. The country with the second-highest number of deaths is Brazil (211,491 -- about a tenth of the U.S.), then India (152,556), Mexico (141,248), United Kingdom (91,643) and Italy (83,157).
LEADING INDICATORS: The DPH provides the following statistics as indicators in the fight against coronavirus infection. Tuesday's figures:
– Seven-day average of new confirmed cases: 3,235.1
– Seven-day weighted average of positive test rate: 5.94
– Seven-day average of number of COVID-19 patients in hospitals: 2,204
– Seven-day average of COVID-19 deaths: 56.1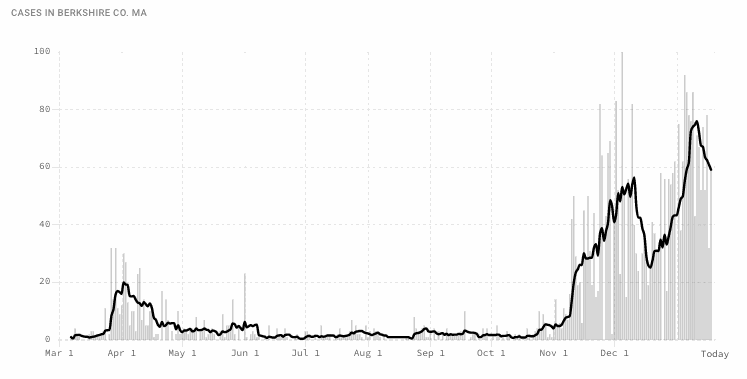 INFORMATION ON TESTING: "Stop the Spread" testing sites are now open at three Berkshire Health Systems locations. Tests will be conducted for any reason, with the state picking up the cost. To schedule a test, call the toll-free hotline, 855-262-5465, from 8 a.m. to 4:30 p.m. daily.
Locations are: Pittsfield, 505 East St., St Luke's Square, adjacent to BHS Urgent Care Center; North Adams, 98 Church St., next to the city library; Great Barrington: 475 Main St.
Tests can also be obtained through CVS by filling out a form online.
TESTING AT UMASS AMHERST: The Mullins Center at the University of Massachusetts Amherst is now providing free COVID-19 testing for people without symptoms of the disease. For information, and to make an appointment (which is required), visit the UMass homepage at umass.edu click on the "communitycovidtest" link in the yellow box.
To contribute news to The Checkup, please email lparnass@berkshireeagle.com or call 413-588-8341.