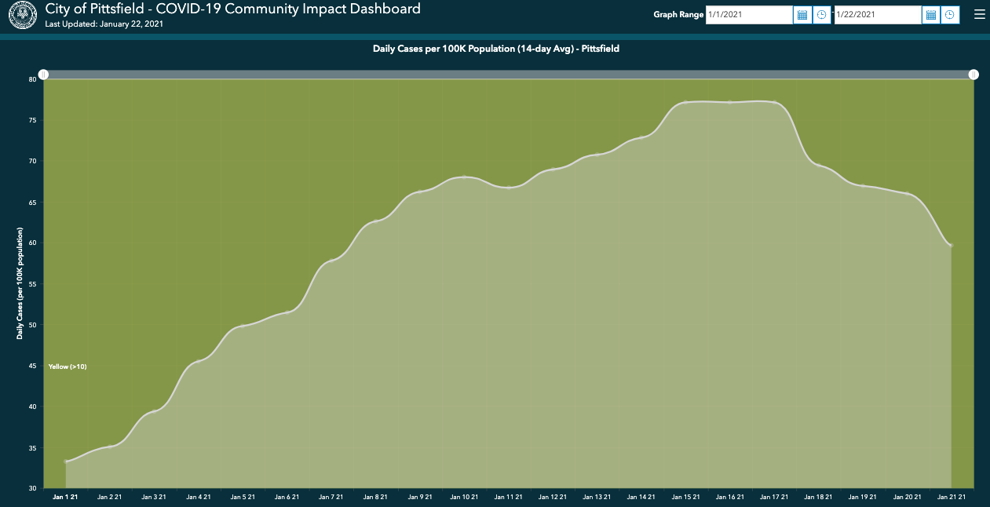 SPRINGSIDE WATCH: Though as many as 16 deaths due to COVID-19 may have occurred at the Springside Rehabilitation and Skilled Care Center, a weekly online listing provided by the state Department of Public Health continues to make no mention of deaths at the Pittsfield facility.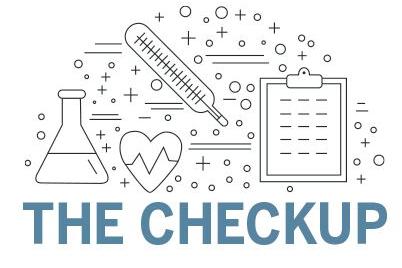 With this daily feature, The Eagle runs down breaking local developments in the coronavirus crisis.
Springside's own reports to the state have as of Wednesday four times listed from one to four deaths on separate days. An executive confirmed to the newspaper that the resulting range after the first three Chapter 93 reports, as they are known (of three to 12 deaths), was accurate. Since then, the nursing reported another one to four deaths Tuesday.
But in this week's closely watched breakdown on cases and deaths in the state's long-term care facilities, the DPH reports no deaths at Springside. A Pittsfield public health official told a reporter for NEPM that Springside has seen 10 deaths.
BY THE NUMBERS: Berkshire County saw one new COVID-19 death as of Friday, for a new total of 193 deaths, with the confirmed case count up 62 to 4,223, the state Department of Public Health said.
The DPH said 80 new deaths were reported in Massachusetts, pushing the statewide total to 13,702. Confirmed cases rose 4,935 to 467,845. According to data provided by Johns Hopkins University, at least 324,203 people in Massachusetts have recovered from COVID-19.
NUMBER OF ACTIVE CASES: 89,433 statewide; 842 in Pittsfield (up six from Thursday); 473 Pittsfield households are in quarantine.
COVID-19 INFOLINE: The city of Pittsfield is providing access by phone to regular updates about access to the novel coronavirus vaccine in the city and in Berkshire County. A recorded message is posted at 413-449-5575.
WESTERN MASS. PICTURE: The case totals (and death counts) in neighboring counties: Franklin, up 15 to 1,666 (96); Hampshire, up 80 to 5,255 (up 2 to 224); Hampden, up 281 to 34,537 (up 11 to 1,163).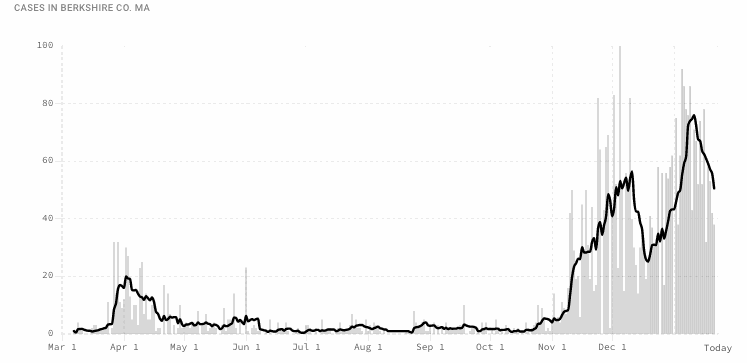 LAST TWO WEEKS AT A GLANCE: In its weekly report Thursday, the state Department of Public Health provided this COVID-19 data for Berkshire County. (For comparison sake, the figures are followed by the corresponding state data):
Total number of cases: 4,123 (it had risen to 4,223 by Friday)
Case in last 14 days: 922
Relative change: Higher
Total tests: 211,619
Tests last 14 days: 22,012
Number positive results last 14 days: 988
Percent positive: 4.49 percent
Change in percentage of positive cases: Lower
VACCINE COUNT: According to figures released Thursday by the state, 3,875 additional vaccines doses were provided to Berkshire County over the past seven days.
Number of doses shipped to date to Berkshire County: 11,525
Doses shipped as percentage of county's population: 9 percent
Total Pfizer vaccine doses received in state: 207,675, up 34,125 in a week
Total Moderna vaccine doses received in state: 384,100, up 18,100 in a week
Berkshire County is second only to Suffolk County in the number of doses received as a percentage of population, with Boston's home county receiving 30.2 percent.
LONG-TERM CARE WATCH: As of Friday, 33,319 cases have been confirmed among residents and staff of long-term care facilities, up 99 in a day. In all, 420 facilities have had at least one confirmed case (one more than Thursday) and have seen 7,857 deaths linked to COVID-19, 19 more in a day.
The number of facilities with cases, at this point in the pandemic, rises only occasionally.
HOSPITAL CHECK: Berkshire Medical Center reported caring for 34 patients, up from 30 on Thursday. Meantime, BMC reported having tested 52,009 people, with 3,267 positive results since the pandemic began. There were 417 pending test results.
Statewide, 2,098 people are hospitalized. Of those hospitalized, 426 are in ICU and 282 are on ventilators.
To date, 12,754,206 tests for the virus have been conducted in Massachusetts, according to the DPH. Two-thirds of those tests are repeats.
WIDER WORLD OF COVID: Global cases top 97,986,357, with 2,101,894 deaths, according to data provided by Johns Hopkins University. The U.S. has seen 24,771,973 cases and 412,936 deaths.
LEADING INDICATORS: The DPH provides the following statistics as indicators in the fight against coronavirus infection. Friday's figures:
– Seven-day average of new confirmed cases: 2,965.6
– Seven-day weighted average of positive test rate: 5.51
– Seven-day average of number of COVID-19 patients in hospitals: 2180.1
– Seven-day average of COVID-19 deaths: 50.1
INFORMATION ON TESTING: "Stop the Spread" testing sites are now open at three Berkshire Health Systems locations. Tests will be conducted for any reason, with the state picking up the cost. To schedule a test, call the toll-free hotline, 855-262-5465, from 8 a.m. to 4:30 p.m. daily.
Locations are: Pittsfield, 505 East St., St Luke's Square, adjacent to BHS Urgent Care Center; North Adams, 98 Church St., next to the city library; Great Barrington: 475 Main St.
Tests can also be obtained through CVS by filling out a form online.
TESTING AT UMASS AMHERST: The Mullins Center at the University of Massachusetts Amherst is now providing free COVID-19 testing for people without symptoms of the disease. For information, and to make an appointment (which is required), visit the UMass homepage at umass.edu click on the "communitycovidtest" link in the yellow box.
To contribute news to The Checkup, please email lparnass@berkshireeagle.com or call 413-588-8341.