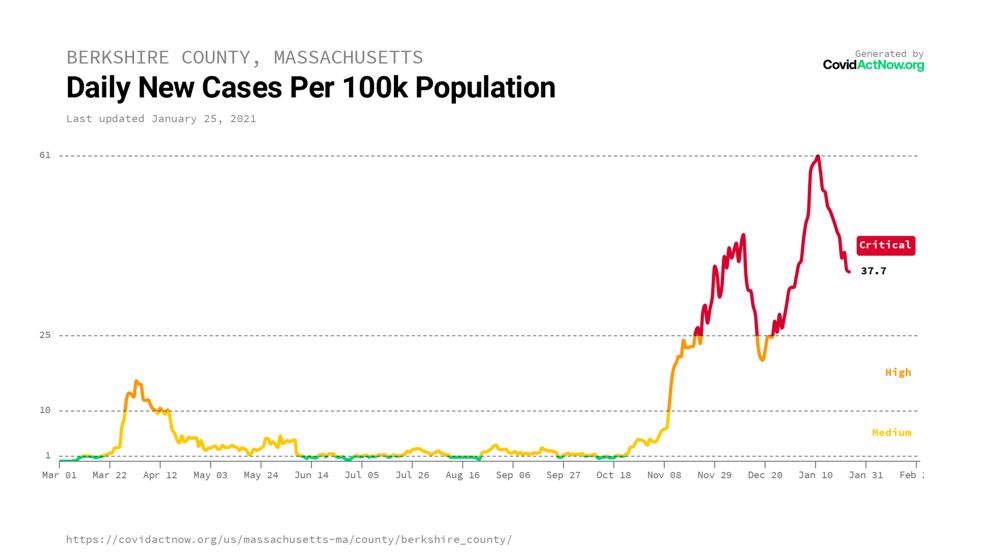 With this daily feature, The Eagle runs down breaking local developments in the coronavirus crisis.
TO BE SURE, VACCINE IS JOB NO. 1: The Checkup continues to get mail from readers frustrated by how little information has been made available about the vaccines. On Monday, Gov. Charlie Baker announced that at start of Phase Two on Feb. 1 (that's Monday), the first priority will be people 75 and older, followed immediately by people 65 and older. The state has a signup system for vaccines for those eligible, though that website — mass.gov/covid-19-vaccine — is not yet accepting registrations.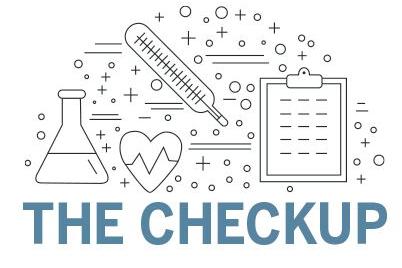 Over the weekend, The Boston Globe reported on the slow rollout of vaccines in Massachusetts, coverage that might have moved Baker to act to speed vaccine availability to older state residents.
Baker said Monday his administration will ramp up COVID-19 vaccination infrastructure and move residents 65 or older higher up on the priority list. But, getting a sufficient supply of the approved vaccines remains a challenge and, as the State House News Service notes, could stymie the state's best-laid plans.
BY THE NUMBERS: Berkshire County saw four new COVID-19 deaths as of Monday, for a new total of 199, with the confirmed case count up 44, to 4,343, the state Department of Public Health said.
Those numbers in perspective: According to the nonprofit CovidActNow, "Over the last week, Berkshire County, Massachusetts has averaged 47 new confirmed cases per day (37.7 for every 100,000 residents). If this trend continued for the next year, this would translate to approximately 17,000 cases and an estimated 86,000 infections (69% of the population)."
The DPH said 45 new deaths were reported in Massachusetts, pushing the statewide total to 13,889. Confirmed cases rose 3,477, to 479,402. According to data provided by Johns Hopkins University, at least 354,388 people in Massachusetts have recovered from COVID-19.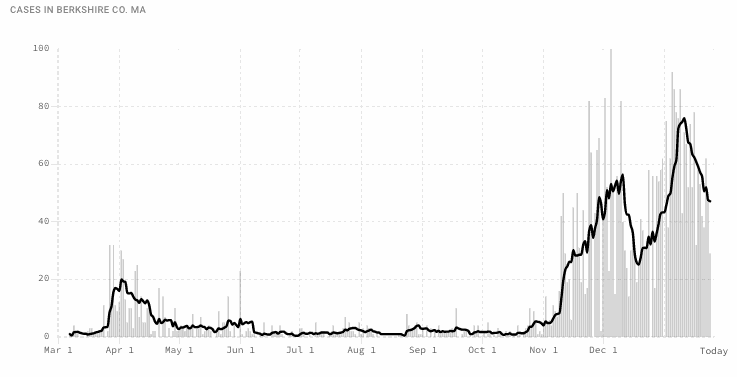 NUMBER OF ACTIVE CASES: 92,035 statewide; 895 in Pittsfield (up 53 from Friday); 497 Pittsfield households are in quarantine, up 24 from Friday.
COVID-19 INFOLINE: The city of Pittsfield is providing access by phone to regular updates about access to the novel coronavirus vaccine in the city and in Berkshire County. A recorded message is posted at 413-449-5575.
WESTERN MASS. PICTURE: The case totals (and death counts) in neighboring counties: Franklin, up eight, to 1,701 (96); Hampshire, up 36, to 5,385 (228); Hampden, up 319, to 35,489 (1,175).
LONG-TERM CARE WATCH: As of Monday, 33,476 cases have been confirmed among residents and staff of long-term care facilities, up 46 since Sunday. In all, 420 facilities have had at least one confirmed case and have seen 7,932 deaths linked to COVID-19, 25 more in a day.
HOSPITAL CHECK: Berkshire Medical Center reported caring for 34 COVID-19 patients, the same number as Friday, when it previously reported figures. Meantime, BMC reported having tested 52,633 people, with 3,364 positive results since the pandemic began. There were 195 pending test results.
Statewide, 1,955 people are hospitalized. Of those hospitalized, 418 are in intensive care units and 285 are on ventilators.
To date, 13,046,574 tests for the virus have been conducted in Massachusetts, according to the DPH, with 78,650 tests in the past day.
WIDER WORLD OF COVID: Global cases top 99,587,084, with 2,136,559 deaths, according to data provided by Johns Hopkins. The U.S. has seen 25,246,713 cases and 420,723 deaths.
LEADING INDICATORS: The DPH provides the following statistics as indicators in the fight against coronavirus infection. Monday's figures:
• Seven-day average of new confirmed cases: 3,315.7;
• Seven-day weighted average of positive test rate: 4.82;
• Seven-day average of number of COVID-19 patients in hospitals: 2,104.3;
• Seven-day average of COVID-19 deaths: 58.1.
INFORMATION ON TESTING: "Stop the Spread" testing sites are open at three Berkshire Health Systems locations. Tests will be conducted for any reason, with the state picking up the cost. To schedule a test, call the toll-free hotline, 855-262-5465, from 8 a.m. to 4:30 p.m. daily.
Locations are: Pittsfield, 505 East St., St Luke's Square, adjacent to BHS Urgent Care Center; North Adams, 98 Church St., next to the city library; Great Barrington: 475 Main St.
Tests also can be obtained through CVS by filling out a form online.
TESTING AT UMASS-AMHERST: The Mullins Center at the University of Massachusetts-Amherst is providing free COVID-19 testing for people without symptoms of the disease. For information, and to make an appointment (which is required), visit the UMass homepage at umass.edu and click on the "communitycovidtest" link in the yellow box.
To contribute news to The Checkup, please email lparnass@berkshireeagle.com or call 413-588-8341.