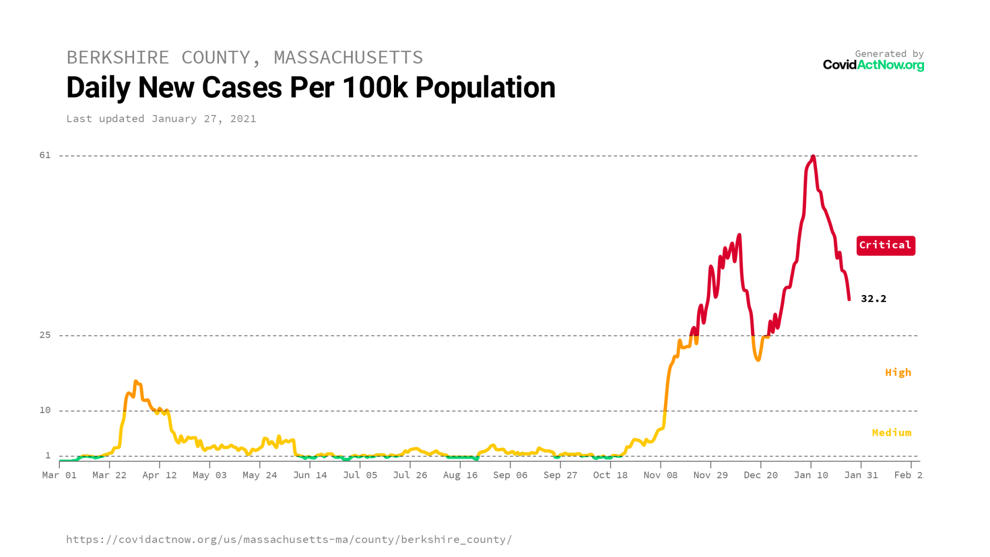 ON VACCINES, CALL. AND CALL AGAIN: All people 75 and older are now eligible to sign up for the vaccine. Anyone who has not received their first dose in Phase One continues to be eligible throughout the rest of the rollout.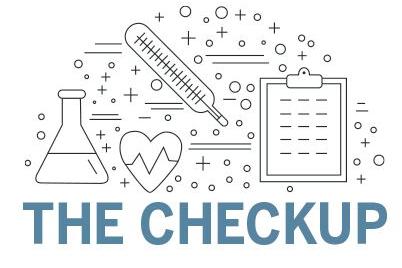 With this daily feature, The Eagle runs down breaking local developments in the coronavirus crisis.
Residents can also find out more about eligibility, and see a map of vaccination sites and register for appointments, at mass.gov/covidvaccine.
They can also access the county's large-scale public vaccination sites directly at maimmunizations.org. To find only Berkshire County clinics, enter "Pittsfield" into the "Search by Address" bar and select 25 miles from the "Search within" menu.
More slots will be added in the coming weeks as the county receives more vaccine shipments.
Local public health officials recommend avoiding Internet Explorer when browsing the maimmunizations.org site, if possible, as the vaccination administration platform does not work as well with that browser.
People who are not eligible (including those ages 65 to 74) should not make appointments, said Laura Kittross, director of the Berkshire County Boards of Health Association. IDs will be checked at doors. Making out-of-turn appointments will slow the process, she added. "They will be turned away and then they have taken a slot from someone who was eligible," said Kittross. "And this whole phase will take longer."
As of 6 p.m. Wednesday, there were 500 slots available, but those times might not be available by Thursday morning.
People without access to the internet can call many local councils on aging for help registering. If your municipality is not listed here, you can still call one of the numbers below.
Williamstown: 413-458-8250
Adams: 413-743-8333
North Adams: 413-662-3125
Sheffield: 413-229-7037
Pittsfield: 413-499-9346
Great Barrington: 413-528-1881
Lee: 413-243-5545
Dalton: 413-684-2000
Lenox: 413-637-4787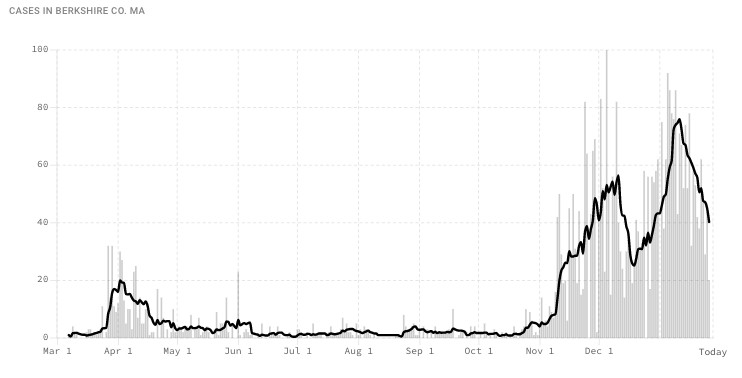 BY THE NUMBERS: Berkshire County saw four new COVID-19 deaths as of Wednesday, for a new total of 204 deaths, with the confirmed case count up 31 to 4,394, the state Department of Public Health said.
The DPH said 83 new deaths were reported in Massachusetts, pushing the statewide total to 14,013. Confirmed cases rose 3,022 to 484,639. According to data provided by Johns Hopkins University, at least 354,388 people in Massachusetts have recovered from COVID-19.
NUMBER OF ACTIVE CASES: 80,909 statewide; 912 in Pittsfield (up 17 from Tuesday); 427 Pittsfield households are in quarantine, down 82 in a day.
COVID-19 INFOLINE: The city of Pittsfield is providing access by phone to regular updates about access to the novel coronavirus vaccine in the city and in Berkshire County. A recorded message is posted at 413-449-5575.
WESTERN MASS. PICTURE: The case totals (and death counts) in neighboring counties: Franklin, up 10 to 1,719 (96); Hampshire, up 27 to 5,435 (up 1 to 231); Hampden, up 114 to 35,926 (up 8 to 1,186).
LONG-TERM CARE WATCH: As of Wednesday, 33,668 cases have been confirmed among residents and staff of long-term care facilities, up 61 since Tuesday. In all, 420 facilities have had at least one confirmed case and have seen 7,975 deaths linked to COVID-19, 31 more in a day.
HOSPITAL CHECK: Berkshire Medical Center reported caring for 28 COVID-19 patients, two fewer than Tuesday. Meantime, BMC reported having tested 53,111 people, with 3,400 positive results since the pandemic began. There were 533 pending test results.
Statewide, 1,930 people are hospitalized. Of those hospitalized, 418 are in ICU and 270 are on ventilators.
To date, 13,192,478 tests for the virus have been conducted in Massachusetts, according to the DPH, 96,203 in the last day.
WIDER WORLD OF COVID: Global cases top 100,703,829, with 2,169,035 deaths, according to data provided by Johns Hopkins University. The U.S. has seen 25,565,874 cases and 428,015 deaths.
LEADING INDICATORS: The DPH provides the following statistics as indicators in the fight against coronavirus infection. Wednesday's figures:
– Seven-day average of new confirmed cases: 2,676.6
– Seven-day weighted average of positive test rate: 4.67
– Seven-day average of number of COVID-19 patients in hospitals: 2,037
– Seven-day average of COVID-19 deaths: 56.9
INFORMATION ON TESTING: "Stop the Spread" testing sites are now open at three Berkshire Health Systems locations. Tests will be conducted for any reason, with the state picking up the cost. To schedule a test, call the toll-free hotline, 855-262-5465, from 8 a.m. to 4:30 p.m. daily.
Locations are: Pittsfield, 505 East St., St Luke's Square, adjacent to BHS Urgent Care Center; North Adams, 98 Church St., next to the city library; Great Barrington: 475 Main St.
Tests can also be obtained through CVS by filling out a form online.
TESTING AT UMASS AMHERST: The Mullins Center at the University of Massachusetts Amherst is now providing free COVID-19 testing for people without symptoms of the disease. For information, and to make an appointment (which is required), visit the UMass homepage at umass.edu click on the "communitycovidtest" link in the yellow box.
NOTE TO READERS OF CHECKUP: Do you find it hard to read the printed version of The Checkup? Would you like to receive a large-type version of the daily report by email? If so, email us at lparnass@berkshireeagle.com with "Large Type" in the subject line. We will email you the column every evening.
To contribute news to The Checkup, please email lparnass@berkshireeagle.com or call 413-588-8341.