COVID-19 THIS WEEK IN BERKSHIRE COUNTY: Of all communities in Berkshire County, only Pittsfield remains on the state's color-coded map of perceived COVID-19 risks (at green), with a reported 23 cases in the last two weeks and a 1.09 percent test positivity rate. The city's average daily incidence of new cases is 3.78 per 100,000 people, compared with a countywide rate of 0.34.
As of week's end, no cities or towns in Massachusetts were coded red, the category that signals the highest risk. That's the first time with no community in red since the state Department of Public Health map debuted last August. In January, nearly two-thirds of the state's 351 cities and towns were marked red.
Since the first COVID-19 cases in Massachusetts, at least 661,812 have been infected. As of Friday, the virus had killed 17,540 people in the state, the DPH said, including 10 reported as of Friday. Berkshire County hasn't had a new COVID-19 death since May 20, when the total of those lost to the disease hit 286.
One new case was reported as of Friday in Berkshire County, bringing the total to 6,527.
LAST TWO WEEKS AT A GLANCE: In its weekly report Thursday, the DPH provided this COVID-19 data for Berkshire County: Total number of cases: 6,526; 14-day incidence rate: 2; total deaths: 286; cases in last 14 days: 36; total tests: 400,844; test positivity rate in last 14 days: 0.34 per 100,000.
WHERE WE ARE WITH VACCINES: Gov. Charlie Baker had hoped to have 4.1 million state residents vaccinated by now, but as of late this week, the number of people fully vaccinated was 3.7 million. The governor's goal will be hit later this month, it appears. More than 4.46 million state residents have started the vaccination process. As of Thursday, Massachusetts had administered 85.7 percent of the 9,245,140 doses received from the federal government.
All seven of the state's high-volume mass vaccination sites will be closed by mid-July, Baker said this week, starting with Gillette Stadium on June 14. A group called CIC Health and Curative, which has run the sites, will continue to assist with mobile vaccination clinics, including shots given at work sites and schools.
STATE PICTURE: The DPH said 10 new deaths were reported Friday for a total of 17,540. That's 45 more than a week ago. Confirmed cases rose 177 on Friday to 661,812. That's an increase of 1,046 from a week before.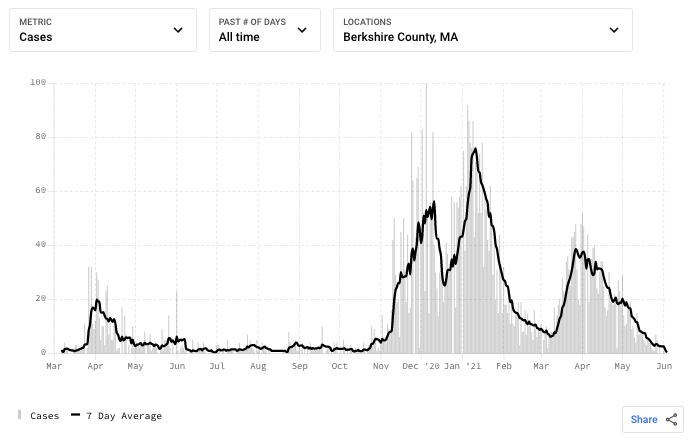 IN COVID-19 NEWS THIS WEEK:
– ETERNAL ZOOM? The Legislature took testimony this week on bills dealing with how officials and citizens handle the public's business in a time of pandemic. The Committee on State Administration and Regulatory Oversight heard arguments in favor of retaining the ability to join civic meetings remotely. "We cannot and should not go back to the days of having to be in the room to participate in government," Dedham Select Board member Sarah MacDonald told the committee. The question of how long public bodies will be able to offer remote access remains uncertain.
– CHANGE-KEEPERS: A report from the Pioneer Institute this week makes the case to preserve new ways that people received care during the pandemic, including through telehealth. The report says the DPH should continue to allow people to use telehealth resources from outside the state — a barrier lowered during the pandemic, author Josh Archambault notes.
COMMUNITY DATA: Here are this week's figures from the DPH on confirmed coronavirus cases by city and town in the region. In alphabetical order, this lists all Berkshire County communities. The first number is the total number of cases during the pandemic. The second is the number of new cases in the last 14 days.
Adams: 351, fewer than 5
Alford: Fewer than 5, 0
Becket: 69, 0
Cheshire: 129, fewer than 5
Clarksburg: 44, 0
Dalton: 300, 0
Egremont: 16, 0
Florida: 18, 0
Great Barrington: 458, fewer than 5
Hancock: 17, 0
Hinsdale: 72, 0
Lanesborough: 114, 0
Lee: 333, fewer than 5
Lenox: 240, fewer than 5
Monterey: 20, 0
Mount Washington: 7, 0
New Ashford: Fewer than 5, 0
New Marlborough: 23, 0
North Adams: 578, 0
Otis: 65, fewer than 5
Peru: 11, 0
Pittsfield: 2,997, 23
Richmond: 42, 0
Sandisfield: 39, 0
Savoy: 16, 0
Sheffield: 111, 0
Stockbridge: 70, fewer than 5
Tyringham: 8, 0
Washington: 9, 0
West Stockbridge: 41, 0
Williamstown: 297, fewer than 5
Windsor: 25, 0
WESTERN MASS. PICTURE: The case totals in neighboring counties as of Friday: Franklin, 2,576; Hampshire, 9,142; Hampden, 52,274.
HOSPITAL CHECK: Berkshire Medical Center reported caring for no COVID-19 patients as of Friday. It has had one patient in the last two weeks. Here are testing results for BMC:
Total tests in the last seven days, 1,959; total tests in the last 14 days, 3,911; total tests since March 1, 2020: 151,668.
Unique patients tested in the last seven days, 1,789; unique patients tested in the last 14 days, 3,301; unique patients tested since March 1, 2020, 70,816.
Unique patients with new positive tests in the last seven days, 7; unique patients with new positive tests in the last 14 days, 19; unique patients with positive tests since March 1, 2020, 5,125.
Statewide, 193 people were hospitalized with COVID-19 as of Friday, with 68 people in ICUs and 38 people intubated.
WIDER WORLD OF COVID: Global cases top 172,323,906, with 3,705,325 deaths, according to data provided by Johns Hopkins University. The U.S. has seen at least 33,339,375 cases and 596,943 deaths. In India, the disease has hit 28,574,350 people and killed at least 340,702.
COVID-19 WEBSITE AND INFOLINE: For information on vaccines and to schedule an appointment, when you are eligible, visit getvaccinatedberkshires.org.
INFORMATION ON TESTING: "Stop the Spread" testing sites are open at three Berkshire Health Systems locations. Tests will be conducted for any reason, with the state picking up the cost. To schedule a test, call the toll-free hotline, 855-262-5465, from 8 a.m. to 4:30 p.m. daily.
Locations are: Pittsfield, 505 East St., St Luke's Square, adjacent to BHS Urgent Care Center; North Adams, 98 Church St., next to the city library; Great Barrington: 475 Main St. Tests can also be obtained through CVS by filling out a form online.
JOIN US: Quality local journalism, like you find in The Checkup, needs your support. When you and your family subscribe to us, that's the fuel we need to keep reporting the essential news you want. Join us. Help us build our community. We are offering a 30-day free trial to readers of The Checkup.
Material from the State House News Service was included in this report. How can we make The Checkup better or more informative? Email us at lparnass@berkshireeagle.com.