J&J VACCINES ON WAY: Laura Kittross, director of the Berkshire County Boards of Health Association, says a large shipment of the new single-dose vaccine produced by Johnson & Johnson is likely to arrive in Berkshire County later this week. That means those eligible for vaccines should have a greater chance of landing an appointment due to increased availability.
Kittross said the local vaccination program, with its sites in North Adams, Pittsfield and Great Barrington, could release a larger than usual number of appointment times for Saturday and also for next week. Meantime, a limited number of clinics administering the Pfizer and Moderna vaccines are expected to be held this week locally.
Information about those clinics will be posted to the getvaccinatedberkshires.org website six to 12 hours before the appointments go live on the state's scheduling website, maimmunizations.org. The local appointments are most likely to be offered Wednesday to Friday, Kittross said.
She shared this additional information on Monday night: "I expect the website to be updated tonight — we are looking at releasing that first tranche of limited appointments tomorrow afternoon at 4. The J&J appointments will be pending delivery of vaccine, and probably not open until Thursday afternoon/Friday morning. We will update the website when we know."
BY THE NUMBERS: For the first day in a long time, no COVID-19 deaths were reported in any of the four western counties on Monday. Berkshire County saw no new COVID-19 deaths, leaving the total at 261, with the confirmed case count up 11 to 4,878, the state Department of Public Health said. A week ago, the death total was 251 and the case total was 4,814. A month ago, the death total was 217 and the case total was 4,533.
The DPH said 26 new deaths were reported in Massachusetts, pushing the statewide total to 15,822. Confirmed cases rose 1,248 to 551,550.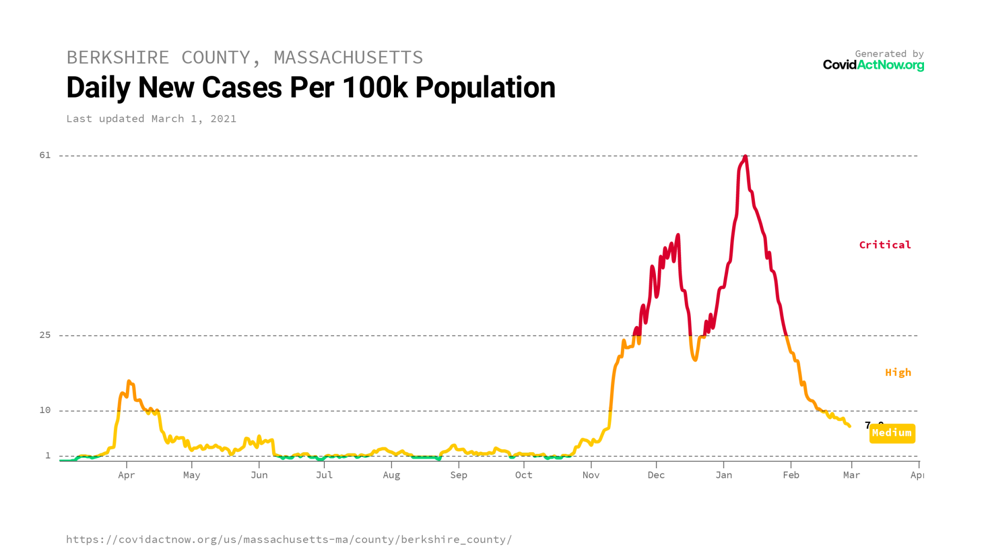 NUMBER OF ACTIVE CASES: 30,486 statewide, compared to 71,929 at the start of February; 267 active cases are reported in Pittsfield (down from 960 a month ago); 219 Pittsfield households are in quarantine, down from 441 a month ago.
THE VACCINE QUEST: On Sunday, we invited online readers to share stories of their quests to land a vaccination appointment. We bundled their testimony into a story that appeared in Monday's e-edition and online.
In coming days, we will present other stories readers shared with us (thank you, everyone!), including this report from Ginny Peniuk:
"I am 73 years old and had a confirmed appointment for this past Saturday to receive my first vaccine at Berkshire Community College, while I was accompanying a friend who is 79 and was receiving her second vaccine.
"When I arrived, I was told first vaccines were not being given that day (because) a computer glitch allowed people to register for their first vaccine, when it was supposed to be a clinic for second vaccines only. Even though I was accompanying someone and had a confirmed appointment, it didn't matter."
Ginny says she wishes people had let her know in advance. "They certainly had our information."
"Luckily, my friend was able to receive her second vaccine, while I filled out a paper to be notified when appointments would be released again. Now, I must wait for the link they will send and be at the computer between 10 a.m. and noon each day. They don't know which day yet!"
"I had an appointment, but I guess it doesn't matter. Other states seem to be running their vaccine operations more smoothly than Massachusetts, according to relatives who have already received both vaccines! Shame on this administration."
JUST THE FAQS: The Berkshire Eagle is regularly updating answers to frequently asked questions about access to the COVID-19 vaccine. Visit the Vax FAQs in the Coronavirus section on the home page at berkshireeagle.com.
COVID-19 WEBSITE AND INFOLINE: For information on vaccines and to schedule an appointment, when you are eligible, visit getvaccinatedberkshires.org. The city of Pittsfield is providing access by phone to weekly updates about access to the novel coronavirus vaccine in the city and in Berkshire County. A recorded message is posted at 413-449-5575.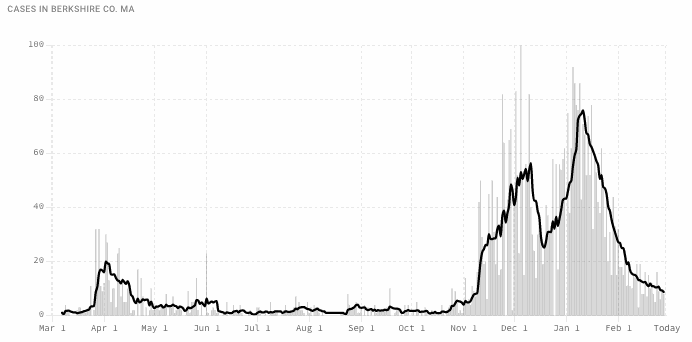 WESTERN MASS. PICTURE: The case totals (and death counts) in neighboring counties: Franklin, up 5 to 1,983 (101); Hampshire, up 29 to 7,424 (261); Hampden, up 124 to 41,866 (1,332).
HOSPITAL CHECK: Berkshire Medical Center reported caring for 11 COVID-19 patients, up from 6 a week ago and down from 24 a month ago; no cases were reported at Fairview Hospital. Statewide, 788 people are hospitalized, down from 1,676 a month ago. Of those hospitalized, 184 are in ICU and 119 are on ventilators.
WIDER WORLD OF COVID: Global cases top 114,350,611, with 2,536,865 deaths, according to data provided by Johns Hopkins University. The U.S. has seen at least 28,648,156 cases and 514,216 deaths.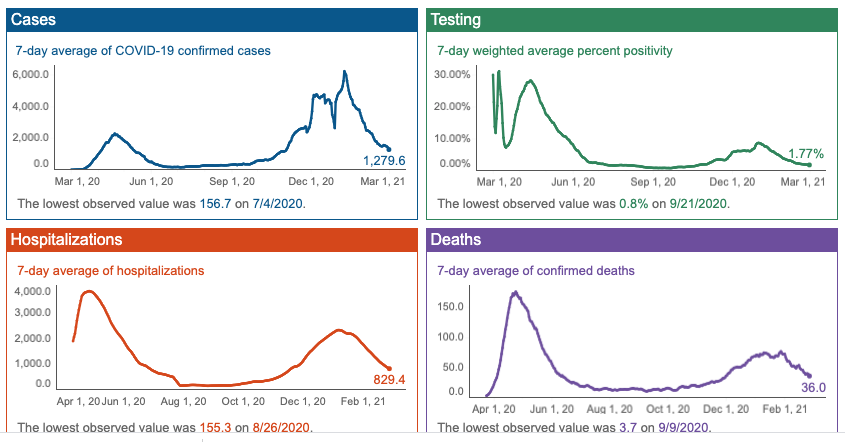 LEADING INDICATORS: The DPH provides the following statistics as indicators in the fight against coronavirus infection. Monday's figures:
– Seven-day average of new confirmed cases: 1,280. That is down from the recent high of 6,239 on Jan. 8.
– Seven-day weighted average of positive test rate: 1.77. That is down from the recent high of 8.7 on Jan. 1.
– Seven-day average of number of COVID-19 patients in hospitals: 829. That is down from the recent high of 2,336 on Jan. 9.
– Seven-day average of COVID-19 deaths: 36. That is down from the recent high of 73.9 on Jan. 11.
INFORMATION ON TESTING: "Stop the Spread" testing sites are open at three Berkshire Health Systems locations. Tests will be conducted for any reason, with the state picking up the cost. To schedule a test, call the toll-free hotline, 855-262-5465, from 8 a.m. to 4:30 p.m. daily.
Locations are: Pittsfield, 505 East St., St Luke's Square, adjacent to BHS Urgent Care Center; North Adams, 98 Church St., next to the city library; Great Barrington: 475 Main St. Tests can also be obtained through CVS by filling out a form online.
JOIN US: Quality local journalism, like you find in The Checkup, needs your support. When you and your family subscribe to us, that's the fuel we need to keep reporting the essential news you want. Join us. Help us build our community. We are offering a 30-day free trial to readers of The Checkup.
How can we make The Checkup better or more informative? Email us at lparnass@berkshireeagle.com.