THE VACCINE HUNT: A friend of The Checkup, Phil O'Rourke, writes in:
"I'm looking to get the vaccine. This site www.maimmunizations.org is insane. The wait time jumps around like it's on crack. Wait time is 1 minute, wait time is 430 minutes, wait time is 23 minutes, wait time is more than a day, come back another time, wait time is 10 minutes .... I finally get to a page that says to schedule at Berkshire Community College, then click to schedule an appointment (and) it brings you back to the instant waiting room."
As promised Monday, we will use this space to continue to share reports from the field, in response to our call to readers on Sunday.
We received this dispatch from James Kenefick:
"I can only ask 'what rollout?' Being here in the Berkshires, it seems that we are the forgotten ones. I would like to know what our elected leaders are doing. We seem to hear a lot, but fail to see any positive action coming from them. Residents of our county should be upset and concerned about Gov. Baker's priorities on vaccine distribution. I have been attempting to secure an appointment for two weeks with no satisfaction. I am eligible (over 72 years old) with underlying issues and a veteran of 12 years in the military. The Berkshires and our residents deserve equal distribution and a simplified means to acquire a vaccination."
Finally, Tom Werman wrote in to report that he, like others, had been watching the clock and trying to time his registration efforts — finally, with success.
"When I first learned that the appointment registry would open on Wednesday a few weeks back, I stationed myself at the computer at one minute to midnight, Tuesday night. I spent the next two hours desperately looking all over the state map for openings for myself and my wife. I came up empty-handed and went to bed disappointed.
"The next morning I saw in The Eagle that registration would open at noon. I had jumped the gun. At one minute past noon I found two time slots at Berkshire Community College for Feb. 2 with ease. Since then, I've heard nothing but frustration from our friends who are under 75.
"Part of the problem could be the registration form, which is not as simple or user-friendly as it could be. But as we've seen from constant positive feedback in The Eagle, the actual vaccination centers have been effective, efficient and helpful."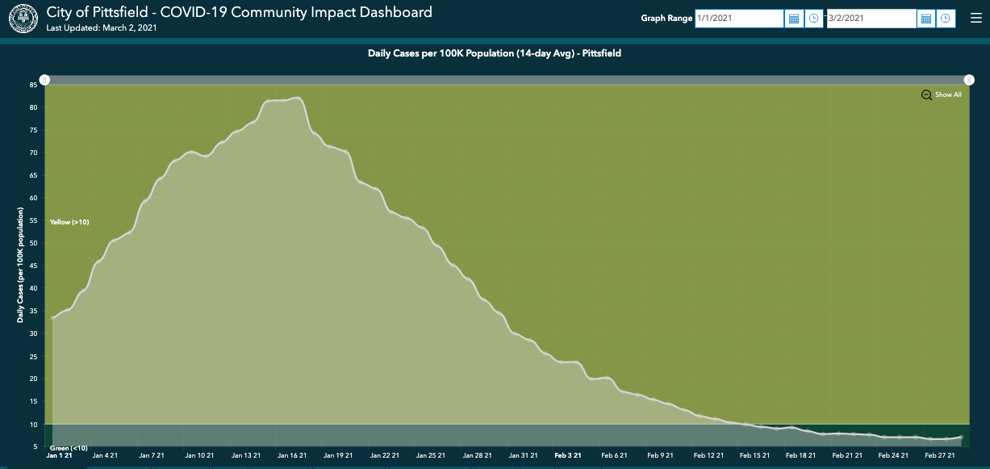 BY THE NUMBERS: Berkshire County saw no new COVID-19 deaths as of Tuesday, leaving the total at 261, and saw the confirmed case count drop by 8 to 4,870, due to a data correction by the state Department of Public Health said. A week ago, the death total was 251 and the case total was 4,819. A month ago, the death total was 220 and the case total was 4,551.
The DPH said 37 new deaths were reported in Massachusetts, pushing the statewide total to 15,859. Confirmed cases rose 980 to 551,667.
NUMBER OF ACTIVE CASES: 28,867 statewide, compared to 67,650 a month ago; 146 active cases are reported in Pittsfield, down from 960 a month ago, and 219 Pittsfield households are in quarantine, down from 441 a month back.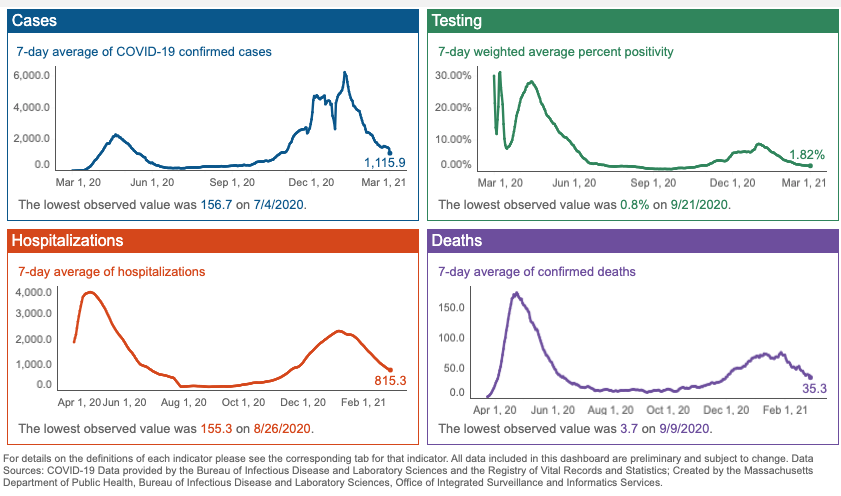 A LITTLE CONTEXT: In the two weeks that ended Feb. 24, the average age of someone confirmed to have COVID-19 was 37. The average age of someone hospitalized with COVID-19 was 69. And the average age of people who died of COVID-19 was 78. All that according to the DPH.
VACCINATING TEACHERS: The State House News Service notes that Gov. Baker may find himself in a pickle over whether to allow teachers to be vaccinated.
"Baker has been pushing cities and towns to bring kids back into classrooms for in-person learning," the service said in a Tuesday report, "but has resisted calls to make teachers eligible for vaccination sooner than expected under his administration's current plan. On Tuesday afternoon, President Joe Biden announced that the federal government would have enough supply of doses to vaccinate all American adults by the end of May and that he was 'directing every state to prioritize educators for vaccination' with a goal of getting at least one dose into an arm of every teacher, school staff member, and child-care worker by the end of March."
JUST THE FAQS: The Berkshire Eagle is regularly updating answers to frequently asked questions about access to the COVID-19 vaccine. Visit the Vax FAQs in the Coronavirus section on the home page at berkshireeagle.com.
COVID-19 WEBSITE AND INFOLINE: For information on vaccines and to schedule an appointment, when you are eligible, visit getvaccinatedberkshires.org. The city of Pittsfield is providing access by phone to weekly updates about access to the novel coronavirus vaccine in the city and in Berkshire County. A recorded message is posted at 413-449-5575.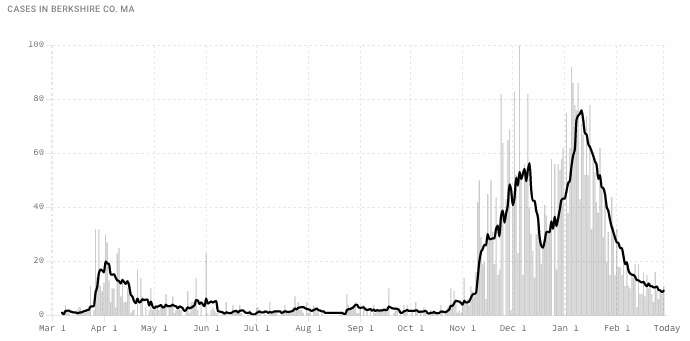 WESTERN MASS. PICTURE: The case totals (and death counts) in neighboring counties: in Franklin County, as in Berkshire County, the number of cases was revised down by 2, for a new total of 1,981 (101); Hampshire also saw an adjustment, with 17 cases removed from its total, which is now 7,407 (261); Hampden, up 75 to 41,941 (up 8 to 1,340).
HOSPITAL CHECK: Berkshire Medical Center reported caring for 9 COVID-19 patients, up from 7 a week ago and down from 25 a month ago; no cases were reported at Fairview Hospital. Statewide, 775 people are hospitalized, down from 1,631 a month ago. Of those hospitalized, 187 are in ICU and 116 are on ventilators.
WIDER WORLD OF COVID: Global cases top 114,694,012, with 2,544,559 deaths, according to data provided by Johns Hopkins University. The U.S. has seen at least 28,703,016 cases and 515,899 deaths.
LEADING INDICATORS: The DPH provides the following statistics as indicators in the fight against coronavirus infection. Tuesday's figures:
– Seven-day average of new confirmed cases: 1,116. That is down from the recent high of 6,239 on Jan. 8.
– Seven-day weighted average of positive test rate: 1.82. That is down from the recent high of 8.7 on Jan. 1.
– Seven-day average of number of COVID-19 patients in hospitals: 815. That is down from the recent high of 2,336 on Jan. 9.
– Seven-day average of COVID-19 deaths: 35.3. That is down from the recent high of 73.9 on Jan. 11.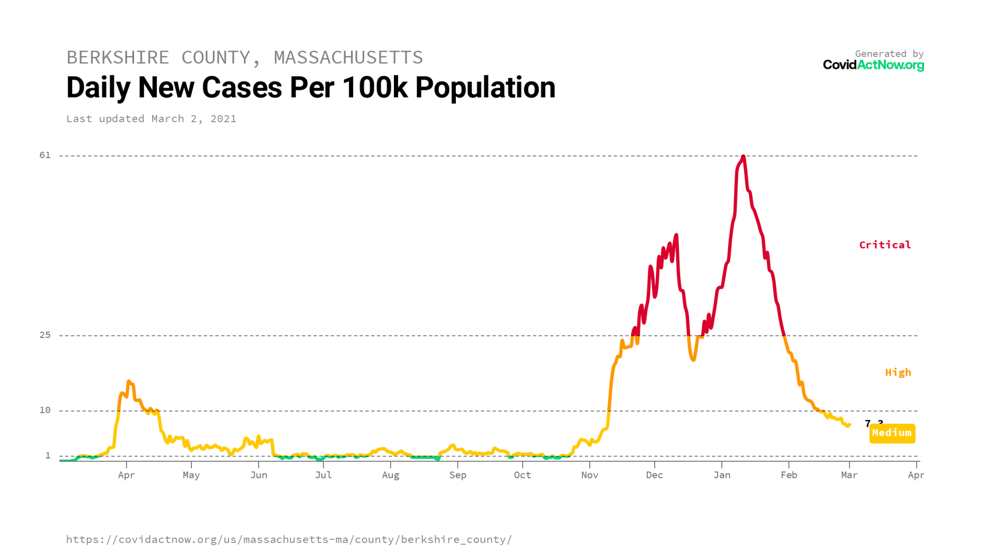 INFORMATION ON TESTING: "Stop the Spread" testing sites are open at three Berkshire Health Systems locations. Tests will be conducted for any reason, with the state picking up the cost. To schedule a test, call the toll-free hotline, 855-262-5465, from 8 a.m. to 4:30 p.m. daily.
Locations are: Pittsfield, 505 East St., St Luke's Square, adjacent to BHS Urgent Care Center; North Adams, 98 Church St., next to the city library; Great Barrington: 475 Main St. Tests can also be obtained through CVS by filling out a form online.
JOIN US: Quality local journalism, like you find in The Checkup, needs your support. When you and your family subscribe to us, that's the fuel we need to keep reporting the essential news you want. Join us. Help us build our community. We are offering a 30-day free trial to readers of The Checkup.
How can we make The Checkup better or more informative? Email us at lparnass@berkshireeagle.com.