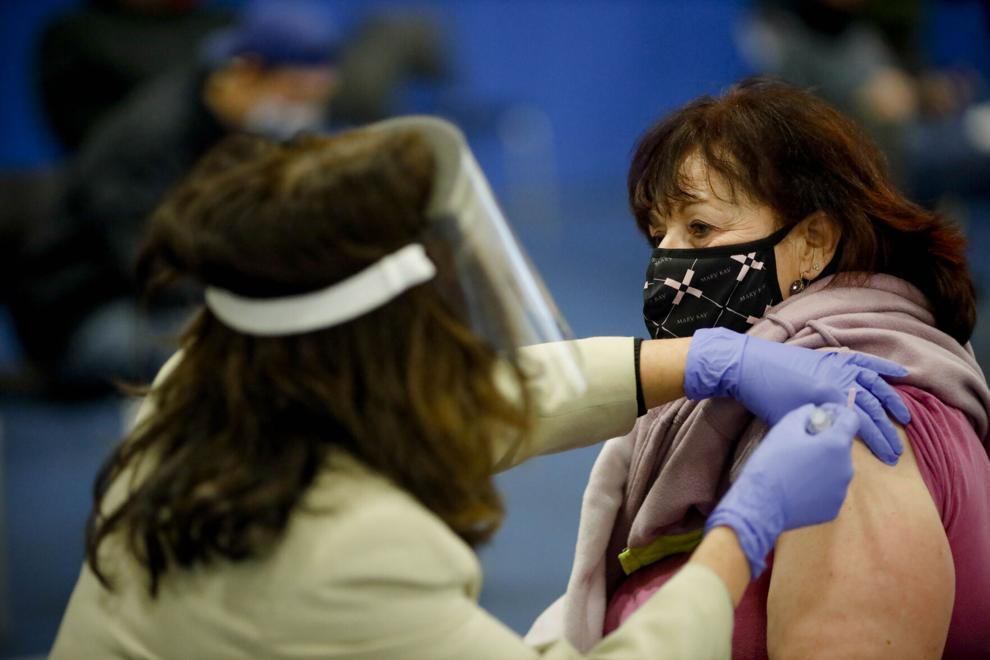 STAYING THE COURSE: A close reader of this column got in touch to say she hopes reader reports of frustration over securing a vaccine appointment do not discourage people from trying. That's a good point. While signing up has been hard, if that leads fewer people to be vaccinated in the long run, public health suffers.
To be sure, we are hearing from people who have managed to get their shots and we have published some of their accounts. And thousands of people locally have succeeded in that, as the latest state numbers show.
Berkshire County leads the state in the percentage of people vaccinated by population — 31.8 percent, as we reported online Thursday. (A considerable number of those people, we must note, do not live in the county, due to the ability of people from other areas to sign up for clinics in the region.)
Frances Czarnecki of North Adams says she was "one of the fortunate people" who got an appointment. "The process put in place by the Berkshire Vaccine Collaborative is well done and much appreciated," she wrote. "I helped many friends get their registrations done (the website not the easiest to work with) and they also secured appointments. … Our area has a great process in place. We need to continue to receive doses of the vaccine so it can continue to take care of the people in this area."
Judy Condron of Dalton also counts herself one of the "lucky ones."
"Both my husband and I had wonderful experiences. I was one of the lucky ones that saw the 'open for 65 and older population' early as I happened to be checking email when it was announced that 65 and older could receive vaccinations. I was so nervous making appointments for both my husband and myself that I got them approximately 4 minutes apart but my husband at Berkshire Community College in Pittsfield and mine at St. Elizabeth's in North Adams."
"Not a big deal — at least we had appointments. When arriving back home after the shots we both exclaimed what a wonderful experience it was. St. Elizabeth's was like a well-oiled machine and my husband found the same to be true at BCC. We were both out of there in less than 25 minutes (with the 15-minute waiting period). It was magical and so easy. We are lucky to have seen the announcement early and to have such wonderful experiences. Thank you to all."
Nonetheless, the accounts of website malfunction, long waits and non-existent appointment slots are undeniable. Even if due to vaccine shortages, the online signup system has flaws. We feel it's important to document these experiences. State officials need to hear what people have gone through to secure appointments.
People like Catherine Folkers of Lee. She says she's spent hours online seeking a slot from all available sources, including pharmacies. "Meanwhile, I have friends in Boston getting immunized. What gives? I understand that the registration site crashed and that supply was down after the storms. I understand that there are places in Massachusetts where the infection rates are much worse than here and I'm all in for taking care of the most vulnerable."
"But it would be really good to get some honest answers about how the available supply is being divvied up between counties, cities and towns. The lack of information does us a disservice," she said.
Folkers said she's appreciated the ability to read about what others are facing. "Part of the frustration is from being isolated, and trying unsuccessfully to navigate this, without much sense of how others are managing the issue."
To share your story, email lparnass@berkshireeagle.com.
We'll give Rocco Cirigliano the last word on this today. He and his wife were vaccinated at the BCC field house. "The total time it took for our vaccination was about 20 minutes. The entire experience was professional, courteous, warm, caring, efficient, and well organized. After four fearful years of living in a country controlled by a lying sociopathic who tried to deny a pandemic, I felt like crying with joy when I left," Cirigliano told us. "I have not been able to be proud of our country and what our government was doing. I felt my breath coming back when I left that field house. This is America and not what it had been for the past four years."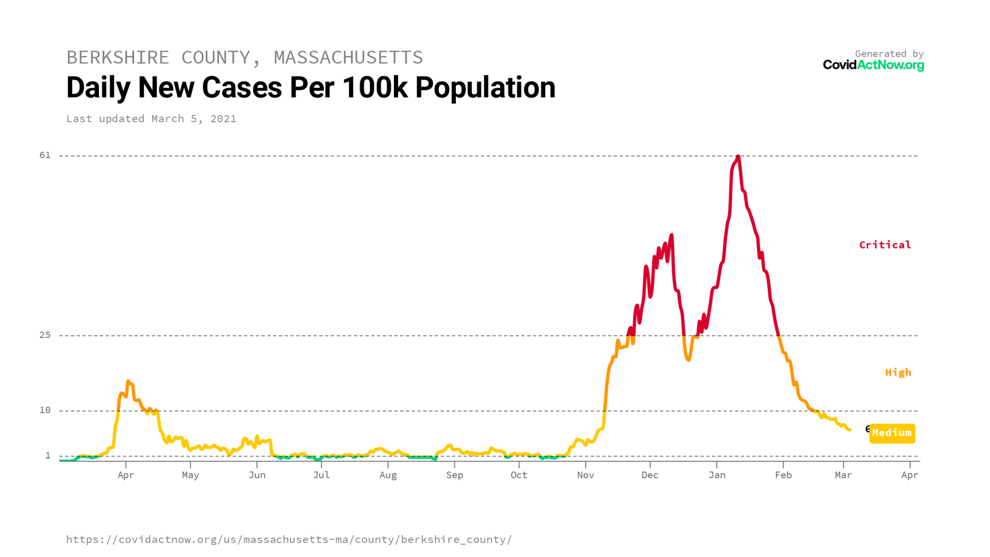 BY THE NUMBERS: Berkshire County saw no new COVID-19 deaths as of Friday, leaving a total of 262 deaths, with the confirmed case count up 10 to 4,893, the state Department of Public Health said. A week ago, the death total was 257 and the case total was 4,850. A month ago, the death total was 226 and the case total was 4,608.
The DPH said 25 new deaths were reported in Massachusetts, pushing the statewide total to 15,992. Confirmed cases rose 1,677 to 556,307.
NUMBER OF ACTIVE CASES: 27,382 statewide, compared to 59,934 a month ago; 155 active cases in Pittsfield , compared to 252 a week ago); 48 Pittsfield households are in quarantine. It was 210 a week ago.
WESTERN MASS. PICTURE: The case totals (and death counts) in neighboring counties: Franklin, up 9 to 2,005 (101); Hampshire, up 49 to 7,574 (263); Hampden, up 166 to 42,375 (up 6 to 1,357).
HOSPITAL CHECK: Berkshire Medical Center reported caring for 10 COVID-19 patients, up from 9 a week ago and down from 22 a month ago; no cases were reported at Fairview Hospital. Statewide, 716 people are hospitalized. Of those hospitalized, 180 are in ICU and 109 are on ventilators.
WIDER WORLD OF COVID: Global cases top 116,015,623, with 2,578,637 deaths, according to data provided by Johns Hopkins University. The U.S. has seen at least 28,885,512 cases and 522,606 deaths.
LEADING INDICATORS: The DPH provides the following statistics as indicators in the fight against coronavirus infection. Friday's figures:
– Seven-day average of new confirmed cases: 1,055. That is down from 1,579 on Feb. 15.
– Seven-day weighted average of positive test rate: 1.82. That is down from 2.19 on Feb. 15.
– Seven-day average of number of COVID-19 patients in hospitals: 766. That is down from 1,258 on Feb. 15.
– Seven-day average of COVID-19 deaths: 1,357. That is down from 38.9 on Feb. 15.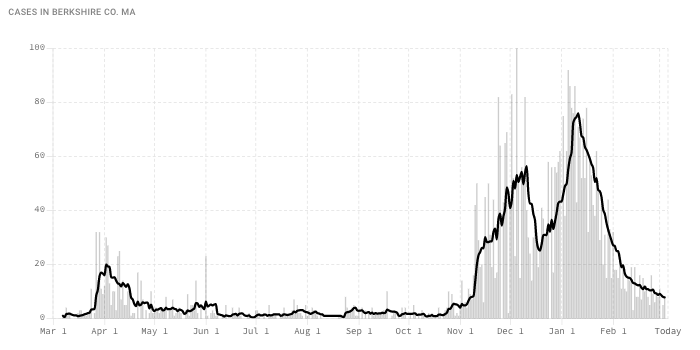 AT THE COLLEGES: Local colleges report the following number of cases:
Williams College: Past week: 2 cases based on 3,426 tests. 39 cases to date.
MCLA: Past week: No cases based on 354 tests. Two cases this semester out of 2,827 tests. Nine other cases linked to the campus based on testing elsewhere.
Bard College at Simon's Rock: Past week: No cases based on 476 tests.
JUST THE FAQS: The Berkshire Eagle is regularly updating answers to frequently asked questions about access to the COVID-19 vaccine. Visit the Vax FAQs in the Coronavirus section on the home page at berkshireeagle.com.
COVID-19 WEBSITE AND INFOLINE: For information on vaccines and to schedule an appointment, when you are eligible, visit getvaccinatedberkshires.org. The city of Pittsfield is providing access by phone to weekly updates about access to the novel coronavirus vaccine in the city and in Berkshire County. A recorded message is posted at 413-449-5575.
INFORMATION ON TESTING: "Stop the Spread" testing sites are open at three Berkshire Health Systems locations. Tests will be conducted for any reason, with the state picking up the cost. To schedule a test, call the toll-free hotline, 855-262-5465, from 8 a.m. to 4:30 p.m. daily.
Locations are: Pittsfield, 505 East St., St Luke's Square, adjacent to BHS Urgent Care Center; North Adams, 98 Church St., next to the city library; Great Barrington: 475 Main St. Tests can also be obtained through CVS by filling out a form online.
JOIN US: Quality local journalism, like you find in The Checkup, needs your support. When you and your family subscribe to us, that's the fuel we need to keep reporting the essential news you want. Join us. Help us build our community. We are offering a 30-day free trial to readers of The Checkup.
How can we make The Checkup better or more informative? Email us at lparnass@berkshireeagle.com.