VACCINE ROLLOUT: Gov. Charlie Baker plans to join President Joe Biden and other governors in a virtual event Tuesday touting the state's vaccine progress. Massachusetts, Hawaii and Vermont became the first three states to administer at least one shot to more than 70 percent of adult residents.
BY THE NUMBERS: Berkshire County saw two new COVID-19 deaths as of Monday, for a new total of 285 deaths, with the confirmed case count up 6 to 6,437, the state Department of Public Health said. A week ago, the death total was 282 and the case total was 6,348. The DPH said 14 new deaths were reported in Massachusetts, pushing the statewide total to 17,344 Confirmed cases rose 446 to 653,636.
NUMBER OF ACTIVE CASES: 18,441 statewide, compared to 23,676 a week ago; 47 active cases in Pittsfield.
VACCINE SITES SHIFT FOCUS: All seven of the state's mass vaccination sites now offer vaccines on a walk-up basis with appointments available — but not required. Secretary of Health and Human Services Marylou Sudders said that the site at Gillette Stadium, which was not included in last week's initial announcement that six of the large-scale sites would accept walk-ins, needed more time to prepare for the change.
Massachusetts has administered 85.5 percent of the 7.94 million vaccine doses shipped here by the federal government, according to DPH figures. More than 2.96 million people are fully vaccinated.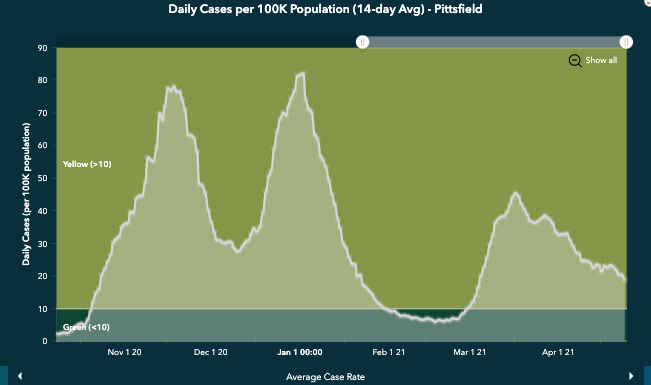 WESTERN MASS. PICTURE: The case totals (and death counts) in neighboring counties: Franklin, up 2 to 2,523 (113); Hampshire, up 8 to 9,056 (294); Hampden, up 38 to 51,410 (up 2 to 1,500).
HOSPITAL CHECK: Berkshire Medical Center reported caring for 2 COVID-19 patients, down from 5 a week ago; no cases were reported at Fairview Hospital. Statewide, 427 people are hospitalized, down from 522 a week back. Of those hospitalized, 117 are in ICU and 77 are on ventilators.
SENATORS MAKE PITCH TO AIRLINES: Cut passengers some slack these days. That's what Sen. Ed Markey and Connecticut Sen. Richard Blumenthal are asking big national airlines. In a letter, the senators asked the airlines to give cash refunds to travelers who have had to cancel flights because of the pandemic, or at least to make it so that the temporary flight credits they've already issued do not expire. As vaccines roll out and gradual reopening efforts progress across the country, previously scheduled travel plans remain on hold or disrupted for many.
"We must first reiterate our belief that your airline should offer a cash refund for all tickets on flights canceled during the coronavirus pandemic, whether canceled by the airline or traveler," Markey and Blumenthal wrote in letters to 10 airlines. "Americans need cash in their pockets to pay for food, housing, and prescriptions during this emergency. It is unconscionable that airlines are largely refusing to return customers' money even as the industry sits on more than $10 billion in unused travel credits. However, even as we continue to push for these cash refunds, it is imperative that, at a minimum, your company does not subject pandemic-related flight credits to an expiration date."
The senators sent their letters to Alaska Airlines, Allegiant Air, American Airlines, Delta Air Lines, Frontier Airlines, Hawaiian Airlines, JetBlue Airways, Southwest Airlines, Spirit Airlines and United Airlines, according to Markey's office.
WIDER WORLD OF COVID: Global cases top 158,527,286, with 3,296,686 deaths, according to data provided by Johns Hopkins University. The U.S. has seen at least 32,736,396 cases and 582,081 deaths.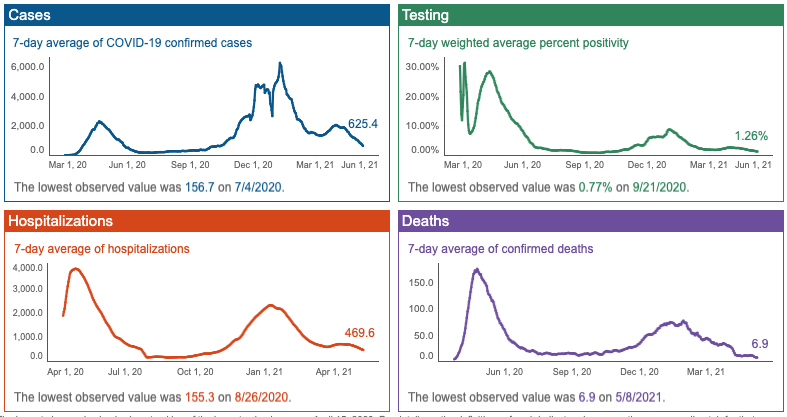 LEADING INDICATORS: The DPH provides the following statistics as indicators in the fight against coronavirus infection. Monday's figures:
– Seven-day average of new confirmed cases: 625.4. That is down from 1,579 on Feb. 15.
– Seven-day weighted average of positive test rate: 1.26. That is down from 2.19 on Feb. 15.
– Seven-day average of number of COVID-19 patients in hospitals: 469.6. That is down from 1,258 on Feb. 15.
– Seven-day average of COVID-19 deaths: 6.9. That is down from 38.9 on Feb. 15.
REOPENING TIMELINE GETS A PUSH: Critics of Baker's emergency orders restricting business operations and social activity, who sued the governor unsuccessfully last year, are now asking the U.S. Supreme Court to hear their case, a move they hope will also accelerate the state's timeline for a full reopening.
JUST THE FAQS: The Berkshire Eagle is regularly updating answers to frequently asked questions about access to the COVID-19 vaccine. Visit the Vax FAQs in the Coronavirus section on the home page at berkshireeagle.com.
COVID-19 WEBSITE AND INFOLINE: For information on vaccines and to schedule an appointment, when you are eligible, visit getvaccinatedberkshires.org.
INFORMATION ON TESTING: "Stop the Spread" testing sites are open at three Berkshire Health Systems locations. Tests will be conducted for any reason, with the state picking up the cost. To schedule a test, call the toll-free hotline, 855-262-5465, from 8 a.m. to 4:30 p.m. daily.
Locations are: Pittsfield, 505 East St., St Luke's Square, adjacent to BHS Urgent Care Center; North Adams, 98 Church St., next to the city library; Great Barrington: 475 Main St. Tests can also be obtained through CVS by filling out a form online.
JOIN US: Quality local journalism, like you find in The Checkup, needs your support. When you and your family subscribe to us, that's the fuel we need to keep reporting the essential news you want. Join us. Help us build our community. We are offering a 30-day free trial to readers of The Checkup.
Material from the State House News Service was included in this report. How can we make The Checkup better or more informative? Email us at lparnass@berkshireeagle.com.