First, the big zero is big news. The state Department of Public Health said no one died of COVID-19 in Massachusetts in the figures released Tuesday.
That was true on Sunday in the four western counties, but not since last June 30 has no one fallen to the disease in the course of a day in the entire state of Massachusetts.
That wasn't the reason that Gov. Charlie Baker appeared on a virtual meeting with President Joe Biden, but the president did praise Baker's efforts to get people vaccinated. Now that the vaccine supply has increased dramatically, the weeks of shortages, and frustration, are fading into the rearview mirror.
Baker joined governors from across the country on a virtual livestream with Biden to highlight vaccination efforts targeted at underserved populations. As the Republican governor wrapped up his remarks, Biden replied, "Thanks, Charlie. Thank you. You're doing a hell of a job."
Massachusetts crossed the 3 million mark for full vaccinations on Tuesday at a faster pace than previous thresholds. The state hit 1 million full vaccinations on March 19, more than four months after the first shot was administered, and 2 million vaccinations 29 days later on April 17. While the effort to reach those who still have not gotten vaccinated continues, the state's COVID-19 outlook remains in a more optimistic place than a few months ago.
BY THE NUMBERS: As mentioned, Berkshire County saw no new COVID-19 deaths as of Tuesday. The total remained 285, with the confirmed case count up 4 to 6,441, the state Department of Public Health said. A week ago, the death total was 282 and the case total was 6,359. The DPH said no new deaths were reported in Massachusetts, leaving the statewide total at 17,344. Confirmed cases rose 472 to 654,108..
NUMBER OF ACTIVE CASES: 17,519 statewide, compared to 22,248 a week ago; 47 active cases in Pittsfield. The number of active cases in the state is the fourth lowest since that data point joined the DPH daily dashboard in November.
VACCINATION REPORT: More than 3 million Massachusetts residents are fully vaccinated against COVID-19 as of Tuesday, the latest major milestone in the state's vaccination campaign. The DPH said Tuesday that 3,005,473 Bay Staters are now fully vaccinated, 42,356 more than in Monday's report. The number of residents fully vaccinated represents more than 54 percent of the roughly 5.5 million adults in Massachusetts and is three-quarters of the way to the baseline goal of 4 million full vaccinations the Baker administration targeted earlier this spring.
As of Tuesday's report, 3,844,100 Massachusetts residents had received at least one dose of the Moderna or Pfizer vaccine and 225,490 received the single-shot Johnson & Johnson vaccine. The Bay State has received 8,172,240 doses since its rollout began in December, 83.8 percent of which have been administered.
WESTERN MASS. PICTURE: The case totals (and death counts) in neighboring counties: Franklin, up 3 to 2,526 (113); Hampshire, up 2 to 9,058 (294); Hampden, up 23 to 51,433 (1,500).
HOSPITAL CHECK: Berkshire Medical Center reported caring for 2 COVID-19 patients as of Monday, down from 4 a week ago and 8 on April 12; no cases were reported at Fairview Hospital. Statewide, 441 people are hospitalized, down from 516 a week ago. Of those hospitalized, 117 are in ICU and 76 are on ventilators.
ELDER HOURS AT GROCERIES NOW OPTIONAL: As of Monday, when updates to the state's retail and restaurant COVID-19 safety standards took effect, grocery stores and shops with pharmacy departments no longer have to reserve at least one dedicated hour each morning they are open for adults 60 and older.
Instead, retail stores are encouraged to offer those kind of exclusive hours to high-risk populations. Staff and shoppers must still wear face coverings and stores must observe capacity limits.
WIDER WORLD OF COVID: Global cases top 159,172,466, with 3,308,698 deaths, according to data provided by Johns Hopkins University. The U.S. has seen at least 32,768,763 cases and 582,734 deaths.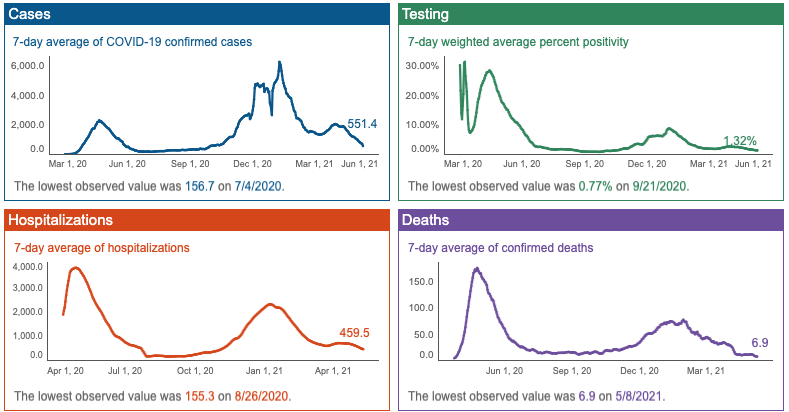 LEADING INDICATORS: The DPH provides the following statistics as indicators in the fight against coronavirus infection. Tuesday's figures:
– Seven-day average of new confirmed cases: 551.4. That is down from 1,579 on Feb. 15.
– Seven-day weighted average of positive test rate: 1.32. That is down from 2.19 on Feb. 15.
– Seven-day average of number of COVID-19 patients in hospitals: 459.5. That is down from 1,258 on Feb. 15.
– Seven-day average of COVID-19 deaths: 6.9. That is down from 38.9 on Feb. 15.
A BREAK ON BROADBAND: Starting Wednesday, households can apply for a federal program that will provide discounts for broadband services and devices for those who qualify. The Federal Communications Commission's Emergency Broadband Program offers discounts of up to $50 per month on broadband service and equipment rentals and a one-time discount of up to $100 for a laptop, tablet or desktop computer, with a co-payment between $10 and $50.
One monthly service discount and one device discount are allowed per household, and the program will end either when it runs out of funding or six months after the U.S. Department of Health and Human Services declares an end to the COVID-19 health emergency, whichever comes first. Households can qualify for the program through a variety of criteria, including an income at or below 135 percent of the federal poverty level, receiving a federal Pell Grant, qualifying for Lifeline benefits through participation in SNAP, Medicaid, Supplemental Security Income, federal public housing assistance, or a veterans and survivors pension benefit, or having a child participating in a free or reduced-priced school lunch program.
JUST THE FAQS: The Berkshire Eagle is regularly updating answers to frequently asked questions about access to the COVID-19 vaccine. Visit the Vax FAQs in the Coronavirus section on the home page at berkshireeagle.com.
COVID-19 WEBSITE AND INFOLINE: For information on vaccines and to schedule an appointment, when you are eligible, visit getvaccinatedberkshires.org.
JOIN US: Quality local journalism, like you find in The Checkup, needs your support. When you and your family subscribe to us, that's the fuel we need to keep reporting the essential news you want. Join us. Help us build our community. We are offering a 30-day free trial to readers of The Checkup.
Material from the State House News Service was included in this report. How can we make The Checkup better or more informative? Email us at lparnass@berkshireeagle.com.