SIX MILLION SHOTS: More than 6 million COVID-19 vaccine doses have now been administered in Massachusetts, and more than half the state's roughly 7 million residents have received at least one shot.
In Berkshire County, 53 percent of residents have received at least one dose and 37 percent have been fully vaccinated, the state reported Thursday.
The Department of Public Health reported Friday that more than 2.53 million people in Massachusetts are fully vaccinated. In all, 6,097,946 doses have been administered as of midnight Thursday, accounting for 85 percent of the 7,172,680 doses shipped to Massachusetts providers and pharmacies so far.
BY THE NUMBERS: Berkshire County saw 14 new COVID-19 cases as of Sunday, for a new total of 6,338 cases, the state Department of Public Health said. To date, 282 people in the county have died of COVID-19, unchanged from two weeks ago. A week ago, the case total was 6,204. A month ago, the death total was 277 and the case total was 5,606.
The DPH said four new deaths were reported in Massachusetts, pushing the statewide total to 17,270. Confirmed cases rose 786 to 647,768.
NUMBER OF ACTIVE CASES: 24,104 statewide, compared to 29,563 a week ago. Pittsfield estimates there are 67 actively contagious cases in the city, and 448 Pittsfield households are in quarantine
WALK-IN CLINICS: More walk-in vaccine clinics could feature in Massachusetts in the coming months, a model Gov. Charlie Baker believes can appeal more to younger people with less concrete schedules.
Anyone younger than 16 remains ineligible for COVID vaccines under federal guidelines, although Pfizer and Moderna have both conducted trials for children as young as 12 and are also running trials for even younger groups. Earlier this month, Pfizer requested emergency use authorization for its vaccine in those 12 to 15 years old, which the U.S. Food and Drug Administration is still reviewing.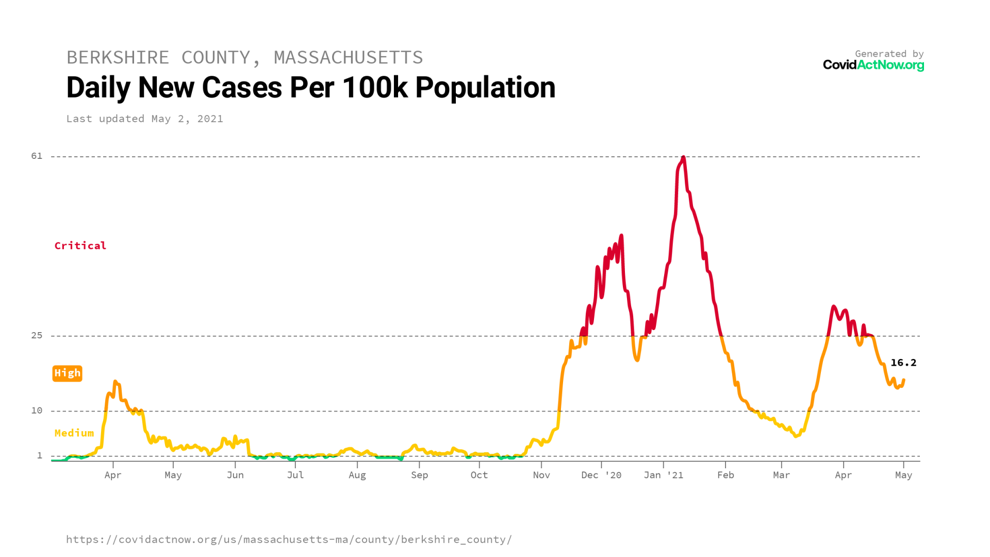 WESTERN MASS. PICTURE: The case totals (and death counts) in neighboring counties: Franklin, up 6 to 2,480 (113); Hampshire, up 9 to 8,969 (290); Hampden, up 103 to 50,846 (1,496).
HOSPITAL CHECK: Berkshire Medical Center reported caring for nine COVID-19 patients; no cases were reported at Fairview Hospital.
Statewide, 525 people are hospitalized. Of those hospitalized, 143 are in ICU and 81 are on ventilators.
WIDER WORLD OF COVID: Global cases top 152,408,941, with 3,196,298 deaths, according to data provided by Johns Hopkins University. The U.S. has seen at least 32,418,583 cases and 577,015 deaths.
LEADING INDICATORS: The DPH provides the following statistics as indicators in the fight against coronavirus infection. Sunday's figures:
– Seven-day average of new confirmed cases: 869.3. That is down from 1,579 on Feb. 15.
– Seven-day weighted average of positive test rate: 1.49 percent. That is down from 2.19 percent on Feb. 15.
– Seven-day average of number of COVID-19 patients in hospitals: 587.9. That is down from 1,258 on Feb. 15.
– Seven-day average of COVID-19 deaths: 8.7. That is down from 38.9 on Feb. 15.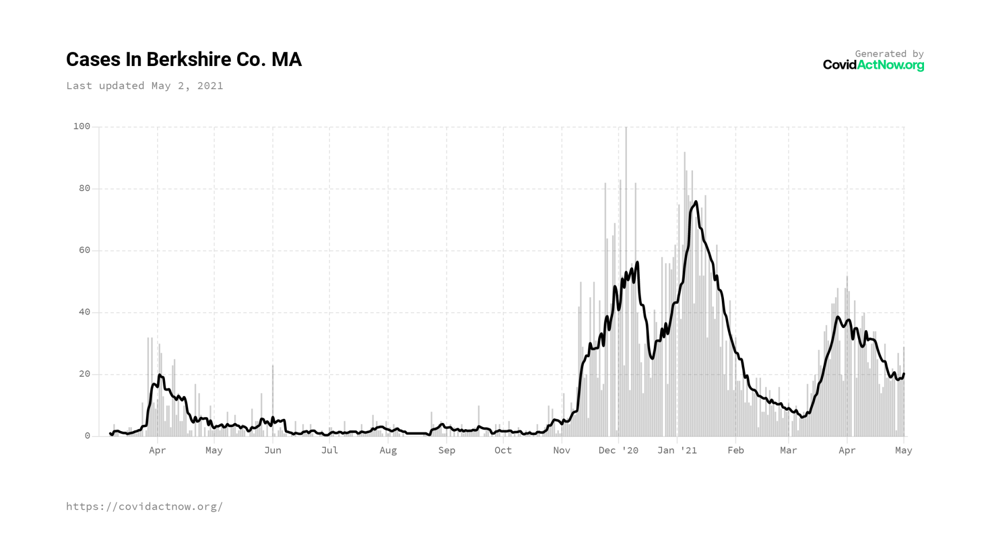 JUST THE FAQS: The Berkshire Eagle is regularly updating answers to frequently asked questions about access to the COVID-19 vaccine. Visit the Vax FAQs in the Coronavirus section on the home page at berkshireeagle.com.
COVID-19 WEBSITE AND INFOLINE: For information on vaccines and to schedule an appointment, when you are eligible, visit getvaccinatedberkshires.org.
INFORMATION ON TESTING: "Stop the Spread" testing sites are open at three Berkshire Health Systems locations. Tests will be conducted for any reason, with the state picking up the cost. To schedule a test, call the toll-free hotline, 855-262-5465, from 8 a.m. to 4:30 p.m. daily.
Locations are: Pittsfield, 505 East St., St Luke's Square, adjacent to BHS Urgent Care Center; North Adams, 98 Church St., next to the city library; Great Barrington: 475 Main St. Tests can also be obtained through CVS by filling out a form online.
JOIN US: Quality local journalism, like you find in The Checkup, needs your support. When you and your family subscribe to us, that's the fuel we need to keep reporting the essential news you want. Join us. Help us build our community. We are offering a 30-day free trial to readers of The Checkup.
Material from the State House News Service may have been included in this report. How can we make The Checkup better or more informative? Email us at lparnass@berkshireeagle.com.