BY THE NUMBERS: The Department of Public Health said 18 new deaths were reported in Massachusetts, pushing the statewide total to 17,288. Confirmed cases rose 481 to 648,249. That is the smallest daily total in nearly seven months.
Berkshire County saw no new COVID-19 deaths as of Monday, holding at 282 deaths during the pandemic, with the confirmed case count up 10 to 6,348, the state said. A week ago, the death total was the same and the case total was 6,224.
NUMBER OF ACTIVE CASES: 23,676 statewide, compared to 29,601 a week ago.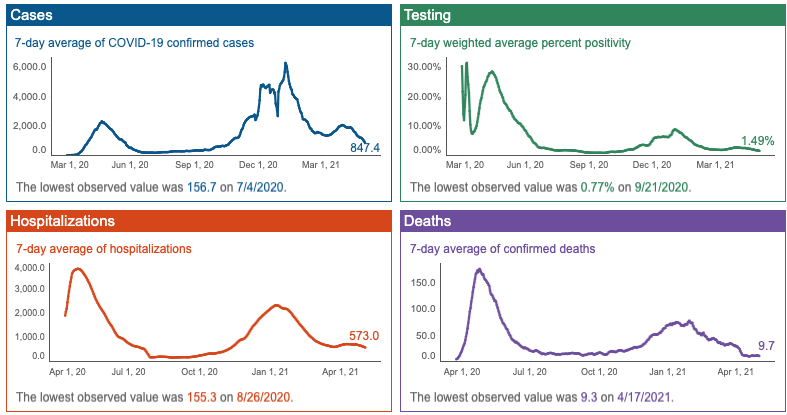 VACCINE REPORT: More than 2.6 million people in Massachusetts are now fully vaccinated against COVID-19. Gov. Charlie Baker said Monday the state would move into a new phase of its vaccine-distribution strategy to focus on harder-to-reach populations and more targeted efforts like mobile clinics.
VACCINE REPORT II: Providers on Sunday reported administering 33,643 doses of the three approved COVID-19 vaccines in Massachusetts — about two-thirds of them final doses. Of the shots reported Sunday, just 9,866 were first doses of the Moderna or Pfizer vaccines, each of which requires two shots. The other 23,777 shots reported as administered included 23,168 Moderna or Pfizer second doses and 609 doses of the single-shot Johnson & Johnson vaccine. Since December, Massachusetts has administered 6,256,736 total vaccine doses, and 2,626,191 people here are now fully vaccinated.
VACCINE REPORT III: About 84 percent of the residents and 71 percent of the staff members at long-term care facilities in Massachusetts have been fully vaccinated against COVID-19, Command Center head Marylou Sudders said Monday. "The combination of vaccines and ongoing surveillance testing is paying off and keeping our staff and residents safe," she said.
Over the last week, Sudders, the health and human services secretary, said six nursing home residents and 27 staff members tested positive for COVID-19. Long-term care settings, including nursing homes and rest homes, were hit hard by the first wave of COVID-19 last spring. More than 35,000 long-term care facility residents have been infected with the coronavirus and almost 6,000 have died. In congregate care settings, like group homes and special education residential facilities, Sudders said 60 percent of staffers and between 70 and 80 percent of residents (depending on the facility type) have received at least one dose of a COVID-19 vaccine.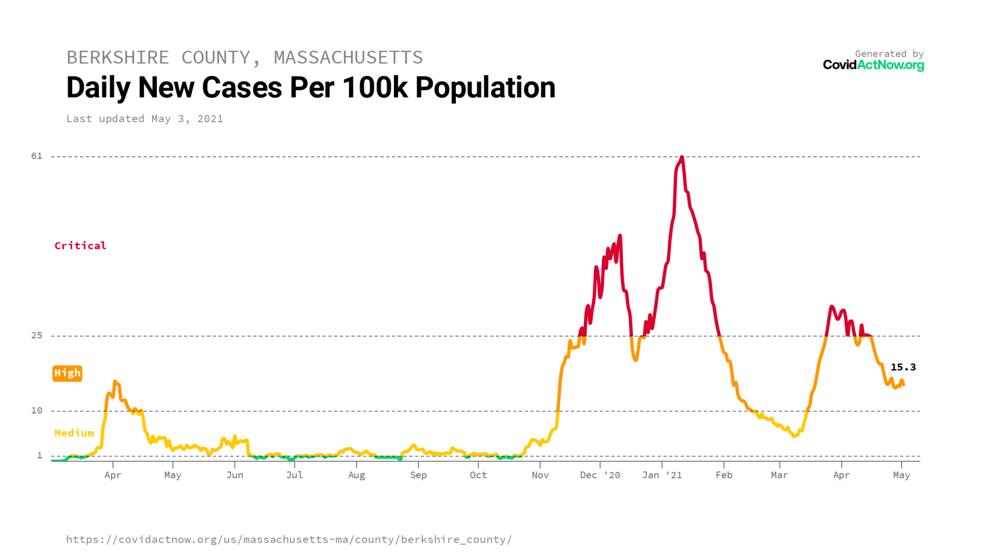 WESTERN MASS. PICTURE: The case totals (and death counts) in neighboring counties: Franklin, up 3 to 2,483 (113); Hampshire, up 1 to 8,973 (up 1 to 291); Hampden, up 55 to 50,901 (up 1 to 1,497).
HOSPITAL CHECK: Berkshire Medical Center reported caring for 5 COVID-19 patients, up from 3 a week ago; no cases were reported at Fairview Hospital. Statewide, 522 people are hospitalized, down from 625 a week ago. Of those hospitalized, 133 are in ICU and 82 are on ventilators.
WIDER WORLD OF COVID: Global cases top 153,123,490 with 3,207,815 deaths, according to data provided by Johns Hopkins University. The U.S. has seen at least 32,463,649 cases and 577,464 deaths.
HOTEL RECOVERY? A national hotel industry group said Monday that Massachusetts will end 2021 with 14,000 fewer hotel jobs than it had before the pandemic. The American Hotel and Lodging Association released state-by-state projections for hotel property jobs, listing Massachusetts as one of 16 states where industry leaders expect employment to be down 10,000 positions or more compared to 2019.
The Bay State had 42,570 hotel workers in 2019, according to AHLA, a figure that dropped to 25,852 in 2020 after the devastation of the COVID-19 pandemic. AHLA expects that Massachusetts will only recover a few thousand of those jobs this year and will end 2021 with 28,063 hotel workers. The group is asking Congress for action on legislation known as the "Save Hotel Jobs Act" that would offer payroll grants and tax credits to lodging businesses.
LEADING INDICATORS: The DPH provides the following statistics as indicators in the fight against coronavirus infection. Monday's figures:
– Seven-day average of new confirmed cases: 847. That is down from 1,579 on Feb. 15.
– Seven-day weighted average of positive test rate: 1.49. That is down from 2.19 on Feb. 15.
– Seven-day average of number of COVID-19 patients in hospitals: 573. That is down from 1,258 on Feb. 15.
– Seven-day average of COVID-19 deaths: 9.7. That is down from 38.9 on Feb. 15.
JUST THE FAQS: The Berkshire Eagle is regularly updating answers to frequently asked questions about access to the COVID-19 vaccine. Visit the Vax FAQs in the Coronavirus section on the home page at berkshireeagle.com.
COVID-19 WEBSITE AND INFOLINE: For information on vaccines and to schedule an appointment, when you are eligible, visit getvaccinatedberkshires.org.
INFORMATION ON TESTING: "Stop the Spread" testing sites are open at three Berkshire Health Systems locations. Tests will be conducted for any reason, with the state picking up the cost. To schedule a test, call the toll-free hotline, 855-262-5465, from 8 a.m. to 4:30 p.m. daily.
Locations are: Pittsfield, 505 East St., St Luke's Square, adjacent to BHS Urgent Care Center; North Adams, 98 Church St., next to the city library; Great Barrington: 475 Main St. Tests can also be obtained through CVS by filling out a form online.
JOIN US: Quality local journalism, like you find in The Checkup, needs your support. When you and your family subscribe to us, that's the fuel we need to keep reporting the essential news you want. Join us. Help us build our community. We are offering a 30-day free trial to readers of The Checkup.
Material from the State House News Service was included in this report. How can we make The Checkup better or more informative? Email us at lparnass@berkshireeagle.com.