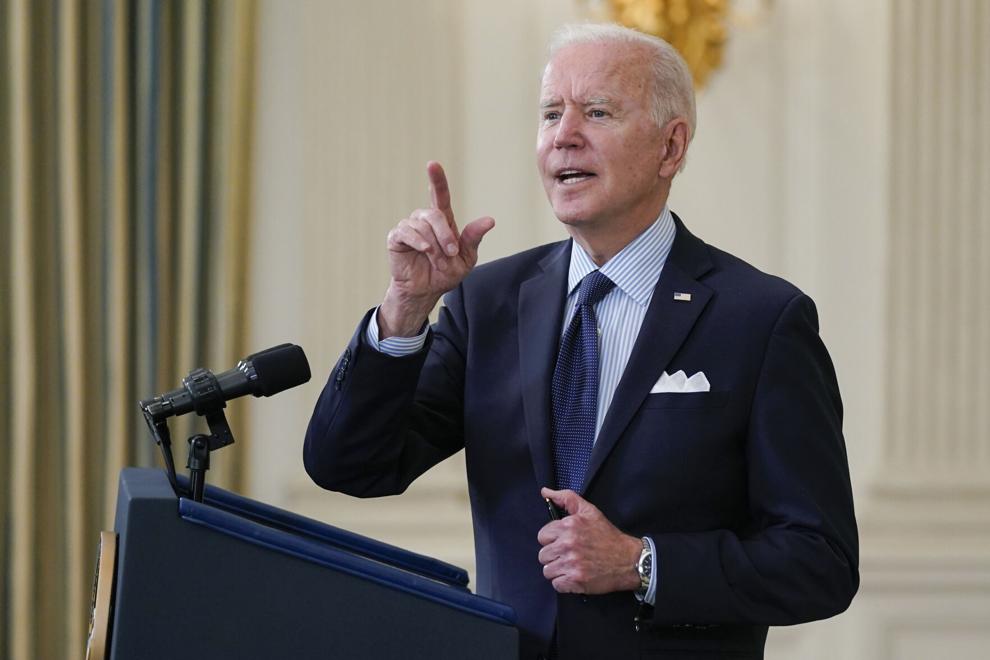 A day after Gov. Charlie Baker outlined changes to reach people who have not signed up for COVID-19 vaccines, President Joe Biden spelled out his next goal in the pandemic: administering at least one vaccine shot to 70 percent of the nation's adult population by July 4.
Biden said his revised national strategy will rely more on walk-in appointments, pop-up clinics, and mobile vaccination units. The president directed tens of thousands of pharmacies in the federal pharmacy program to offer walk-in appointments, said he was redirecting resources to support more pop-up clinics, smaller vaccination sites, and more mobile clinics; and pledged new vaccine allocations to rural health clinics. While walk-in appointments at pharmacies were described by the White House as a directive, the White House said it was encouraging all states to offer walk-in options at state vaccination sites to make it easier to get vaccinated.
Biden also pledged a state of readiness if the FDA authorizes the use of the Pfizer vaccine among those between 12 and 15 years old, and plans to deploy the Office of the Surgeon General, CDC, National Institutes of Health and other clinical leaders "to help answer questions parents and teens may have about vaccination," according to the White House. The Biden administration directed states to make adolescents eligible for vaccination immediately, should the FDA issue an emergency use authorization.
"The President will challenge states to get as many adolescents vaccinated as possible with one shot by July 4, so that they can be fully vaccinated by the time school begins in the fall," the White House said.
BY THE NUMBERS: The DPH said 5 new deaths were reported in Massachusetts, pushing the statewide total to 17,293. Confirmed cases rose 718 to 648,967.
Berkshire County saw no new COVID-19 deaths as of Tuesday, leaving a total of 282 deaths, with the confirmed case count up 11 to 6,359, the state Department of Public Health said. A week ago, the death total was the same, 282, and the case total was 6,359. A month ago, the death total was 279 and the case total was 5,685.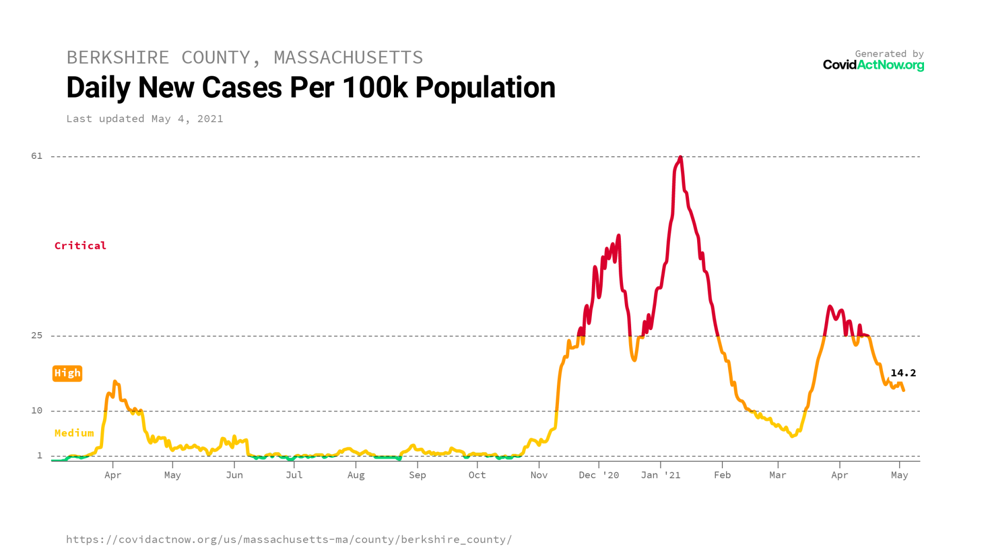 NUMBER OF ACTIVE CASES: 22,248 statewide, compared to 28,043 a week ago.
WESTERN MASS. PICTURE: The case totals (and death counts) in neighboring counties: Franklin, up 3 to 2,486 (113); Hampshire, up 15 to 8,988 (291); Hampden, up 84 to 50,985 (1,497).
VACCINE REPORT: Massachusetts is inching closer to getting 50 percent of its adult population fully vaccinated as the administration of Gov. Charlie Baker shifts from mass vaccination sites to a more localized approach. As of Tuesday, 2,661,078 of the state's roughly 5.5 million adults have received both doses of the Moderna or Pfizer vaccine or the single-shot Johnson & Johnson vaccine.
Providers reported administering 56,515 doses of the three approved COVID-19 vaccines as of Monday — more than 60 percent of them final doses. The shots reported Monday included 21,628 first doses of the Moderna or Pfizer vaccines, each of which requires two shots. The other 34,887 shots reported as administered included 33,905 Moderna or Pfizer second doses and 982 doses of the single-shot Johnson & Johnson vaccine. Since December, Massachusetts has administered 6,313,251 total vaccine doses, and 2,661,078 people here are now fully vaccinated.
HOSPITAL CHECK: Berkshire Medical Center reported caring for 4 COVID-19 patients, the same as a week ago and down from 6 a month ago; no cases were reported at Fairview Hospital. Statewide, 516 people are hospitalized, down from 628 a week ago. Of those hospitalized, 136 are in ICU and 85 are on ventilators.
WIDER WORLD OF COVID: Global cases top 153,796,363, with 3,218,179 deaths, according to data provided by Johns Hopkins University. The U.S. has seen at least 32,504,546 cases and 578,292 deaths.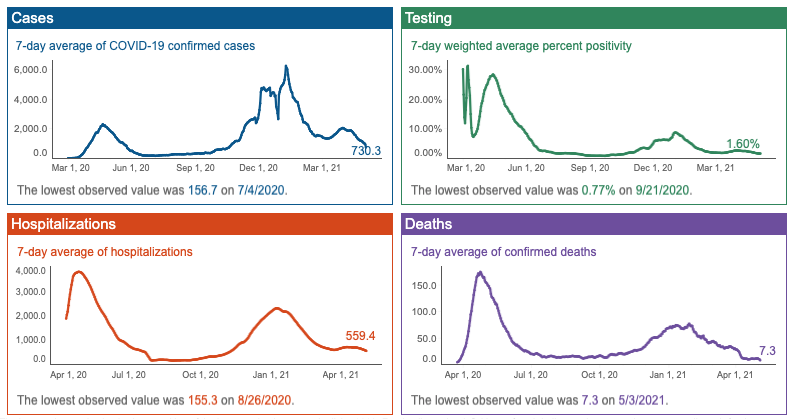 LEADING INDICATORS: The DPH provides the following statistics as indicators in the fight against coronavirus infection. Tuesday's figures:
– Seven-day average of new confirmed cases: 730. That is down from 1,579 on Feb. 15.
– Seven-day weighted average of positive test rate: 1.6. That is down from 2.19 on Feb. 15.
– Seven-day average of number of COVID-19 patients in hospitals: 559.4. That is down from 1,258 on Feb. 15.
– Seven-day average of COVID-19 deaths: 7.3. That is down from 38.9 on Feb. 15.
JUST THE FAQS: The Berkshire Eagle is regularly updating answers to frequently asked questions about access to the COVID-19 vaccine. Visit the Vax FAQs in the Coronavirus section on the home page at berkshireeagle.com.
COVID-19 WEBSITE AND INFOLINE: For information on vaccines and to schedule an appointment, when you are eligible, visit getvaccinatedberkshires.org.
INFORMATION ON TESTING: "Stop the Spread" testing sites are open at three Berkshire Health Systems locations. Tests will be conducted for any reason, with the state picking up the cost. To schedule a test, call the toll-free hotline, 855-262-5465, from 8 a.m. to 4:30 p.m. daily.
Locations are: Pittsfield, 505 East St., St Luke's Square, adjacent to BHS Urgent Care Center; North Adams, 98 Church St., next to the city library; Great Barrington: 475 Main St. Tests can also be obtained through CVS by filling out a form online.
JOIN US: Quality local journalism, like you find in The Checkup, needs your support. When you and your family subscribe to us, that's the fuel we need to keep reporting the essential news you want. Join us. Help us build our community. We are offering a 30-day free trial to readers of The Checkup.
Material from the State House News Service was included in this report. How can we make The Checkup better or more informative? Email us at lparnass@berkshireeagle.com.