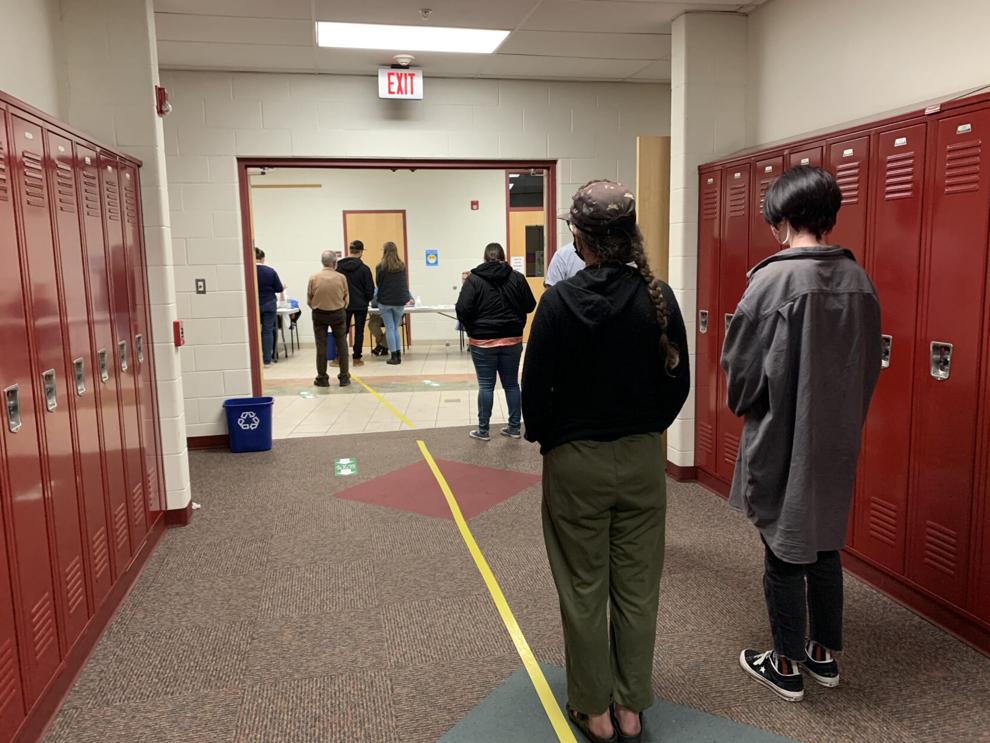 The first walk-in vaccine clinic in Berkshire County went at "a very nice pace" Wednesday, said Heather Barbieri, The Berkshire Vaccine Collaborative's South County leader.
The clinic, held from 4 p.m. to 7 p.m. at W.E.B. Du Bois Regional Middle School in Great Barrington, saw a total of 101 walk-ins along with 88 scheduled appointments. There were 300 doses available, and the leftovers can be used at the Saturday clinic, which also will combine scheduled appointments with walk-ins.
On Saturday, 1,600 second doses are scheduled, and Barbieri reserved 250 doses of Pfizer, as well as 250 Moderna for the walk-ins. Walk-in clinics will also be held Thursday from 4 p.m. to 7 p.m. in Pittsfield and noon to 5 p.m. in North Adams.
Barbieri said news coverage of the clinics helped spread the word among family and friends. "A lot of people got a call from their mother or grandmother," she said. Clinic workers asked each walk-in attendee how they had learned of it.
Workers like Beth Delvecchio continued to watch the hallway near the check-in area to see how many people had arrived, and drew up vaccines accordingly.
Demand is down and supplies are up. Gone are long drives, waiting lists and complex arrangements to score a shot. Barbieri said she woke up last Tuesday to numerous unfilled appointments, and saw that the tide had turned. "Literally overnight," she said.
The vaccine sites will bustle again, she added, when the U.S. Food and Drug Administration soon announces that 12- to 15-year-olds are eligible for vaccines.
BY THE NUMBERS: Berkshire County lost one additional resident to COVID-19 as of Wednesday, for a new total of 283 deaths, with the confirmed case count up 16 to 6,375, the state Department of Public Health said. It is the first local death since April 13. A week ago, the death total was 282 and the case total was 6,253. A month ago, the death total was 279 and the case total was 5,685.
The DPH said 13 new deaths were reported in Massachusetts, pushing the statewide total to 17,306. Confirmed cases rose 888 to 649,855.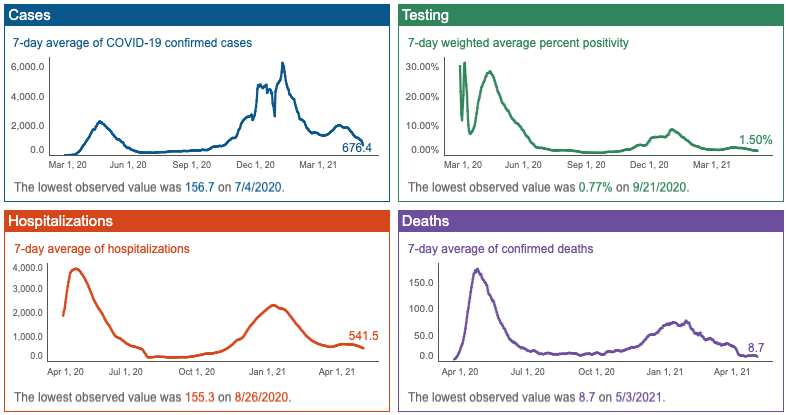 NUMBER OF ACTIVE CASES: 21,300 statewide, compared to 27,321 a week ago.
WESTERN MASS. PICTURE: The case totals (and death counts) in neighboring counties: Franklin, up 5 to 2,491 (113); Hampshire, up 6 to 8,994 (up 2 to 293); Hampden, up 71 to 51,056 (up 1 to 1,498).
HOSPITAL CHECK: Berkshire Medical Center reported caring for 4 COVID-19 patients, down from 7 a week ago and 6 a month ago; no cases were reported at Fairview Hospital. Statewide, 485 people are hospitalized, down from 594 a week ago. Of those hospitalized, 135 are in ICU and 81 are on ventilators.
FROM MASS TO WALK-IN: Gov. Charlie Baker said Wednesday that the state's mass vaccination sites will soon offer walk-in shots. Baker said six out of seven mass vaccination sites will administer doses to anyone who wants one without an appointment, starting next week. About two-thirds of the state's adults have received at least one dose of a COVID-19 vaccine. Nearly half had been fully vaccinated against the virus as of Wednesday, as another 53,365 people received their final doses. The DPH says 2,714,443 people are now fully vaccinated in the Bay State, more than 49 percent of the state's roughly 5.5 million adults.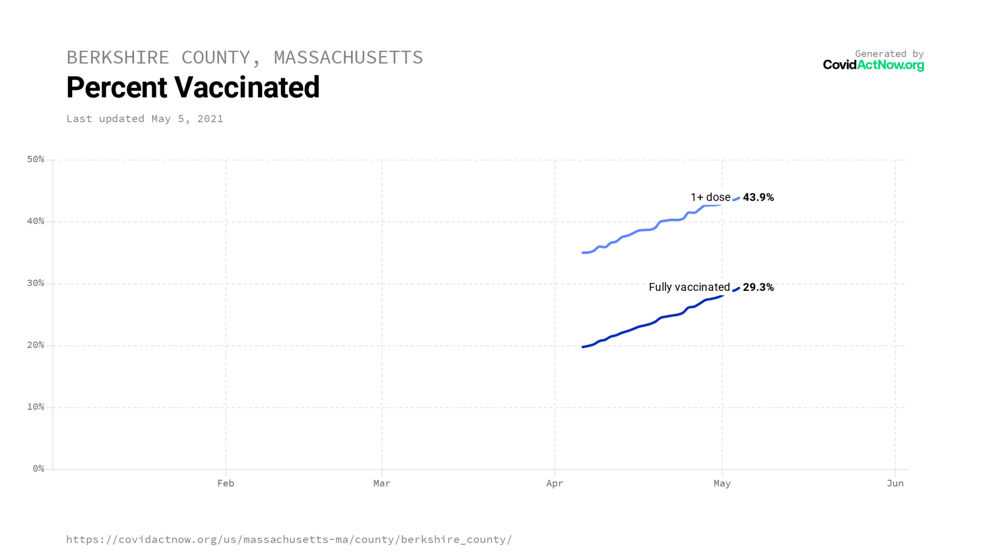 WIDER WORLD OF COVID: Global cases top 154,658,670, with 32,233,784 deaths, according to data provided by Johns Hopkins University. The U.S. has seen at least 32,552,408 cases and 579,225 deaths.
LEADING INDICATORS: The DPH provides the following statistics as indicators in the fight against coronavirus infection. Wednesday's figures:
– Seven-day average of new confirmed cases: 676.4. That is down from 1,579 on Feb. 15.
– Seven-day weighted average of positive test rate: 1.5. That is down from 2.19 on Feb. 15.
– Seven-day average of number of COVID-19 patients in hospitals: 541.5. That is down from 1,258 on Feb. 15.
– Seven-day average of COVID-19 deaths: 8.7. That is down from 38.9 on Feb. 15.
AG'S OFFICE PROBES PHARMACIES' COLLECTION OF DATA: Attorney General Maura Healey's office has written to eight major pharmacy chains providing vaccinations, questioning their collection and use of personal data from customers who view appointments or sign up and receive a vaccine at one of their locations.
Sara Cable, chief of the data privacy and security division in Healey's office, wrote to the pharmacies in response to what she described as reports and consumer complaints that personally identifying data is being collected and used for marketing and other commercial purposes. Cable said the attorney general's office understands that some information may be necessary to schedule appointments or seek insurance reimbursement. "But access to life-saving vaccines should not be conditioned on a consumer's consent to provide personal data not necessary for the vaccination administration. Nor can consent to such data collection or marketing be presumed based on a consumer's desire to obtain a vaccination," Cable wrote.
JUST THE FAQS: The Berkshire Eagle is regularly updating answers to frequently asked questions about access to the COVID-19 vaccine. Visit the Vax FAQs in the Coronavirus section on the home page at berkshireeagle.com.
COVID-19 WEBSITE AND INFOLINE: For information on vaccines and to schedule an appointment, when you are eligible, visit getvaccinatedberkshires.org.
INFORMATION ON TESTING: "Stop the Spread" testing sites are open at three Berkshire Health Systems locations. Tests will be conducted for any reason, with the state picking up the cost. To schedule a test, call the toll-free hotline, 855-262-5465, from 8 a.m. to 4:30 p.m. daily.
Locations are: Pittsfield, 505 East St., St Luke's Square, adjacent to BHS Urgent Care Center; North Adams, 98 Church St., next to the city library; Great Barrington: 475 Main St. Tests can also be obtained through CVS by filling out a form online.
JOIN US: Quality local journalism, like you find in The Checkup, needs your support. When you and your family subscribe to us, that's the fuel we need to keep reporting the essential news you want. Join us. Help us build our community. We are offering a 30-day free trial to readers of The Checkup.
Material from the State House News Service was included in this report. How can we make The Checkup better or more informative? Email us at lparnass@berkshireeagle.com.