PITTSFIELD SEES 'WAVE' OF CASES: As restrictions are lifted on social gatherings around the region, Pittsfield's top health official cautions that people continue to come down with COVID-19 infections.
In remarks to the Board of Health, Gina Armstrong noted that the city had 52 active cases of the disease.
"We're still seeing our daily cases come in in the teens," Armstrong told the panel on Wednesday night. "We have this wave going on. We're still seeing positive cases every day. We're still actively involved in the COVID fight, but we're trending in a good direction now."
The city's health department continues to use contact tracing to attempt to limit the spread. As of Monday, the city had 22.4 new cases per 100,000 population, down from 45.3 cases on April 1. The city is listed in the state's yellow category, indicating that risk of transmission remains relatively high.
"That contact tracing piece is still very important," Armstrong said. In Pittsfield, 3.19 percent of tests for COVID-19 came back positive in the two weeks before April 24, compared to positivity rates of 0.71 in Great Barrington and 0.13 in Williamstown in the same period.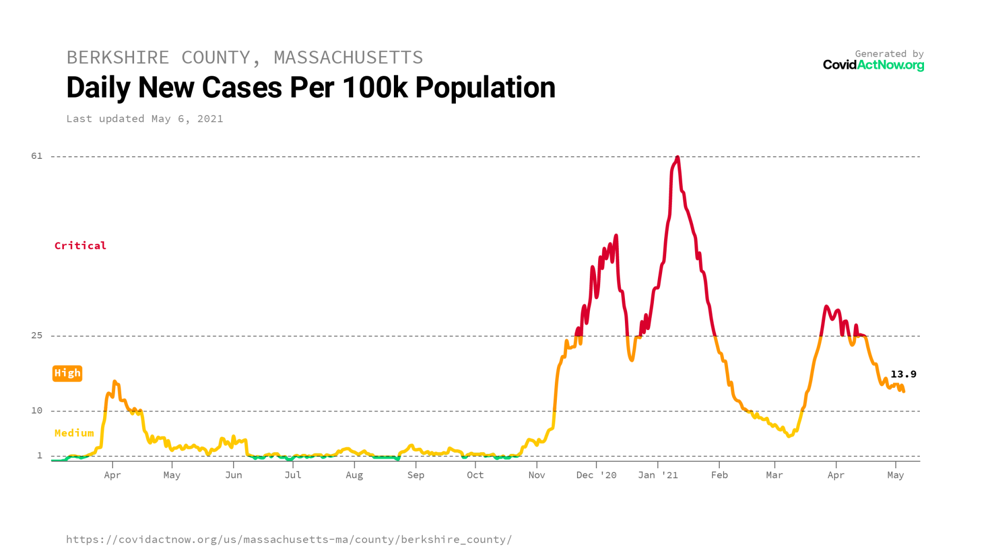 BY THE NUMBERS: Berkshire County saw no new COVID-19 deaths as of Thursday, leaving the total at 283 deaths, with the confirmed case count up 18 for a new total of 6,393 cases, the state Department of Public Health said. A week ago, the death total was 282 and the case total was 6,276. A month ago, the death total was 279 and the case total was 5,704.
The DPH said five new deaths were reported in Massachusetts, pushing the statewide total to 17,311. Confirmed cases rose 1,004 to 650,859.
NUMBER OF ACTIVE CASES: 20,498 statewide, compared to 26,410 a week ago.
WESTERN MASS. PICTURE: The case totals (and death counts) in neighboring counties: Franklin, up 12 to 2,503 (113); Hampshire, up 11 to 9,005 (up 1 to 294); Hampden, up 111 to 51,167 (1,497).
HIGH-RISK LIST HALVES: The number of cities and towns the Department of Public Health considers to be at the highest risk for COVID-19 transmission was cut in half over the last week and now just 13 communities remain "in the red," DPH reported Thursday.
There were 26 communities in DPH's highest risk category last week and 48 communities deemed to be at the highest risk the week before. Now, only Brockton, Chicopee, Dracut, Edgartown, Haverhill, Lawrence, Littleton, Lowell, Nantucket, New Bedford, Rochester, Springfield and Taunton remain in that group.
HOSPITAL CHECK: Berkshire Medical Center reported caring for five COVID-19 patients; no cases were reported at Fairview Hospital.
Statewide, 469 people are hospitalized. Of those hospitalized, 137 are in ICU and 87 are on ventilators.
WIDER WORLD OF COVID: Global cases top 155,481,806, with 3,247,557 deaths, according to data provided by Johns Hopkins University. The U.S. has seen at least 32,593,882 cases and 580,012 deaths.
LEADING INDICATORS: The DPH provides the following statistics as indicators in the fight against coronavirus infection. Thursday's figures:
– Seven-day average of new confirmed cases: 653.3. That is down from 1,579 on Feb. 15.
– Seven-day weighted average of positive test rate: 1.37 percent. That is down from 2.19 percent on Feb. 15.
– Seven-day average of number of COVID-19 patients in hospitals: 525.9. That is down from 1,258 on Feb. 15.
– Seven-day average of COVID-19 deaths: 7.6. That is down from 38.9 on Feb. 15.
JUST THE FAQS: The Berkshire Eagle is regularly updating answers to frequently asked questions about access to the COVID-19 vaccine. Visit the Vax FAQs in the Coronavirus section on the home page at berkshireeagle.com.
COVID-19 WEBSITE AND INFOLINE: For information on vaccines and to schedule an appointment, when you are eligible, visit getvaccinatedberkshires.org.
INFORMATION ON TESTING: "Stop the Spread" testing sites are open at three Berkshire Health Systems locations. Tests will be conducted for any reason, with the state picking up the cost. To schedule a test, call the toll-free hotline, 855-262-5465, from 8 a.m. to 4:30 p.m. daily.
Locations are: Pittsfield, 505 East St., St Luke's Square, adjacent to BHS Urgent Care Center; North Adams, 98 Church St., next to the city library; Great Barrington: 475 Main St. Tests can also be obtained through CVS by filling out a form online.
JOIN US: Quality local journalism, like you find in The Checkup, needs your support. When you and your family subscribe to us, that's the fuel we need to keep reporting the essential news you want. Join us. Help us build our community. We are offering a 30-day free trial to readers of The Checkup.
Material from the State House News Service may have been included in this report. How can we make The Checkup better or more informative? Email us at lparnass@berkshireeagle.com.