With this daily feature, The Eagle runs down breaking local developments in the coronavirus crisis.
POSITIVE ABOUT THE POSITIVES?: Every weekday, the State House News Service sends its clients here in Massachusetts a dispatch with basic COVID-19 data from the previous 24 hours. It's just the facts, but on occasion, I detect a whiff of commentary. Sort of.
On Wednesday, the service's coronavirus update mentioned this: "DPH continues to report that it sees a 'positive trend' in the positive test rate." Shade thrown? The Checkup has been there with some skepticism, too.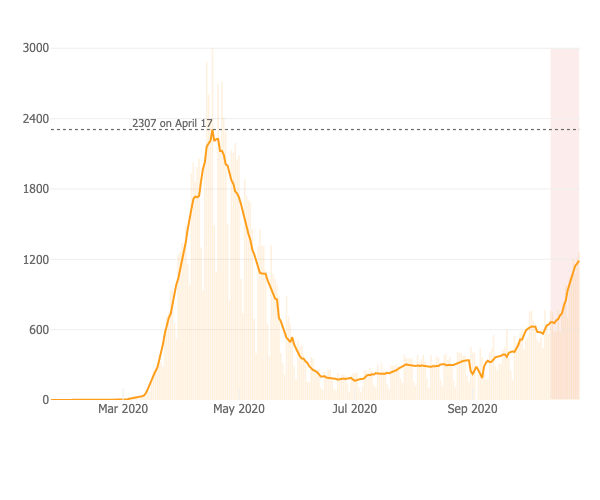 On Wednesday, the state Department of Public Health continued to display cheery green light indicators on its daily report. Time will tell, but evidence of a spike in cases continues to mount.
The number of new daily cases — 1,137, six of them in Berkshire County — pushed the state's total over 150,000. The day also saw 36 new deaths in Massachusetts due to the disease. The number of new statewide cases is about twice the average of 557 new daily cases since the first COVID-19 case was confirmed in Massachusetts on Feb. 1.
THE NUMBERS: Berkshire County's death toll stood at 52 as of Wednesday, with the confirmed COVID-19 case count up six to 780, the state Department of Public Health said.
The DPH said 36 new deaths were reported in Massachusetts, pushing the statewide total to 9,700. Deaths including those listed as probably caused by COVID-19 is 9,924. That's an average of almost 45 deaths each day since the pandemic hit. Confirmed cases rose 1,137 to 150,498.
The case totals (and death counts) in neighboring counties: Franklin, 472 (72); Hampshire, up seven to 1,472 (up one to 155); Hampden, up 101 to 9,901 (up three to 815).
According to data provided by Johns Hopkins University, 122,856 people in Massachusetts with COVID-19 have recovered.
LONG-TERM CARE PICTURE: As of Wednesday, 25,590 cases have been confirmed among residents and staff of long-term care facilities, a daily increase of 35. In all, 391 facilities have had at least one confirmed case and have seen 6,373 deaths linked to COVID-19, up 22 since Tuesday.
TESTS AT LOGAN ON HORIZON: In a few weeks, people traveling through Logan Airport in Boston will be able to receive COVID-19 tests. A company opened a testing center at the airport Wednesday, though the site will focus first on airline and airport employees, WBUR reports. The center will be run by XpresSpa Group and be located in the arrivals section of Terminal E, home of international flights. It will be accessible to people before they pass through security.
According to the company, the tests will include a rapid molecular test, the "polymerase chain reaction" (PCR) test which uses a nasal swab, and an antibody test based on a blood sample. The rapid test will cost $200 and provide a result in 15 minutes. The other tests will run $75 and bring answers in one to three days.
BMC TEST RESULTS: As of Wednesday, Berkshire Medical Center reported having tested 31,218 people, with 709 positive results. There were 315 pending test results.
WORLD OF COVID: Global cases top 44,323,846, with 1,171,652 deaths, according to data provided by Johns Hopkins University. The U.S. has seen 8,837,688 cases and 227,563 deaths.
LEADING INDICATORS: The state Department of Public Health provides the following statistics as indicators in the fight against coronavirus infection. Each provides a number and then a change in either the count or "lowest observed value." Wednesday's figures:
• Seven-day weighted average of positive test rate: 1.8, up 129 percent (one-day rate of 4.8 percent)
• Three-day average of number of COVID-19 patients in hospitals: 566, up 87 percent
• Number of hospitals using surge capacity to care: 4
• Three-day average of COVID-19 deaths: 18, up 96 percent
AT THE COLLEGES: Two new cases were reported Wednesday at Williams College. The school's daily dashboard said the campus had administered 29,828 tests for COVID-19 since Aug. 17 and those produced seven positive results, two in the last 24 hours. Of all the cases, five involve students while two involve staff and faculty.
NUTMEG STATE'S NOTICE: The state of Massachusetts is now on Connecticut's list of higher-risk travel destinations. The state also added California and Pennsylvania to its travel advisory. Forty states and two territories are on the list as of Tuesday.
AT THE HOSPITALS: As of Wednesday, Berkshire Medical Center reported caring for one COVID-19 patient. Fairview Hospital in Great Barrington had no cases.
The patient count for other western Massachusetts hospitals: Cooley Dickinson Hospital in Northampton, no cases; Baystate Franklin Medical Center in Greenfield, no cases; Baystate Medical Center in Springfield, 27 cases; Mercy Medical Center in Springfield, eight cases; Holyoke Hospital, four cases; Baystate Noble Hospital in Westfield, four cases. The numbers include both confirmed and suspected cases.
Statewide, 582 people are hospitalized, with the latest daily admission of 210 people. Of those hospitalized, 106 are in ICU and 49 are on ventilators.
To date, 5,781,231 tests for the virus have been conducted in Massachusetts, according to Johns Hopkins.