With this daily feature, The Eagle runs down breaking local developments in the coronavirus crisis.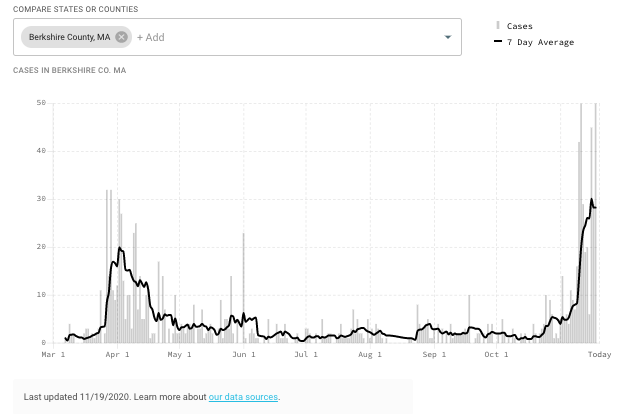 THE NUMBERS: Berkshire County added 31 newly confirmed COVID-19 cases on Thursday, on a day that again saw new cases in Massachusetts top 2,000. The county's death toll was unchanged at 52, with the confirmed COVID-19 case count rising to 1,182, the state Department of Public Health said.
LAST TWO WEEKS AT A GLANCE: In its weekly report Thursday, the state Department of Public Health provided the following COVID-19 data for Berkshire County. Pittsfield saw the most new cases, 204 in the last two weeks, followed by Lee (19), Dalton (18), Lenox (12) and North Adams (12).
Here are the totals for the county:
Total number of cases: 1,151
Case in last 14 days: 315
Relative change: Higher
Total tests: 124,803
Tests last 14 days: 20,437
Number positive results last 14 days: 333
Percent positive: 1.63
Change in percentage of positive cases: Higher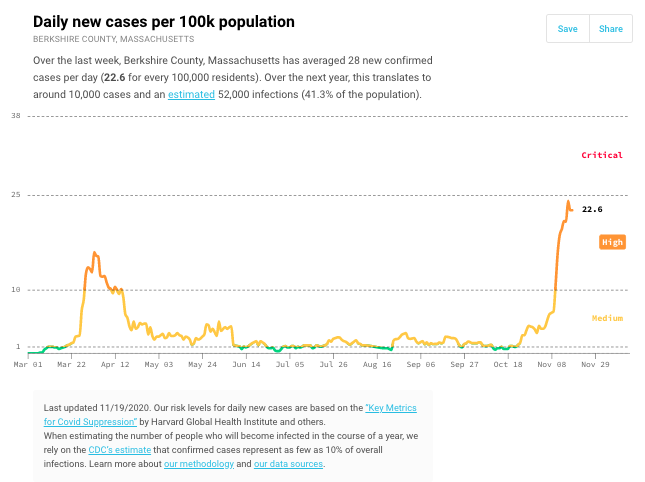 STATE PICTURE: The DPH said 27 new deaths were reported in Massachusetts, pushing the statewide total to 10,204. Deaths including those listed as probably caused by COVID-19 is 10,435. Confirmed cases rose 2,532 to 192,050. According to data provided by Johns Hopkins University, 137,422 people in Massachusetts with COVID-19 have recovered.
NUMBER OF ACTIVE CASES: 34,664 statewide
RAPID TESTS IN BERKSHIRE SCHOOLS: Four Berkshire County schools or school districts will take part next month in the rollout of no-cost rapid COVID-19 tests. In all, 134 school districts, charter schools or special education programs will take part in a program that's likely to expand as part of the Baker administration's drive to support in-person learning.
Tests will be administered to students or staff who show symptoms of the disease while their school is in session. Only schools that have some form of on-site instruction were eligible to take part.
Locally, the Berkshire Hills, Central Berkshire and Southern Berkshire regional school districts will take part, along with the Clarksburg School, according to the Department of Elementary and Secondary Education. Because it shares services with Berkshire Hills, the Richmond Consolidated School will also participate in the testing, according to Cristina Lenfest, the school's nurse.
The program's first phase will involve an antigen test that uses a nasal swab and can provide results in roughly 15 minutes. The test is made by the pharmaceutical company Abbott and is called BinaxNOW. Two million of the tests are being provided to the state by the U.S. government.
On Wednesday, the state's education commissioner said the first line of defense remains for students and staff to stay home if they feel sick. "However, some people may experience the onset of symptoms while at school," Jeff Riley said. "The Abbott BinaxNOW tests will allow schools and districts to rapidly respond to these types of situations."
The education department is providing schools with paperwork related to the testing. Schools need to obtain a parent or guardian's consent before the swab is taken. If the finding is positive, the state requires that it be confirmed with a follow-up test. If the test is negative, the student will be sent home, according to the state, with a recommendation that they see a health care provider. Before coming back to school, the student has to be cleared based on other factors outlined in the program.
WESTERN MASS. PICTURE: The case totals (and death counts) in neighboring counties: Franklin, up three to 565 (75); Hampshire, up 31 to 2,010 (160); Hampden, up 144 to 13,701 (up seven to 873).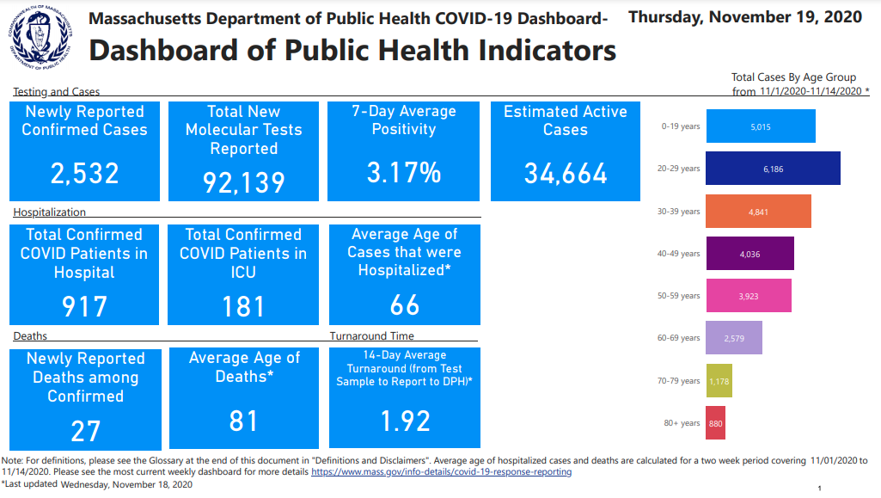 LONG-TERM CARE WATCH: As of Thursday, 26,691 cases have been confirmed among residents and staff of long-term care facilities, up 112 since Wednesday. In all, 398 facilities have had at least one confirmed case (up one in a day) and have seen 6,645 deaths linked to COVID-19, up 16.
HOSPITAL CHECK: As of Thursday, Berkshire Medical Center reported caring for 11 COVID-19 patients. Fairview Hospital in Great Barrington had no cases. Meantime, BMC reported having tested 36,122 people, with 1,020 positive results since the pandemic began. There were 978 pending test results. In the last 14 days, the hospital has tested 6,066 people, with a positivity rate of 4.3 percent — above the current seven-day state average of 3.2 percent.
Statewide, 917 people are hospitalized. Of those hospitalized, 181 are in ICU and 75 are on ventilators.
To date, 7,484,835 tests for the virus have been conducted in Massachusetts, according to Johns Hopkins.
TEST THEM BEFORE THEY PACK: Politico is reporting that governors in the Northeast joined to appeal to colleges in their states to test their students for COVID-19 before sending them home for the Thanksgiving break — which in many cases is the new end of the fall semester. And they call for schools to provide isolation for anyone who tests positive, in a bid to keep the coronavirus from following students home. "Any large family gathering — particularly among different age groups — runs the risk of turning the dinner table into a COVID hotspot," said Phil Murphy, New Jersey's governor.
WIDER WORLD OF COVID: Global cases top 56,724,621, with 1,356,952 deaths, according to data provided by Johns Hopkins University. The U.S. has seen 11,674,074 cases and 251,970 deaths.
LEADING INDICATORS: The DPH provides the following statistics as indicators in the fight against coronavirus infection. Each provides a number and then a change in either the count or "lowest observed value." Thursday's figures:
– Seven-day average of new confirmed cases: 1,758, up 1,020 percent
– Seven-day weighted average of positive test rate: 3.2, up 310 percent
– Seven-day average of number of COVID-19 patients in hospitals: 792, up 410 percent
– Seven-day average of COVID-19 deaths: 25, up 132 percent
AT THE COLLEGES: The Williams College daily dashboard said the campus had administered 42,279 tests for COVID-19 since Aug. 17 and those produced 10 positive results. Those include 3,822 tests in the last seven days that resulted in three positive results.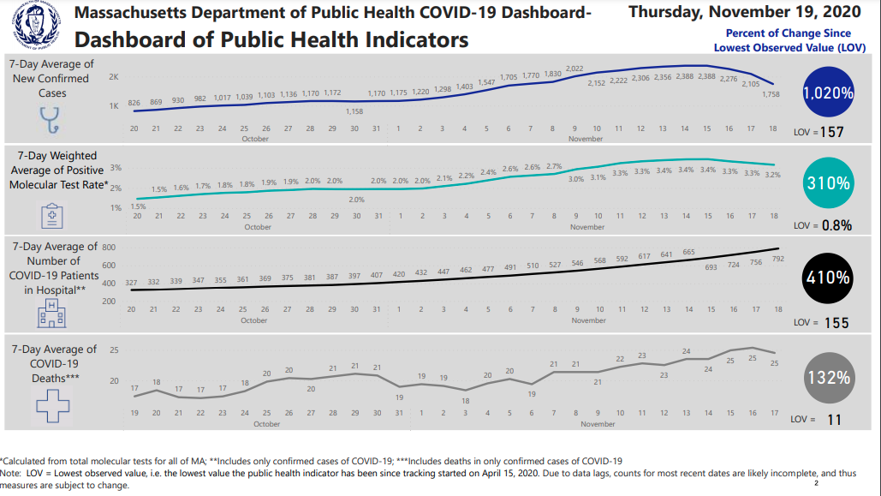 To contribute news to The Checkup, please email lparnass@berkshireeagle.com or call 413-588-8341.