With this daily feature, The Eagle runs down breaking local developments in the coronavirus crisis.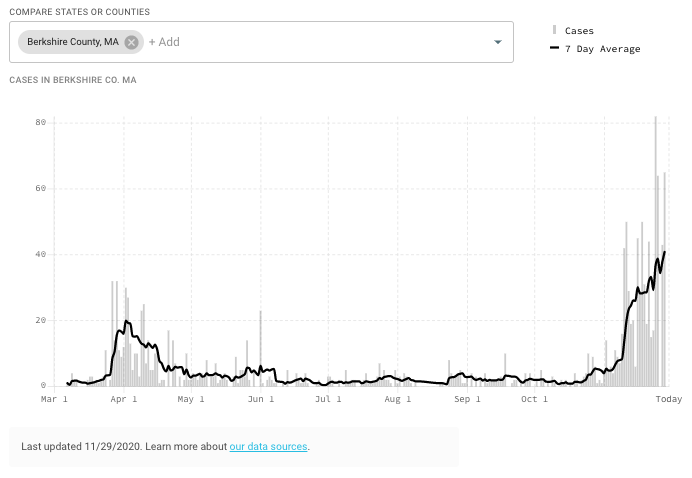 THE NUMBERS: A grim weekend for the coronavirus brought reports of seven deaths in Berkshire County, one as of Saturday and six on Sunday, according to the state Department of Public Health.
The deaths brought the total lost to the virus to 61 since the pandemic began. On Sunday, 69 new cases were reported, pushing the total to 1,600. In the last 11 days, Berkshire County has added 449 confirmed cases, well more than a quarter of all the cases since March.
The DPH said 46 new deaths were reported in Massachusetts on Sunday, and 40 on Saturday, pushing the statewide total to 10,487. Deaths including those listed as probably caused by COVID-19 is 10,722. Confirmed cases rose 2,501 as of Sunday to 217,163. According to data provided by Johns Hopkins University, 155,473 people in Massachusetts with COVID-19 have recovered.
NUMBER OF ACTIVE CASES: 43,709
LENOX NOW IN 'RED ZONE' The Eagle's Clarence Fanto reports that Lenox is now in the statewide high-risk "red zone."
In a filing Saturday, Fanto wrote: "The state's updated community-level data on the pandemic lists any town with a population under 10,000 and more than 25 cases in the highest-risk category. There are 80 other cities and towns in the 'red zone,' all of them east of the Berkshires. The outbreak in Lenox, where the population is about 5,000, primarily involves a cluster of cases at the Kimball Farms Nursing Care Center on Sunset Avenue."
"According to state data released Friday, Lenox has had 63 confirmed COVID cases since March 1, including 31 in the last two weeks. The current positive-test rate is 3.41 percent, based on 909 tests in the past 14 days, compared to a 3.05 percent statewide rate."
"As of Saturday, Lee had 17 active cases, a record for the town, placing it in the state's yellow zone for the reporting week that ended Friday. Stockbridge has 5 active cases, still in the state's lowest-risk gray zone," Fanto reported.
WESTERN MASS. PICTURE: The case totals (and death counts) in neighboring counties: Franklin, up 9 to 639 (76); Hampshire, up 35 to 2,304 (up one to 162); Hampden, up 210 to 15,985 (up 3 to 910).
LONG-TERM CARE WATCH: As of Sunday, 27,285 cases have been confirmed among residents and staff of long-term care facilities. In all, 401 facilities have had at least one confirmed case and have seen 6,777 deaths linked to COVID-19.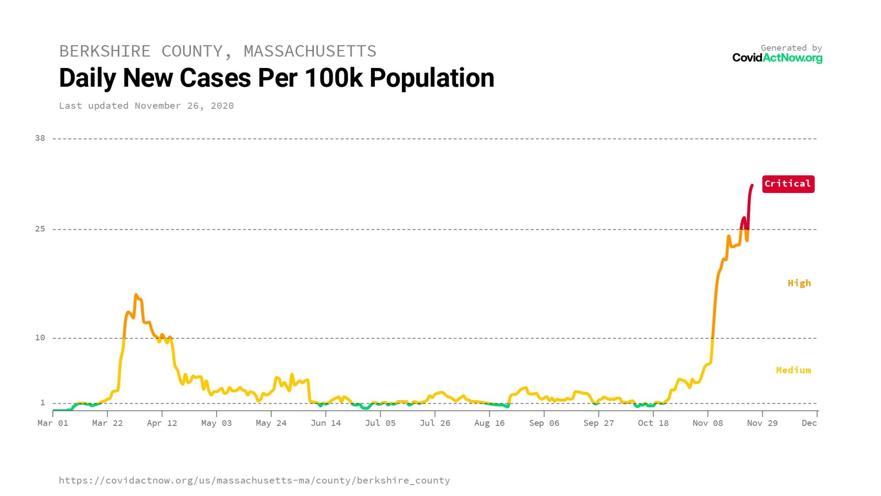 HOSPITAL CHECK: Berkshire Medical Center does not report patient numbers over the weekend. On Friday, BMC reported caring for 16 COVID-19 patients, with test results pending for 13 more. Fairview Hospital in Great Barrington had no cases. Meantime, BMC reported having tested 37,877 people, with 1,138 positive results since the pandemic began. There were 1,128 pending test results.
Statewide, 1,081 people are hospitalized. Of those hospitalized, 238 are in ICU and 110 are on ventilators.
To date, 8,322,705 tests for the virus have been conducted in Massachusetts, according to Johns Hopkins.
WIDER WORLD OF COVID: Global cases top 62,616,821, with 1,457,059 deaths, according to data provided by Johns Hopkins University. The U.S. has seen 13,354,088 cases and 266,778 deaths.
LEADING INDICATORS: The DPH provides the following statistics as indicators in the fight against coronavirus infection. Each provides a number and then a change in either the count or "lowest observed value." Sunday's figures:
– Seven-day average of new confirmed cases: 1,710, up 991 percent
– Seven-day weighted average of positive test rate: 3.8, up 390 percent
– Seven-day average of number of COVID-19 patients in hospitals: 985, up 534 percent
– Seven-day average of COVID-19 deaths: 27, up 153 percent
AT THE COLLEGES: Williams College last reported cases on Friday. Its daily dashboard said the campus had administered 45,169 tests for COVID-19 since Aug. 17 and those produced 10 positive results. Those include 2,866 tests in the last seven days that resulted in no positive results.
To contribute news to The Checkup, please email lparnass@berkshireeagle.com or call 413-588-8341.