With this daily feature, The Eagle runs down breaking local developments in the coronavirus crisis.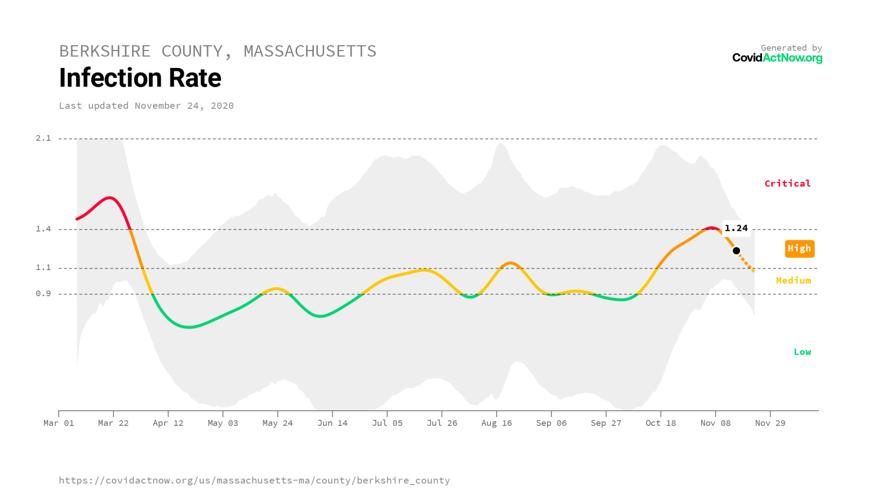 THE NUMBERS: Berkshire County continues to rack up new confirmed cases, adding 82 on Tuesday. The numbers pushed the total case count since the start of the pandemic to 1,359; the death toll was steady at 52, the state Department of Public Health said. Tuesday was the fifth day of double-digit increases. The county has seen 177 new cases in the last five days.
The DPH said 20 new deaths were reported in Massachusetts, pushing the statewide total to 10,319. Deaths including those listed as probably caused by COVID-19 is 10,551. Confirmed cases rose 2,225 to 204,060. According to data provided by Johns Hopkins University, 145,682 people in Massachusetts with COVID-19 have recovered.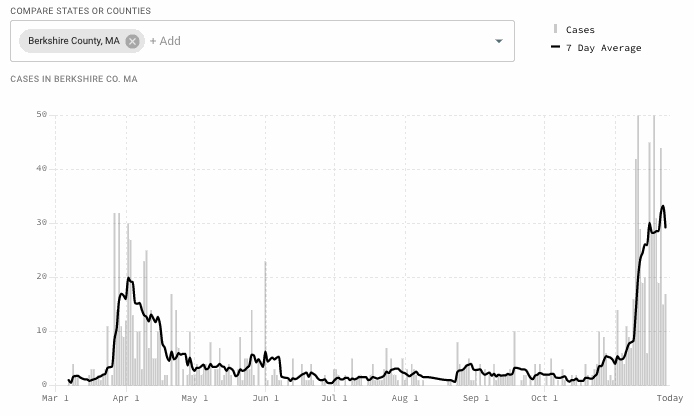 NUMBER OF ACTIVE CASES: 40,449 statewide
TESTING NOW VS. TESTING THEN: The state's COVID-19 explainer-in-chief, Gov. Charlie Baker, used some of his regular address Monday to ask people to keep the rising case numbers (2,225 on Tuesday, as noted above) in perspective. While the numbers look like the onslaughts early in the pandemic, there's a difference.
"We didn't do a heck of a lot of testing because we didn't have a lot of testing infrastructure," Baker said, referring to the spring. "And so there were a lot of cases that never got tested."
Baker cited studies that estimate that testing in the spring found just one out of every 15 or 20 cases. "People think based on the amount of testing we're doing now, that we probably find about one in every four cases," Baker said. The stepped-up testing means that people who know they are infected can take steps to stop the spread.
WESTERN MASS. PICTURE: The case totals (and death counts) in neighboring counties: Franklin, up seven to 599 (75); Hampshire, up 31 to 2,150 (161); Hampden, up 289 to 14,871 (up one to 885).
LONG-TERM CARE WATCH: As of Tuesday, 26,991 cases have been confirmed among residents and staff of long-term care facilities, up 119 in a day. In all, 400 facilities have had at least one confirmed case (two more than Monday) and have seen 6,697 deaths linked to COVID-19, a one-day rise of 12.
An assisted living center in the town of Andover is suffering heavy losses. Atria Marland Place reports that seven residents died in the last week, as the facility weathers an outbreak that affected dozens over the last month, including 50 cases among residents and 21 among staff.
HOSPITAL CHECK: As of Tuesday, Berkshire Medical Center reported caring for 12 COVID-19 patients. Fairview Hospital in Great Barrington had no cases. Meantime, BMC reported having tested 37,465 people, with 1,111 positive results. There were 1,221 pending tests.
Statewide, 954 people are hospitalized. Of those hospitalized, 205 are in ICU and 99 are on ventilators.
The state's hospitals are operating at 68 percent of their non-ICU capacity; 47 percent of ICU beds remain available. A field hospital able to handle overflow patients is expected to open next week, according to the State House News Service.
To date, 7,920,042 tests for the virus have been conducted in Massachusetts, according to Johns Hopkins.
WIDER WORLD OF COVID: Global cases top 59,597,658, with 1,405,788 deaths, according to data provided by Johns Hopkins University. The U.S. has seen 12,546,670 cases and 259,372 deaths.
LEADING INDICATORS: The DPH provides the following statistics as indicators in the fight against coronavirus infection. Each provides a number and then a change in either the count or "lowest observed value." Tuesday's figures:
– Seven-day average of new confirmed cases: 1,756, up 1,020 percent
– Seven-day weighted average of positive test rate: 3.0, up 290 percent
– Seven-day average of number of COVID-19 patients in hospitals: 909, up 486 percent
– Seven-day average of COVID-19 deaths: 22, up 104 percent
GRADE DEFLATION: In a meeting Tuesday, education officials noted that public school enrollment is down by 37,000 students this year, with roughly half of that decline at the earliest levels — pre-K and kindergarten. It's believed that parents and guardians are keeping students home. Officials said the students are likely to return to the system in 2021.
One mystery remains: The reason why 7,000 students are absent isn't clear. They could be "just kind of missing," Education Secretary James Peyser said. "Or they're effectively truant or they're not showing up at school even though they remain in their communities and should be enrolled."
AT THE COLLEGES: None of the local colleges, now transitioning to remote status with students, posted new data Tuesday. The column will continue to monitor the campus for statements on reported cases, but will, for now, retire this daily item.
To contribute news to The Checkup, please email lparnass@berkshireeagle.com or call 413-588-8341.