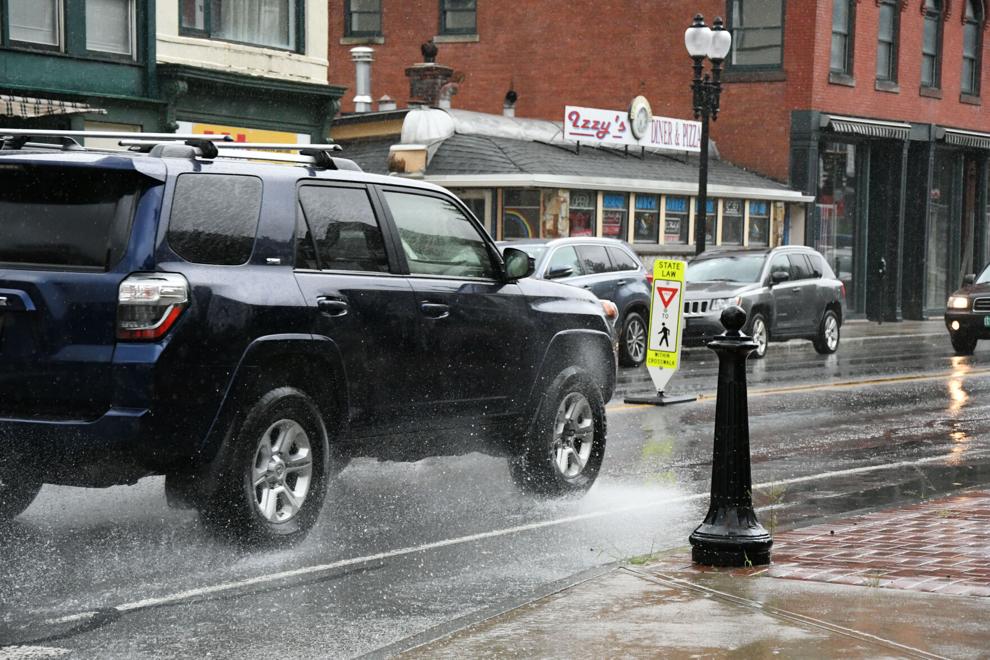 Eight days and 16 hours.
That's how much time you saved during the coronavirus pandemic if you traded a 20-minute commute for remote work.
During the pandemic, the number of people on the road dropped as entire companies switched to remote work almost overnight. That left remote workers with more time on their hands.
In 2019, according to census estimates, the average commute time in Berkshire County was 19.2 minutes in one direction. Add up all those missed trips between mid-March 2020 and mid-June 2021, and you got more than a week of life back from commuting.
That meant more time for employees — and possibly better health. Pre-pandemic, more than 90 percent of Berkshire County residents were getting to work in a car, according to census estimates, and the vast majority of those were driving alone. Solo car commutes have been associated with obesity, high blood pressure and higher levels of chronic stress.
Longer commute? If you normally spend 45 minutes in the car each way but were remote through the brunt of the pandemic, you saved nearly three weeks. Even someone with a five-minute commute got more than 48 hours back.
Many county residents worked in person through the pandemic, with no respite and typical commutes. Others were stuck at home with children, or plagued by the loneliness of the pandemic, and desperate to be back in the office, despite the daily annoyance of commuting.
But, even as workplaces reopen, some level of remote and hybrid work is here to stay. That means county workers are going to be spending less time in transit than they did in early 2020 — and we can estimate how much.
Post-vaccine commuting
Before the pandemic, the average American spent 230 hours commuting each year, or more than nine full calendar days, according to census data.
In Berkshire County, that number dropped to an average of 160 hours — just 6.7 days in transit each year.
That means Berkshire County workers , numbering about 62,000 before the pandemic, according to the census, were spending more than 9.9 million cumulative hours getting to work each year. That's a collective 1,133 years.
Precise estimates of how many people worked from home during the pandemic are hard to come by, but some metrics can give us a clue. A Gallup poll found that about 52 percent of workers across the U.S. were "always" remote in April 2020.
If the rate was similar in Berkshire County, that would translate to an annual savings rate of about 590 collective years.
With pandemic restrictions removed and most offices open again, it also is hard to estimate how many workers will stay remote, or switch to hybrid — working a few days in the office and a few at home.
Google's most recent Community Mobility Report for the Berkshires, which looks at location data for June and the first half of July, shows that people are visiting workplaces 17 percent less often than they did during the winter months before the pandemic.
If you worked remotely, are you back?
Happy with your work status? Frustrated by your commute again? Tell us about your experience: email fparis@berkshireeagle.com
You voted:
That number relies on a limited sample of users and could be inflated because people are away from the workplace on summer vacation.
But, if the statistic is close to accurate, it probably captures a mix of people completely remote and those now in a hybrid model, spending a few days each week in the office.
If that rate held steady, Berkshire County residents would spend about 70,000 fewer days on the road each year than they did before the pandemic — about 193 collective years.
What if the real rate is lower? The Bureau of Labor Statistics estimates that, as of June, just 14 percent of workers across the country had "teleworked at some point in the last four weeks" as a result of the pandemic.
If that number is more accurate than the Google trends for Berkshire County, and if those people are only teleworking half the time, on average, county workers would save just a collective 80 years or so.
Who works remotely?
If you took the initial estimate, about 193 collective years saved, and spread it out among all Berkshire County workers, each would get 1.2 days back over the course of a calendar year — more than 24 hours to spend with family, cook, work out or binge about three seasons of a typical-length sitcom.
But, the benefits of remote work never have been distributed evenly. Throughout the pandemic, remote work skewed heavily toward educated, white-collar workers.
Of all the workers in their mid-20s and older who were remote because of COVID-19 as of June, nearly 4 in 5 had a college degree or higher, according to BLS data. Just half a percent had less than a high school degree.
An Economic Policy Institute report from early in the pandemic found that Black and Hispanic workers were much less likely to be able to work remotely than white and Asian employees.
Then, there is the incalculable: What are we losing when we cut out the commute to save time?
Some research has found that workers are more productive at home. A study out of the University of Southampton in England found that more than 88 percent of employees felt they were getting "at least as much, if not more, work done at home as in the office."
But, the same study notes that remote work productivity "takes its toll." Employees studied ranked low on a study of mental health and well-being, measured against World Health Organization standards. Other surveys have shown that people tend to work more when they are at home as boundaries between work and life disintegrate.
Some people argue that the trade-offs make fully remote work the worst possible option. As David Brooks wrote in The Atlantic: "Aggravation from commuting is no match for the misery of loneliness, which can lead to depression, substance abuse, sedentary behavior, and relationship damage, among other ills."