At least once a week, veterinarian Sharon Lynch brings people inside her Washington practice, Hilltowns Veterinary Clinic, to be by their pet's side when the animal is euthanized.
There is a chance of spreading the coronavirus, she knows. But, giving pets and owners that moment together feels worth the risk.
The rest of her work comes with risks attached, too. She interacts with pet owners each day through their open car windows, and she has taken care of sick dogs whose owners tested positive for COVID-19.
Now, Lynch wants to know why the state has relegated veterinarians to the back of the vaccine line.
"We're seeing people on a daily basis," she said. "The state wanted us to be essential back in March. And now we're not even close to being vaccinated."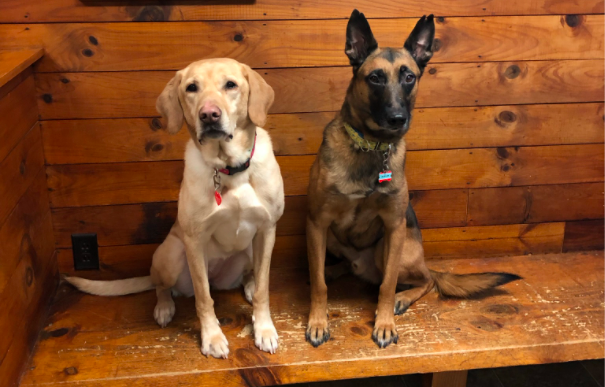 The sticking point for Lynch, and other workers, is that the state chose to prioritize some of, but not all, the employees deemed "essential" last spring.
The employment-based part of Phase Two is set to include a large subset of the state's "essential workers," such as grocery store employees, manufacturers of personal protective equipment, wastewater utility staff and food pantry volunteers, but excludes other workers still operating largely in person — including veterinarians, higher education staff and journalists.
The Centers for Disease Control and Prevention has suggested prioritizing everyone whose work "must be performed on-site and involve being in close proximity (6 feet) to the public or to coworkers." CDC guidelines also explicitly recommend placing librarians, veterinarians, college staff, journalists and others ahead of the general public, and groups excluded from Phase Two have lobbied Massachusetts to follow those federal recommendations.
James Birge, president of the Massachusetts College of Liberal Arts in North Adams and chairperson of the Massachusetts State Collegiate Athletic Conference Council of Presidents, urged the state to prioritize college and university staff alongside other educators.
"Many members of our workforce, especially those involved in direct student contact, continue to work on campus and face exposure to COVID-19 in the workplace," he told the state's Board of Higher Education.
Journalists also feel left behind. The Massachusetts Broadcasters Association sent a letter to the state last month advocating prioritizing media personnel.
"The very nature of journalism is in-person," said Executive Director Jordan Walton. "The social justice movement was probably the biggest example of that in the last 12 months. With protests across the state, our TV journalists, in particular, were right in the middle of that."
Walton pointed out that reporters are not the only news media personnel at risk. TV and radio programs also require in-person crews to operate in proximity to each other, in order to keep shows on the air.
Amid pushback, the state noted that it will revisit occupational priorities later in the rollout.
"Additions and further clarification of the list of specific occupations and groups is paused at this time," the state website reads.
For her part, Lynch thinks that excluding veterinarians is a missed opportunity, since she and her peers could be helping get more shots into arms.
While veterinarians are not on the list of eligible vaccinators in Massachusetts, according to a state document provided to the Western Massachusetts Medical Reserve Corps, several other states have permitted veterinarians to administer vaccines as part of their rollout strategies.
Because she also holds a license to practice in Connecticut, Lynch even has received emails asking if she wants to help administer shots in that state.
"We could help with the load on the health care system," she said. "But, it doesn't seem to be even wanted in Massachusetts."
If she could get vaccinated, Lynch said, she immediately would start offering her help as a vaccinator.
Like other essential businesses, Lynch added, veterinarians have remained open since the early days of the pandemic. In the spring, veterinarians even donated personal protective equipment to help hospitals to fight the virus.
"We're seeing just as many people as some of the retail stores that are ahead of us," she said. "We feel we've been disrespected by the state telling us we're not essential."
The past year has been littered with COVID-19 scares for her and her peers. Sometimes, pet owners called to report positive test results after a visit. Others simply refused to put on a mask as they sat in their cars, talking to her face through an open window. On top of it all, Lynch now is busier than ever, amid what she calls a "pandemic puppy boom."
"Everyone I know who's a vet or vet tech has been exposed at work," she said.
Sadi Wittig, a veterinary technician at Wahconah Veterinary Services in Hinsdale, clearly can remember her own scare. The clinic where she works, which sees upward of two dozen animals each day, is a rare practice that still allows one owner to come inside. Earlier in the pandemic, she said, someone called to say they had tested positive after being inside.
"They were mortified and humiliated and so apologetic," she said. The practice shut its doors briefly, and everybody in the practice tested negative.
Since then, she has felt relatively safe, always masked and constantly sanitizing. Still, Wittig says, the staff inevitably have to work in close quarters with each other. She hopes that if the state does add veterinarians to Phase Two, officials will include techs as well.
"We are interacting with people just as much as the doctor is," she said. "We're right in the room beside him."