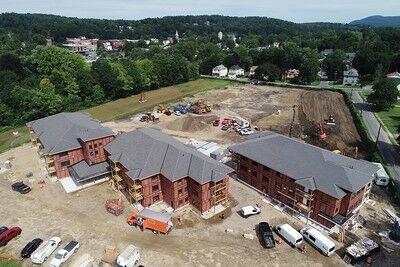 GREAT BARRINGTON — A virtual ribbon-cutting ceremony will be held at 2 p.m. today to mark the opening of the Bentley Apartments affordable housing complex at 100 Bridge St.
The ceremony is being hosted by the project's two partners, the Community Development Corp. of South Berkshire and the Berkshire Housing Development Corp. Invited guests will include donors, funders, town and state officials, construction and community partners, and those whose ongoing support made the project possible.
"We are celebrating the renewal and redevelopment of the abandoned property in the center of Great Barrington, and the completion of Bentley Apartments' 45 new affordable rental units," said CDCSB Executive Director, Allison Marchese. "This is an opportunity to acknowledge the success of the CDCSB board and thank our co-sponsors Berkshire Housing Development Corporation, as well as the statewide team who helped create these much needed affordable, safe, and healthy homes."
The complex, part of the 100 Bridge St. redevelopment project, includes 12 one-bedroom apartments, 22 two-bedroom apartments, and 11 three-bedroom units. Five units are reserved for formerly homeless people, with additional units available for developmentally impaired individuals.
The complex features green building techniques with a near net-zero energy efficiency. Each unit has indoor/outdoor spaces that include balconies or ground-level patio terraces and feature East Mountain or river views. All of the units have rents that are affordable.
"Being able to provide affordable housing and economic opportunity in the Berkshires is key to our mission," said CDCSB board President Jim Harwood.
The complex was made possible through the help and support of state officials, including Gov. Charlie Baker, Housing and Economic Development Secretary Mike Kennealy and Undersecretary Jennifer Maddox, and Kate Racer of the Massachusetts Department of Housing and Community Development. Support for the site mediation process from several entities, including the Berkshire Regional Planning Commission and the Berkshire Brownfield Revolving Loan Fund, also made the complex possible.
Take a virtual tour of the new apartments at tinyurl.com/wby9j8jz.