PITTSFIELD — Margo Mazzeo got the call just hours after her aunt died of COVID-19.
"First, I went to my parents' house and couldn't even hug them," she said. "Then, I came home, and as soon as I walked in the door, the phone rang."
It was Berkshire Health Systems, where she works as a coronavirus testing nurse, calling to schedule her vaccination.
"It almost felt like it was some divine intervention," she said. "But, I was thinking of how many people it's too late for."
On Thursday morning, Mazzeo became the first health care worker in Berkshire County to receive a COVID-19 vaccine. Over the course of the day, BHS went on to vaccinate close to 700 employees, according to spokesperson Michael Leary — including nurses, doctors, technicians and staff who clean COVID units and transport infected patients through the hospital.
The vaccinations began just after 8 a.m. at Berkshire Medical Center, where health care workers drew the first doses from tiny glass vials while support staff bustled around the room, filling out forms and scanning bar codes. The hospital's information technology team was on hand to help manage brand-new systems, and a steady stream of employees waited for their turn at one of the eight stations that staff had set up the night before.
With the flurry of activity as the first employees were vaccinated, Mazzeo only found out afterward that she had received the very first dose.
"We were just in the process of prepping and drawing the vaccine, so, I didn't realize we were the first," said Jamie Lander, an infection control nurse who administered the vaccine to Mazzeo — and more than 60 other people throughout the day. "It was crazy when they came up to me after and said that."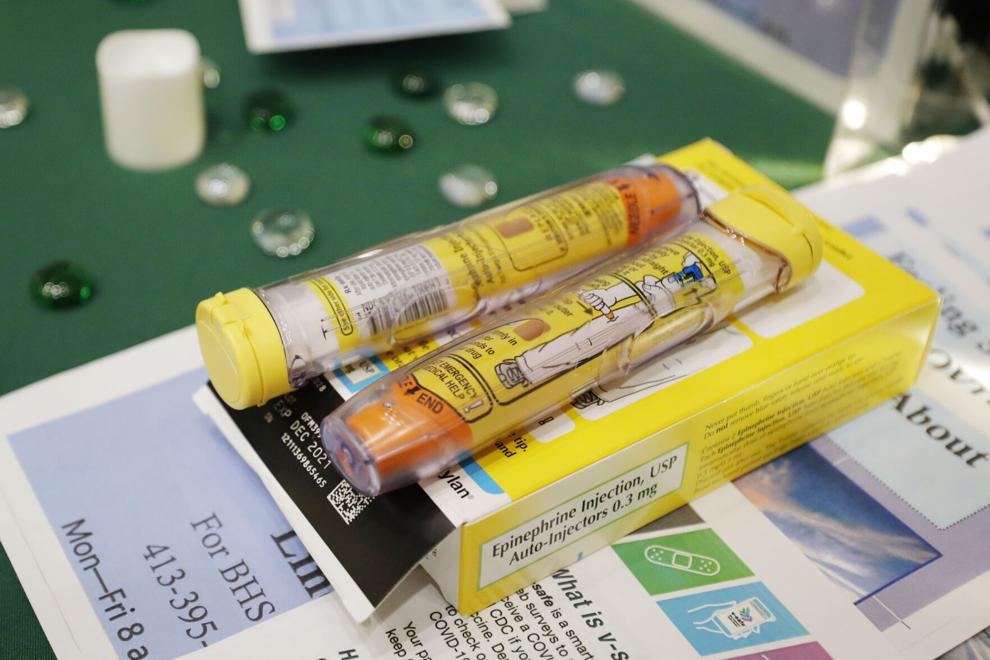 The hospital also put precautions in place. Doses of epinephrine sat by in case anyone had an allergic reaction, and recipients spent 15 minutes spaced out in the auditorium afterward so they could be monitored for chills or low-grade fever, the Pfizer vaccine's most common side effects.
Lander told The Eagle there were several reports of minor headaches, sore arms and nausea that all resolved in a short period of time, and no significant adverse reactions.
For Mazzeo and other health care workers who spoke with The Eagle, the long-anticipated vaccinations triggered a wash of emotions. Despite some fear, the county's earliest vaccine recipients said that relief and hope for the future largely eclipsed their concerns about potential side effects.
"This is the beginning of the end," Mazzeo told The Eagle. "I've heard people are calling today V-Day. Vaccine day, victory day."
Getting vaccinated was "the right thing to do," she added, even though she was anxious about it.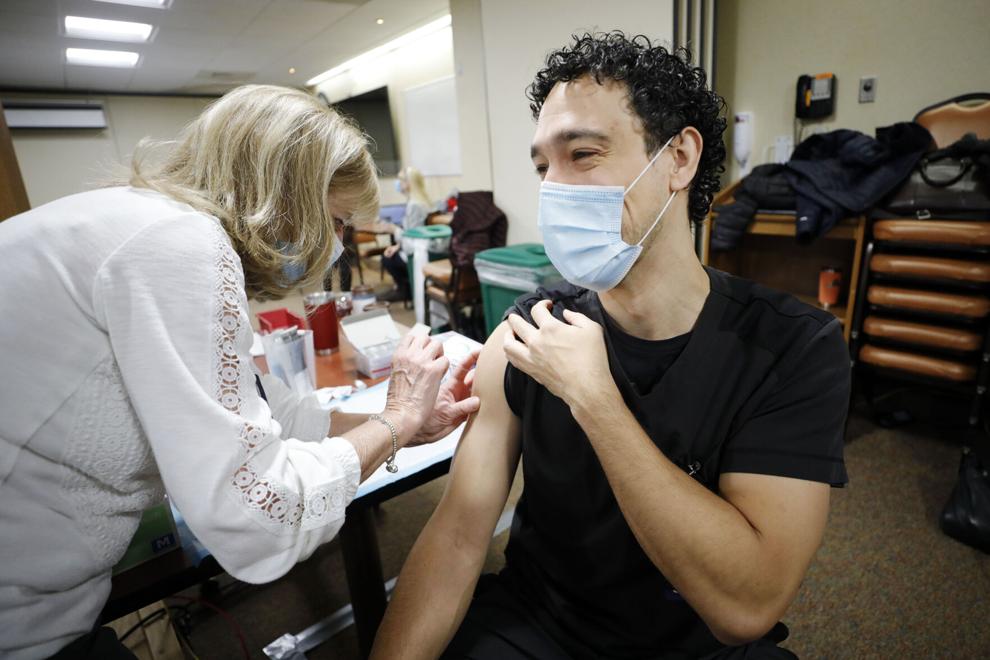 "We need to get our lives back," she said. "We can't even gather to have a funeral for my aunt. People don't deserve to live in isolation and fear like this."
At a nearby station, Adrian Elliot smiled behind his blue surgical mask while a nurse injected the vaccine into his arm, the lines on his face crinkling with joy.
Elliot, the medical director in the emergency department at Fairview Hospital in Great Barrington, told The Eagle it was "surreal" to receive a vaccine that he had been waiting on for so long.
Like many health care workers, he had some early hesitation about the vaccine — how effective it might be, and whether there might be any long-term side effects. But, his trepidation faded as vaccines manufactured by Pfizer and Cambridge-based Moderna sped toward approval. Both vaccines were found to be effective and safe in large-scale clinical trials.
"Of course, there's uncertainty," Elliot said. "We are some of the first people in the world to get this vaccination. But, you really have to weigh the benefits and risks, and this is a deadly virus."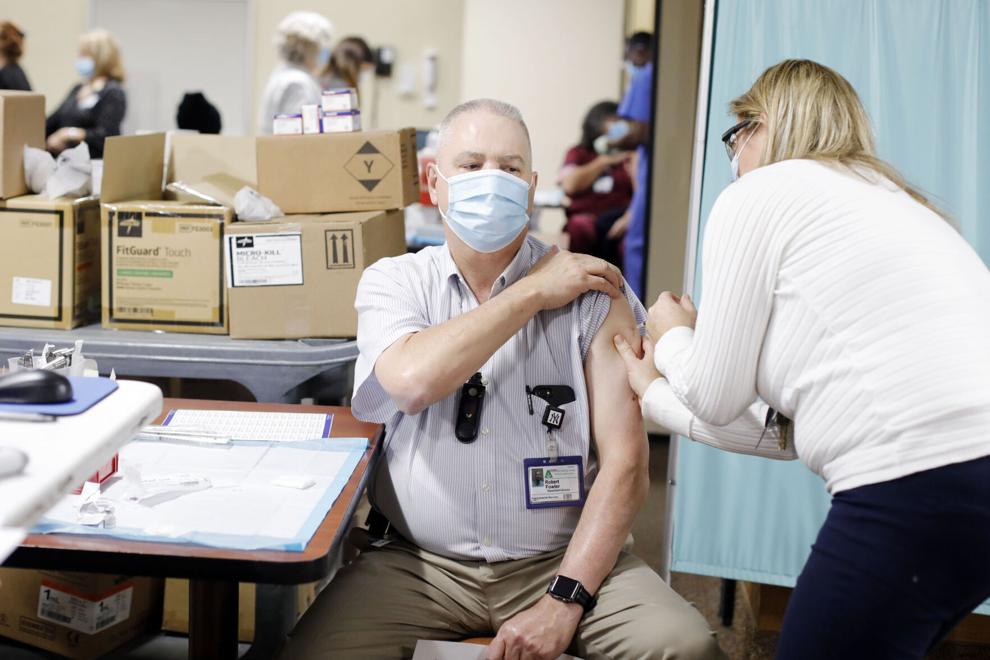 Many of his colleagues agree. A "significant majority" of staff who have responded to an ongoing hospital survey say they are willing to take the vaccine, according to Leary.
Robert Fowler, director of environmental services and transport at BMC, said he took the vaccine to set an example for his employees and the general public. Some staff are hesitant, he said, because the vaccine is so new.
"But, I think most of them want to give it a try," he said. "COVID has hit health care workers really hard, and we need to take a step to put it away."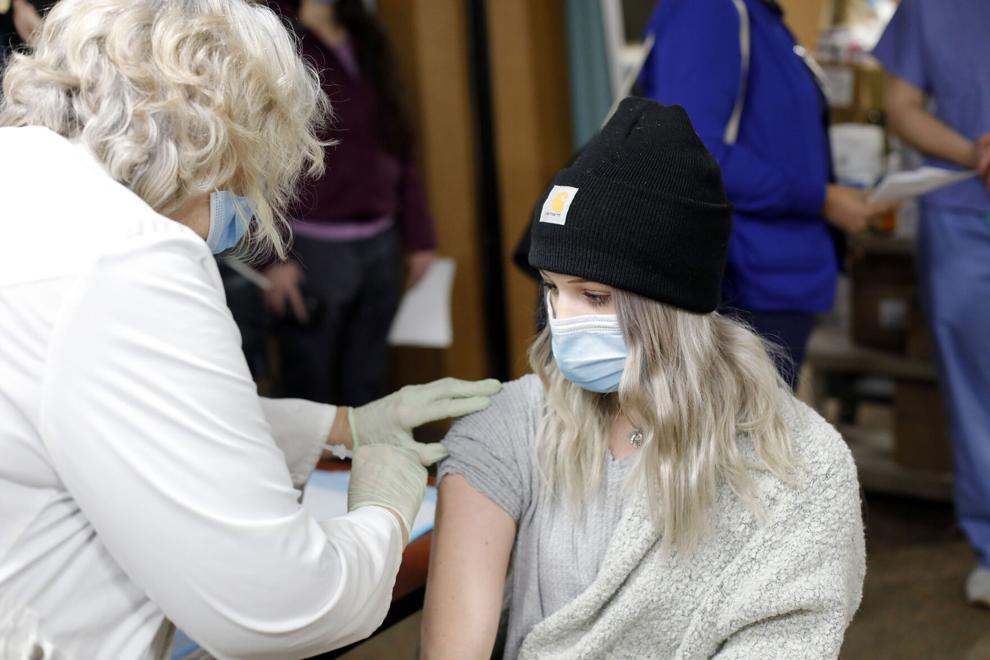 Michaela Foote, a clinical support specialist at a testing clinic, was one of the employees who decided to get the vaccine despite some trepidation.
"The whole time I was driving there, I was really nervous," she said. "Just because it's so brand new. I know a lot of people have been hesitant."
Her fear melted away after she arrived at BMC and saw the line of doctors and other medical professionals preparing to be vaccinated.
"It was a big relief to see all the other people," she said. "And it was a great thing to do."
With nearly 2,000 employees set to be vaccinated over the next few days, immunity could be just weeks away for many frontline health care workers. While the Pfizer vaccine requires a second shot after three weeks, early studies have shown that the first dose alone provides strong protection in about 10 days.
'
We can be those early adopters'
Even as vaccines offer hope for the long term, the short-term picture continues to look bleak, with county hospitals bracing for a jump in infections after Christmas.
"It feels like things are bearing down on us," Elliot said. "But, we have to look forward as well."
Hospital operations will remain unchanged after the early doses of the vaccine. The big difference, Elliot said, is that vaccinated health care workers will be able to relax, as their likelihood of falling seriously ill from the virus plummets. Many have had to worry about becoming infected at work for more than nine months.
"It's the anxiety that goes with this, the fear of, 'Am I going to bring this home?' " he said. "That sort of stress and pressure, we've all had to work through it … so, the vaccine will give us a sense of confidence in handling this virus."
It is not clear yet whether someone who is vaccinated still can be contagious, and public health experts say everyone who receives a vaccine should still wear a mask and social distance. At BHS, staff will continue to take the same precautions they have exercised throughout the pandemic.
But, even in these early stages, the vaccine has given Elliot a window into another world, where people can return to their normal lives and patients no longer suffer alone in intensive care units.
"It's really difficult for us to see patients having this freight train of a virus run through their body, knowing what's going to happen to them," he said. "It'll be really nice to see less of that."
He hopes that anyone hesitant about the vaccine will be reassured that hundreds of thousands of health care workers across the country are stepping up to receive the first vaccinations.
"We're human beings, we have the same concerns and fears that they have," he said. "I hope that we can be those early adopters and demonstrate that this thing is going to work."
This story has been modified to correct the number of vaccinations given based on updated information from Berkshire Health Systems.