PITTSFIELD — On the back side of the McKay Street Parking Garage, you could find a couple of firefighters hanging out Tuesday morning … literally.
Suspended from bungee cords and harnesses sprawling up the side of the building at 55 Depot St., they're training for rescue efforts to aid them in saving someone from a ledge, a tight spot or a deep hole. One way or another, they're learning the ropes now.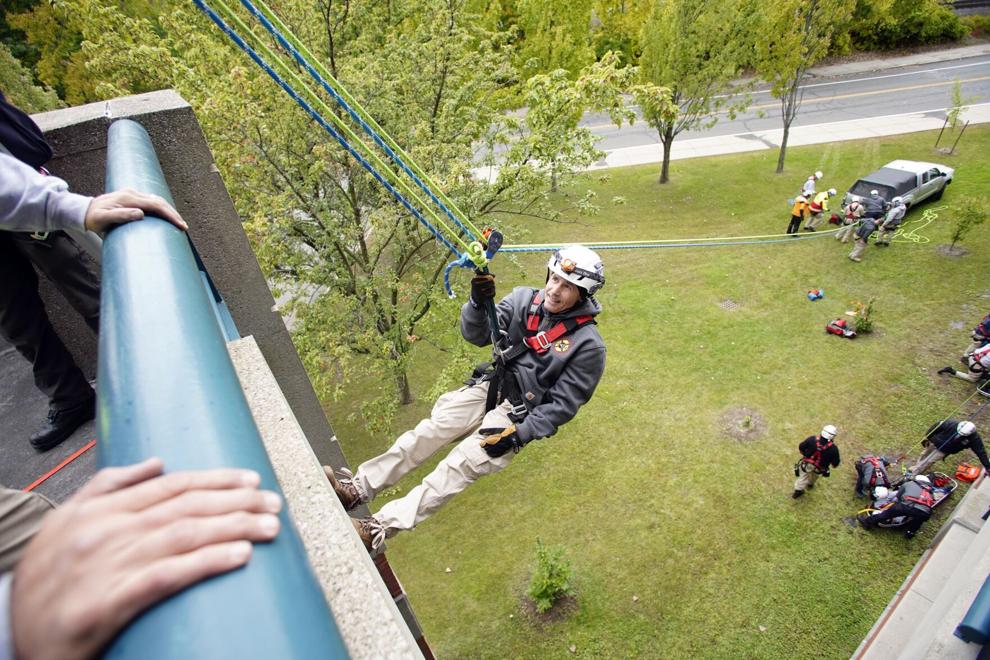 About 30 firefighters from four counties and 20 departments across Western Massachusetts took part in the training, including the Pittsfield and North Adams fire departments. The members present are part of the Western Massachusetts Technical Rescue Team, a regional group of firefighters trained and equipped for rescue efforts.
This is one of their monthly trainings, each focused on a different scenario or skill for rescue. Their job is to get ready for "low frequency, high risk" scenarios. Part of that includes getting ready to use new equipment, such as harnesses and rope, provided by grants from the Department of Homeland Security.
Daryl Springman, director of the Western Massachusetts Technical Rescue Team, said the team picked the parking garage on McKay Street to practice high angle rope techniques.
"This location was great for us because we can easily walk up and have people in each position quickly," Springman said.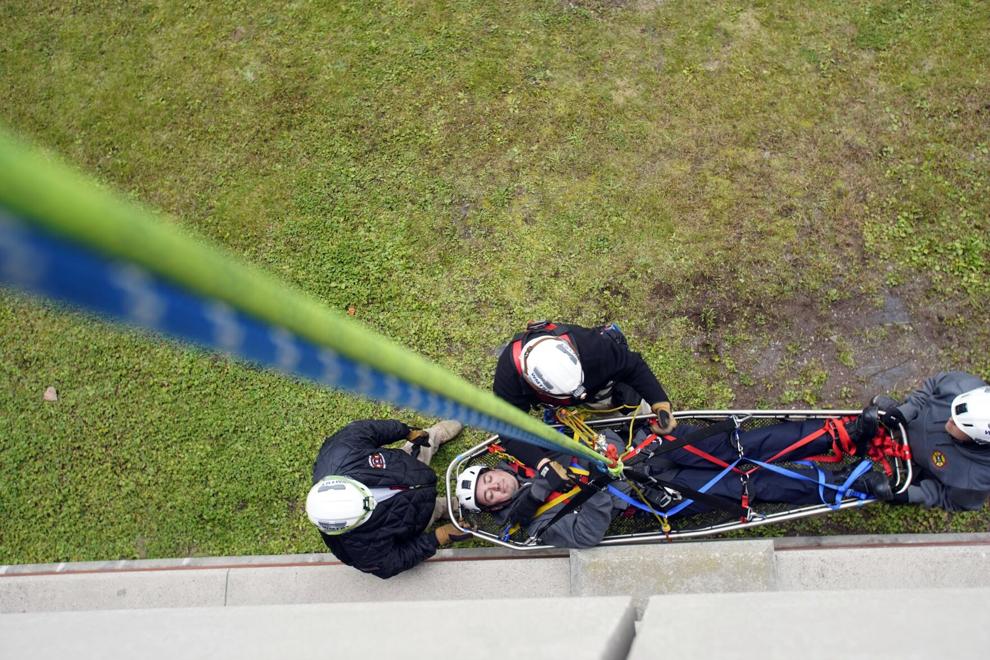 "Each position" means having firefighters posted up on ascending floors of the parking garage, up to its fourth floor, guiding each other through rescue simulations. One team member will lay in "the basket," a titanium stretcher for transporting patients vertically that can be tied to a pulley system, while another serves as the "litter tender."
The litter tender's job is to keep the patient calm and help maneuver the basket around any obstacles as they ascend up the structure. In one exercise, they work on keeping the basket — and patient — horizontal as they climb. In another, they prepare for moving it around in tight spaces.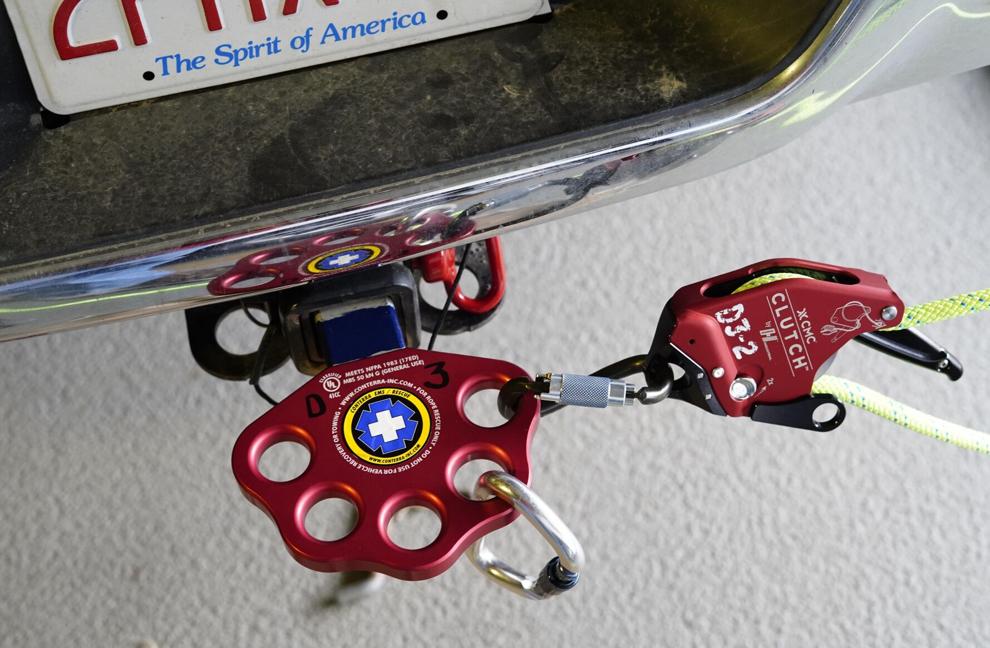 The technical rescue team stays ready for any "large-scale incident," Springman said. That means preparation for rescue from water, trenches, tightly confined spaces, towers and structural collapse.
A core skill for any situation, though, is rope handling. Practicing on the parking garage on McKay Street may not seem the same as practicing on a skyscraper, but functionally it's more similar than you might think.
"It doesn't matter if it's 20 feet or 100 feet, the technique is still the same," Springman said.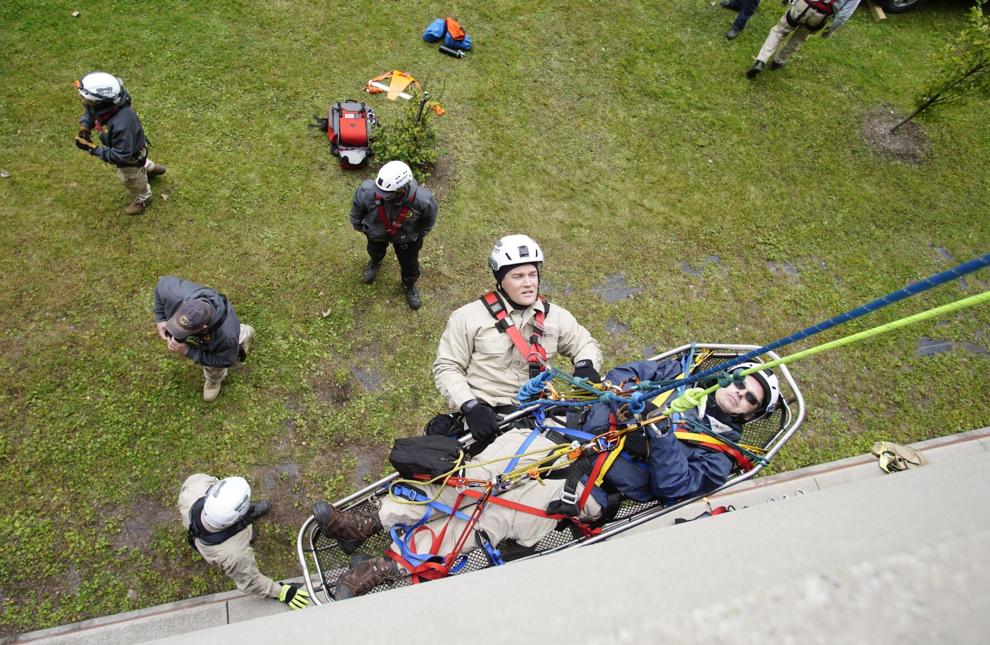 The team has also conducted training on windmills in Florida, quarries in Becket and buildings on the University of Massachusetts campus in Amherst.
When it comes down to it, the training helps prepare the firefighters for the real thing. With that knowledge and practice, helping to guide those they're saving through the event goes hand in hand.
"Our members being very proficient in their skills instill confidence in our patients that we're going to get them out safely," Springman said.