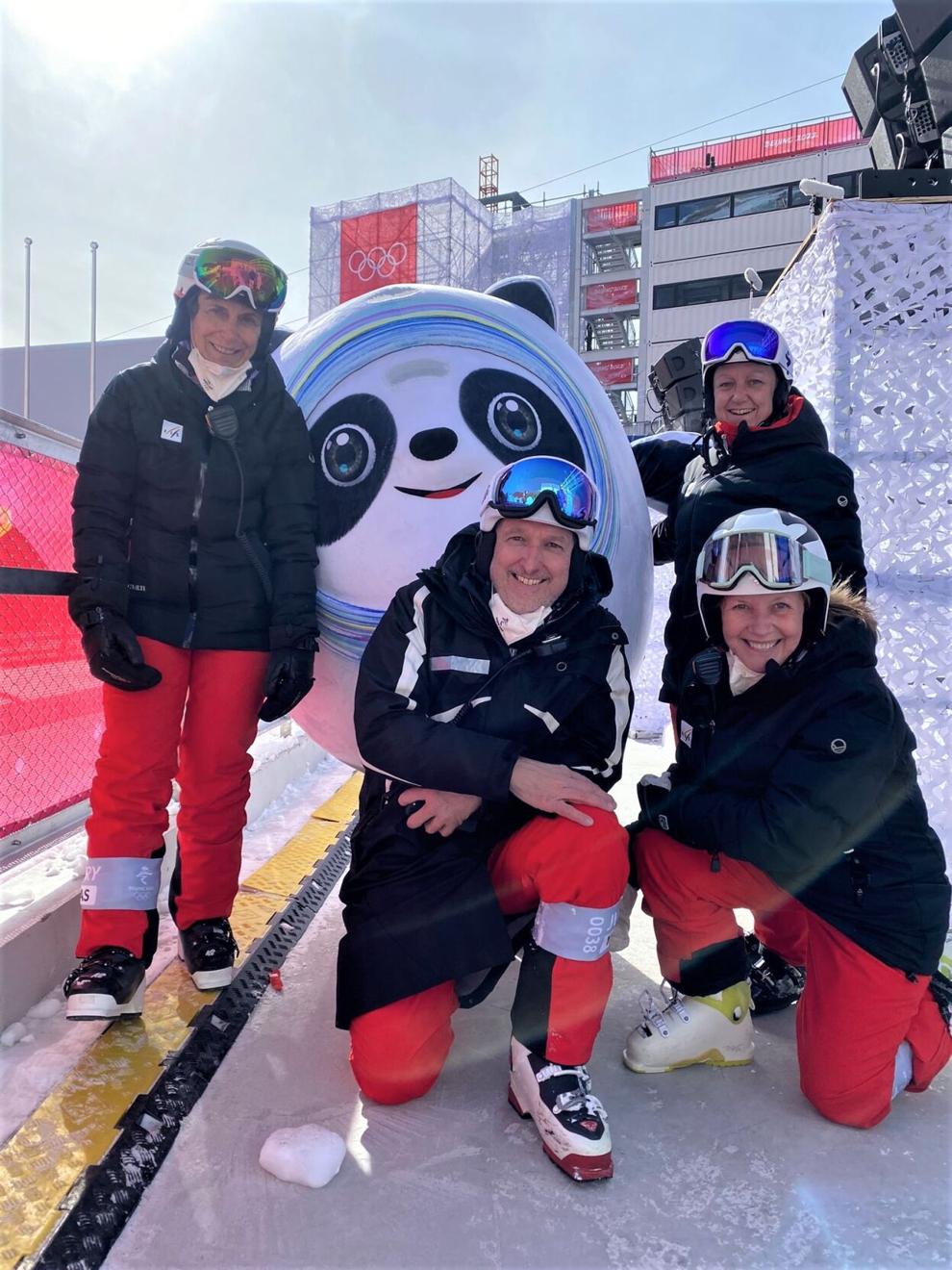 CUMMINGTON — It never was Laura Sullivan's goal to help officiate Olympic skiing. But, in February, she found herself doing just that at the National Alpine Ski Center in the mountains of northwestern Beijing.
"I don't know how I ended up there," Sullivan said. "I just liked the process. I really did."
Sullivan, 58, lives in Cummington and has been officiating ski racing for decades. She arrived home in Western Massachusetts recently, after spending several weeks at the Beijing Olympics.
"It was exciting. It was an honor, for sure," she said. "It's really due to mentors, no doubt. You don't get there by yourself."
Sullivan grew up in Springfield and ski raced in northern Vermont. She started officiating in her 30s, after meeting her husband, Mark Sullivan, who was coaching skiing and still coaches at Worcester Polytechnic Institute.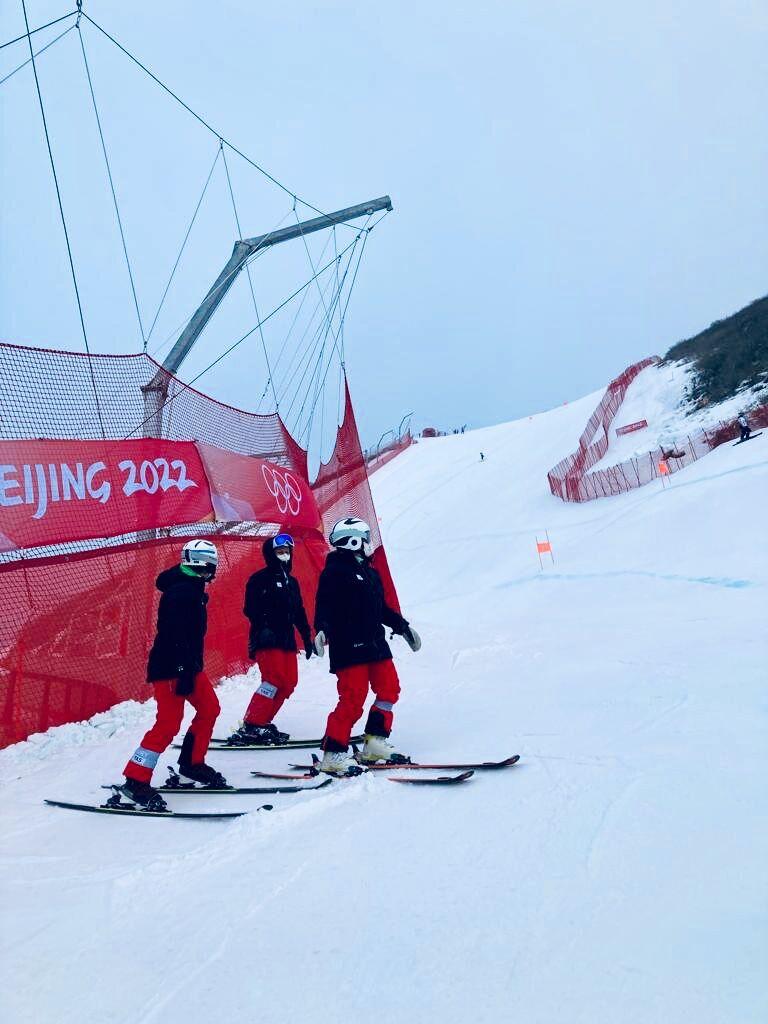 Laura Sullivan also did some coaching and became a certified official, and several years ago she was a technical delegate at the World Cup in Lake Louise in Alberta, Canada. In her day job, she works for the Tri-State Alpine Ski Racing Association, a ski racing organization that does work in Massachusetts, Connecticut and Rhode Island.
Every Alpine racing event includes a jury, she said, and at the Beijing Olympics, she was part of that group for women's skiing.
"You go up on the mountain in the morning, you look at the course. … You have to make sure it's within the rules," she said.
Officials examine the protective fencing, for example, and ask, "Is it enough? Do we need to move something that's in the fall line? Is the snow quality appropriate? It goes on and on and on," Sullivan said. "There's a lot to it."
The officials also make sure skiers don't get off to a false start and watch the course for any moves that would disqualify a skier, she said.
Paul Van Slyke, a technical delegate commissioner for the International Ski Federation, nominated Sullivan for the job.
"She's just really qualified to be in that role," he said. "There's only so many opportunities for an official to get to the Olympics."
He added: "It sounds like a very difficult job, and it can be when things don't go perfectly."
Some news outlets have reported that Sullivan is the first American woman to be an official in women's downhill Olympic skiing. The International Ski Federation Council approves delegates, and the organization does not have an easily accessible record of past officials, a spokesperson told The Eagle.
It's possible Sullivan is the first, but she is not sure.
"It's not something that I think about at all," Sullivan said. "It's not important to me. It's the ride. It's the experience. It's the ability to have the option to go to do it that's exciting."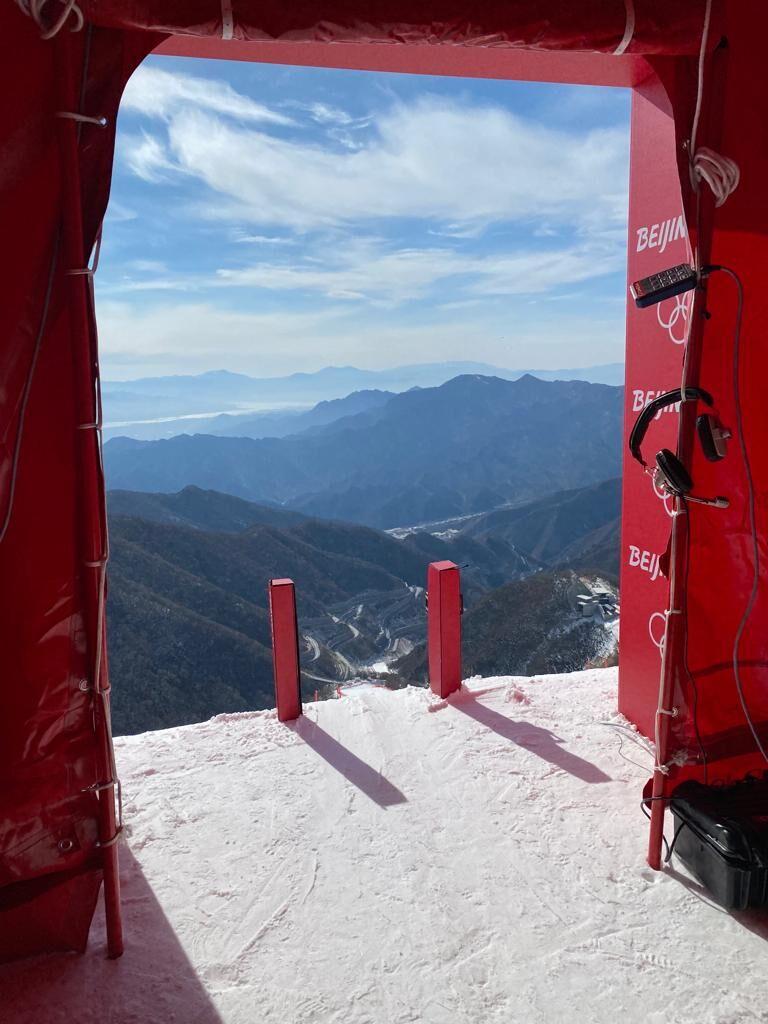 And she is comfortable working in the background.
"We do this for the athletes, and the focus should be on the athletes," she said. "That's what it should be about."
When she was nominated to be a technical delegate, she kept the news quiet for awhile.
"I wasn't sure it was going to happen, frankly," she said. "There was so much with COVID. ... Everything was uncertain."
In early February, she arrived at the National Alpine Ski Center in northwestern Beijing and was impressed.
"The infrastructure at this resort they built was amazing," she said. "They had built right into an untapped mountain range and created from scratch this amazing complex."
Her days on the mountain were long.
"You're up and you're out at six in the morning and you're on the hill, and you're not done until the end of the day and you're fighting all the elements of being outside and being part of an event," Sullivan said. "You come back to where you're staying and you're wiped out."
She is used to being outside all day and keeping warm.
"I was fine, maybe because my toes are dead," she said, jokingly. "The more you do this, the more you realize you're not fooling around with weather."
Among other tasks, Sullivan spent time working as the start and finish referee. When she was at the finish line of a giant slalom event, American skier Nina O'Brien fell and broke her leg, and Sullivan and other officials had to react.
"You have to be calm and look at the situation," Sullivan said. "We have to make sure there's no movement on the hill."
Sullivan didn't feel like any of the officiating decisions in Beijing were difficult, though.
"If you are prepping effectively ahead of time, it leaves little room for something that would be a hard decision," she said.
Canceling training because of wind, she said, "That's a no-brainer."
Sometimes, there is a pushy coach.
"There's always one or two that are muscling their way through," she said.
But, she didn't let it faze her. "The word 'no' means 'no.'"
What draws her to officiating?
"It's going to sound corny: the culture, the people, the personal challenges that help me learn," she said.
"It's one of those things you're like, 'Why am I doing this? But, oh, I learned a lot.' The end product is, you get to travel and be challenged, and there's a lot of things that come out of it that are hard to articulate."
She became close with the other women on the jury, and during breaks they sometimes would watch a men's skiing event or ski together.
"We would race against each other," she said. "It was fun. We played. The hills are incredible, and they are not easy, I'm going to be honest with you."