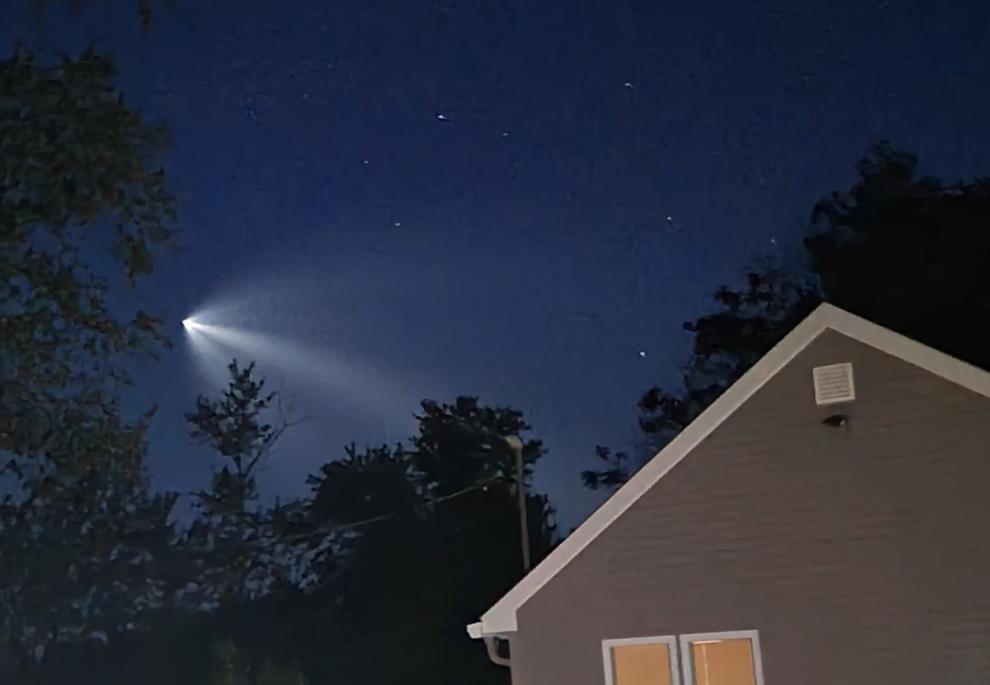 Did you see a strange, arrow-shaped light making its way across the sky on Saturday evening? If so, you're not alone, and no, you're not seeing things.
Several residents of Berkshire County reported in community Facebook groups that they saw bright lights in the sky just after 7:30 p.m. for a few minutes before the lights seemed to burn out, leaving many to believe it was a meteor or comet. Gary Pratt posted a photo of the anomaly seen from Sheffield to the Great Barrington Community Facebook Page, which created a thread of several members sharing their photos of what they saw in the night sky throughout the state. The light was actually from a satellite launch from SpaceX from the Cape Canaveral Space Force Station in Florida. On Sept. 24 at 7:32 p.m. eastern standard time, SpaceX launched 52 Starlink satellites in a Falcon 9 rocket headed toward low-Earth orbit, and lasted about 9 minutes.
According to Starlink Mission, Starlink is a satellite internet constellation designed and manufactured by SpaceX to provide high-speed and low-latency (minimal delay) internet to people living in remote and rural locations around the world, and is currently live in 47 markets internationally. SpaceX, also known as Space Exploration Technologies Corp., was founded in 2002 by Elon Musk with a goal of revolutionizing space technology.
SANDISFIELD — It has only been eight days, and Roger Kohler finally feels like a "regular person."
Among others, the major manufactured projects of SpaceX include Falcon 9 and Falcon Heavy vehicles, and Starlink communication satellites. The launch on Saturday evening was a Falcon 9 rocket carrying 52 Starlink satellites. At about 2 minutes and 30 seconds into the launch, the Falcon 9 successfully separated into four parts, known as stage 1, stage 2 and two faring halves. The first stage is an engine that has carried the rocket up until this point. From here, it will make its way back toward Earth onto a rocket landing pad in Florida, in this case, the autonomous spaceport drone ship Musk has named "A Shortfall of Gravitas." According to Space.com, this landing pad is fully automated and does not require a tugboat to move around in the Atlantic Ocean. The second stage contains the 52 satellites, and this engine turns on only after the separation. The two parts of payload, or the faring, protect the satellites on their way to orbit and will be retrieved at a later time to be reused on a future mission. The Falcon 9 is the first orbital class rocket capable of reflight.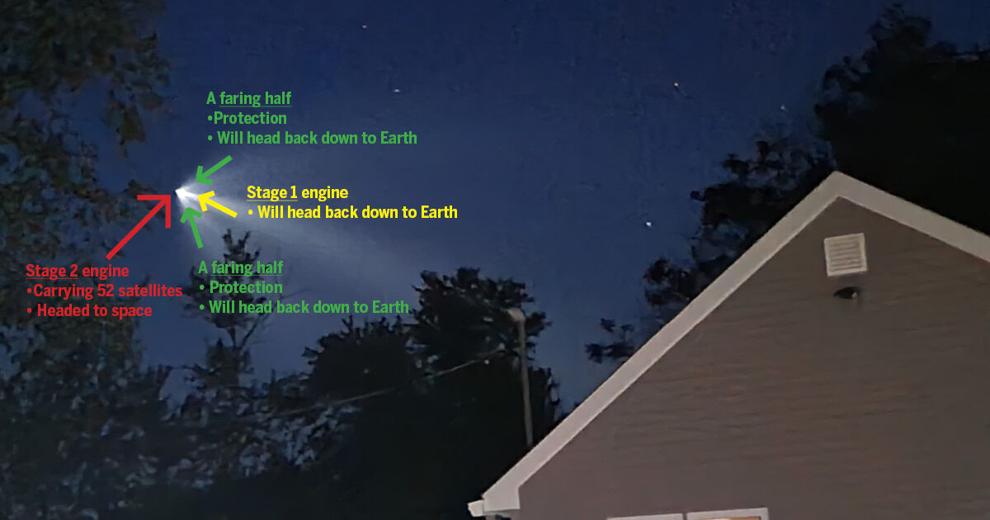 The disassembled parts created a light configuration resembling an arrow "pointing" to the left that was seen along the East Coast on Saturday night. If you're still wondering what you saw, specifically, it can be described as one glowing point on the left, which was the stage 2 engine carrying the 52 satellites, followed by three vertically stacked glowing points on the right. The middle is the first stage, with the faring halves on the top and bottom, each appearing to glow with the reflection of sunlight. According to TechCrunch, a faring is a two-piece protective cover that surrounds the cargo of the launch vehicle as it goes through Earth's atmosphere. SpaceX attempts to reduce the cost of launches by reusing expensive materials. TechCrunch reports that "SpaceX estimates it can save as much as $6 million per launch by recovering and reusing the fairing halves."
The mission on Saturday marked SpaceX's 181 launch overall, with over 130 landings and at least 115 reflights. This was the 43 launch of 2022.