If the clue is, "A charming professional who hosted a game show for more than three decades," then the answer is, of course, "Who is Alex Trebek?"
That's how "Jeopardy!" contestants from Western Massachusetts described Trebek, the longtime program host who died Sunday. He was 80.
"It's hard to imagine the show without him," said Sara Hathaway, a former mayor of Pittsfield who went on the show in the mid-1990s. "You could tell he was bright, and that he was really engaged in the production."
Trebek hosted the show for 36 years, starting with its 1984 reboot. After announcing his stage 4 pancreatic cancer diagnosis last year, he continued to work on the show through several rounds of chemotherapy. And as fans mourned the loss of the Canadian-American TV icon, former contestants remembered him as focused, kind and, at times, a bit of a perfectionist.
Hathaway told The Eagle that producers would keep Trebek separate from contestants until the cameras started rolling. Once filming started, she said, he would avoid doing anything that might give the impression he was playing favorites.
"He just had to be very neutral," Hathaway said. "He can't wink at you, or give you a hint, or anything like that."
Recent competitor Kirsten Rose agreed: "He was all business."
Rose is a librarian at the Milne Public Library in Williamstown and a lifelong "Jeopardy!" fan. She got the call that she had nabbed a spot as a competitor in March 2019 — the same week that Trebek announced his cancer diagnosis. They filmed her episode later that month.
While Trebek would go on to speak publicly about the challenges of hosting with cancer, including episodes of intense pain and sores in his mouth that made it hard for him to talk, Rose said it was impossible at the time to tell that he was struggling.
"I had no idea whether he felt terrible the day I was there, because he was such a professional," she said. "He wouldn't have let anybody see that."
During the breaks, she remembered, he would chat with the audience, graciously handling questions that he must have been asked a thousand times already.
"He had a very dry sense of humor, a very dry wit," Rose said. "Which didn't always come out on TV."
He also would use those breaks to redo questions that he had flubbed, Rose said, and she noted that he did several takes for each line.
"He had an ideal in his head," she said. "If he didn't make that mark, he was going to do it again and again, until he got it right by his standards."
Decades of hosting the show gave Trebek a fine-tuned radar for good television content. During the brief one-on-one chats with contestants, Rose said, he would come up with a notecard in hand and choose among several fun facts about the person in front of him.
"He knew what kind of things would appeal to the audience, and how to draw that out of people," she said.
Trebek would loosen up a bit during credits, contestants remembered. Rose, who struggled with the buzzer during her game, said he was particularly kind when she lost.
"When the music rolled, he walked over to us and said, 'I could see that you knew a lot of those and you just couldn't get to the buzzer in time,'" she said. "It was nice to have him acknowledge that."
Chicopee native Tom Nichols, a professor at the U.S. Naval War College, won a string of episodes that aired in 1994, and he returned to the show several times, including for the 2005 Ultimate Tournament of Champions.
His fondest memory was surprising Trebek when he was the only contestant to give the correct answer to a Final Jeopardy question about a 19th-century actress. During the credit music, as the cameras still were rolling, one competitor asked Nichols how he knew the answer.
"Then [Trebek] leaned over and said quietly, 'Yeah, how did you know that?'" Nichols said. "It was the only time he broke character." (The question was about British actress Laura Keene, and the answer was the play "Our American Cousin.")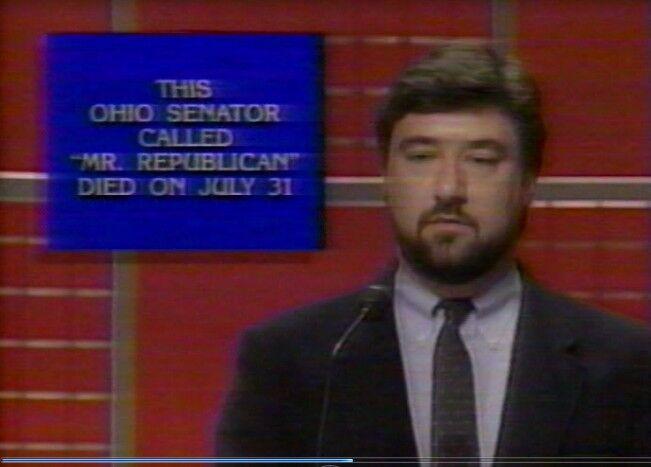 For his part, Trebek liked to see contestants succeed, and he spoke often about how much he enjoyed his job.
"I love spending time with bright people," he told NPR in 2016. "And "Jeopardy!" puts me in touch with bright folks all the time."
While Trebek could be more casual in person than on television, Nichols said, most of the time the host was "very Canadian — cool and polite, a real professional."
Even with years of experience, Trebek still had trouble pronouncing some of the unusual names that came up, Nichols said, and producers would have to pause until he could get it right. But, for the most part, the show operated like a machine; when Nichols appeared on the program, there were no chats with the audience, and Trebek might shoot five episodes a day with just a 10-minute break between each.
Despite the breakneck filming pace, Nichols added, it was a joy to watch him work.
"He was a very reassuring presence onstage," Nichols said. "When he came out, you knew the show was up and running."