PITTSFIELD — As in March, coronavirus case counts are rising in Berkshire County. But, eight months into the pandemic, much is different about the latest COVID-19 surge, medical experts say.
For one, people have been schooled for much of 2020 on how to prevent transmission, experts say, which should put the brakes on the rate of increase. And today, health care providers stand ready with vital tools, like test kits, expandable hospital space and improved medical therapies.
They also have months of data and clinical results, piercing the mystery that shrouded the coronavirus' arrival in the region. In March, doctors at Berkshire Medical Center needed express permission to test a patient for the virus.
"Today is a different story," said Dr. James Lederer, chief medical officer/chief quality officer for Berkshire Health Systems. "We're ready and we've got the staffing models to do what we need to do."
But, one factor — the weather — links what's happening today with the arrival of the virus early this year.
"It was the 'inside season' that got us in March. And the inside season is coming back," Lederer said.
Dr. Christopher Sprowl, interim chief medical officer for Community Health Programs, said that care providers in his 32,000-patient network will continue to devise ways of seeing patients that reduce risks of transmitting the virus. For months, CHP offices have been arranging to meet some patients in parking lots, to reduce their time indoors.
Hospital's plan
As of Friday, Berkshire Medical Center reported caring for three patients with confirmed COVID-19 cases. At the height of the first surge, the hospital had 60 inpatients with confirmed or suspected cases of the virus.
Since the start of the pandemic, BMC reports having treated 104 patients with COVID-19. Fairview Hospital has cared for three. To date, 743 confirmed cases in the area did not require hospitalization, BMC says.
If needed, the Pittsfield hospital stands ready to double the size of its intensive care unit and to ensure proper isolation of infected patients through the use of "negative air pressure" rooms. A trailer contains equipment needed to convert standard hospital rooms to negative pressure spaces, if needed.
While obtaining personal protective equipment for hospital staff members remains a challenge, Lederer said BMC has a stable supply.
Compare that, he says, with the start of the pandemic, when BMC typically used 60 masks of the N95 variety each month. During the height of the spring surge, the hospital was using 600 of the masks every day.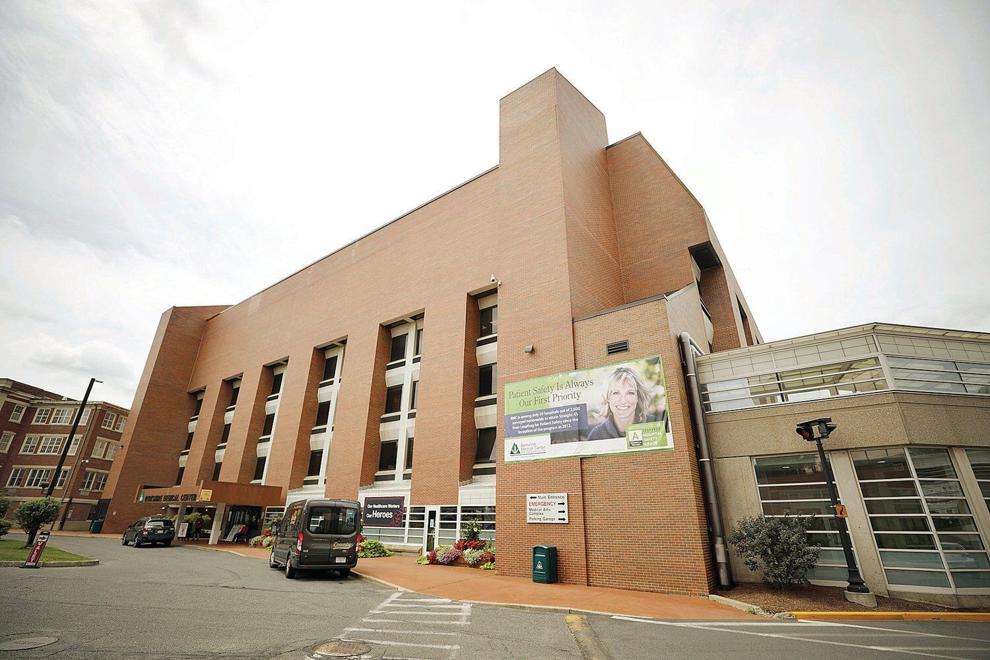 Earlier this fall, BMC was on track to add 28 new "point of care" testing facilities. But, because of delays in getting test kits from a vendor, the hospital has not been able to expand its access to rapid testing.
As winter nears, the health system has two indoor tests facilities: at 98 Church St. in North Adams and 505 East St. in Pittsfield. It still is conducting tests in a tent at 10 Maple Ave. in Great Barrington, near Fairview Hospital, but expects to move that to an indoor site.
"We have a lot more tools in our tool belt than we had in March," Lederer said. "Now, we have tests available. We know where the risks lie. We're not going to see the March peaks, when we didn't know what was happening until after it happened.
"We went first, and we kind of paid the price for going first," he said. "Today, we're in a much better position. Nothing is going to be a surprise for us."
As recent numbers show in Pittsfield, the virus remains a threat. In the three weeks ending Thursday, the city logged 169 new cases, city officials say, 100 of them on Wednesday alone.
City officials say that jump in cases stems, in part, from private gatherings. The increase, along with delays in testing that caused Wednesday's one-day report of 100 cases, followed by 10 more Thursday, is taxing the ability of contact tracers to keep up.
"We're going to see a mini-surge, or a persistent surge," Lederer said. "There are still people at risk and we're going to see them."
Michael Leary, the hospital's spokesman, said he believes that most people have taken precautions to heart by wearing masks and observing social distancing guidance.
"Even if we do have a second wave, it will be a flatter wave than we saw," Leary said.
Yet, another change from March, Lederer said, is the months that health care agencies have spent working together.
"It puts us in a good position in that we can speak the same language," he said of groups like skilled nursing facilities, acute-care services and even the state Department of Public Health. "Those are the things that put us in good stead."
At Community Health Programs, eight months of pandemic experience led to practice changes. For instance, children are being cared for during their visits to some medical offices in negative air pressure rooms, with special routes in and out to promote spacing and to avoid congestion. He said construction work has included creating new doors to allow for that.
"There's a lot of stuff like that going on," said Sprowl, CHP's interim chief medical officer. Offices are staggering appointments to avoid crowding and stepped-up cleaning.
"We clean rooms [after every visit] now like it was the end of the day," Sprowl said.
To avoid contact entirely, the practice is making greater use of telehealth visits. As of late October, the number of office visits remained below normal levels before the pandemic.
The approach of winter is prompting CHP to think again about the safest ways to interact with patients.
"What the heck do you do during the winter?" Sprowl asked, after describing adjustments in patient care logistics taken in warm weather. "We will look at novel solutions."
New target; old problem
Lederer believes that, since March, the virus itself might be a shifting target. He said medical literature suggests that mutations in the virus have left it more transmissible, but less lethal, which could result in a lower percentage of hospitalizations.
Lederer and Sprowl say members of the public have a duty to heed cautions about their behavior in the pandemic.
"We all have to consider ourselves a source," Sprowl said. "Just be careful and wear your mask. Your mask is for other people."
Lederer said he was cheered, while on a trip to Cape Cod, to see widespread public use of masks. But, he also has seen people in the Pittsfield area, during recent warm weather, who appear not to be following public health recommendations, particularly at sporting events outside.
"Those are just ripe to be super-spreader events if the wrong person is part of the crowd," he said. "I'm talking about all the people standing around. That's an accident waiting to happen."