The Williamstown Commons Nursing & Rehabilitation Center has suspended visits to two of its units after staff members tested positive for COVID-19.
In a letter to residents and families, Administrator Jodi Ouimette said the facility learned Tuesday of two positive tests for workers. She said further testing was underway. Initial tests of all residents and staff associated with the affected areas inside Williamstown Commons, Units 1 and 3, have been negative.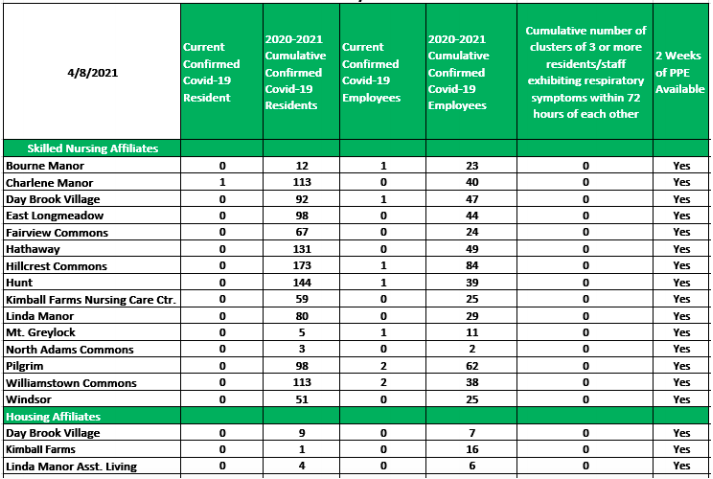 "We are testing the remainder of residents and staff throughout the facility," Ouimette wrote. "All residents who have not been positive in the last six months will be tested every three (3) days until we have seven (7) days without any positive staff or residents."
Ouimette said that because of the staff cases in Units 1 and 3, visits to residents in those areas had been temporarily suspended.
Based on state regulations, the facility is testing staff members who have not been vaccinated every week. Tests for vaccinated staff are conducted every other week, she said.
"We have an ample supply of PPE and engage in frequent rounding to ensure compliance and keep staff informed," Ouimette said in her letter.
The nursing home is run by Berkshire Healthcare. The nonprofit's most recent daily report shows that the two staff cases at Williamstown Commons are among nine cases involving employees across the company's 15 nursing facilities. There is just one case involving a resident, at Charlene Manor in Greenfield.
To date in the pandemic, Williamstown Commons has seen 113 cases among residents and 38 cases affecting staff. Early in the pandemic, 24 residents died at Williamstown Commons.