A winter storm that had been expected to be a near-miss for the Berkshires is now likely to be a direct hit with a moderate snowfall affecting the Tuesday afternoon and Wednesday morning commutes.
The snow is expected to arrive by mid-afternoon Tuesday, according to National Weather Service forecaster Brian Montgomery.
For three hours, into early evening, it may fall at a rate of an inch per hour, enough to bring out the plows, shovels and snow blowers for only the second time this season, since a 14-inch snowfall in mid-December.
The grand total for Berkshire County north of the MassPike should range from 4 to 6 inches by Wednesday morning, he said, while 3 to 4 inches may fall south of the interstate. Slippery roads and reduced visibilities are likely during the storm as it approaches from the Ohio Valley.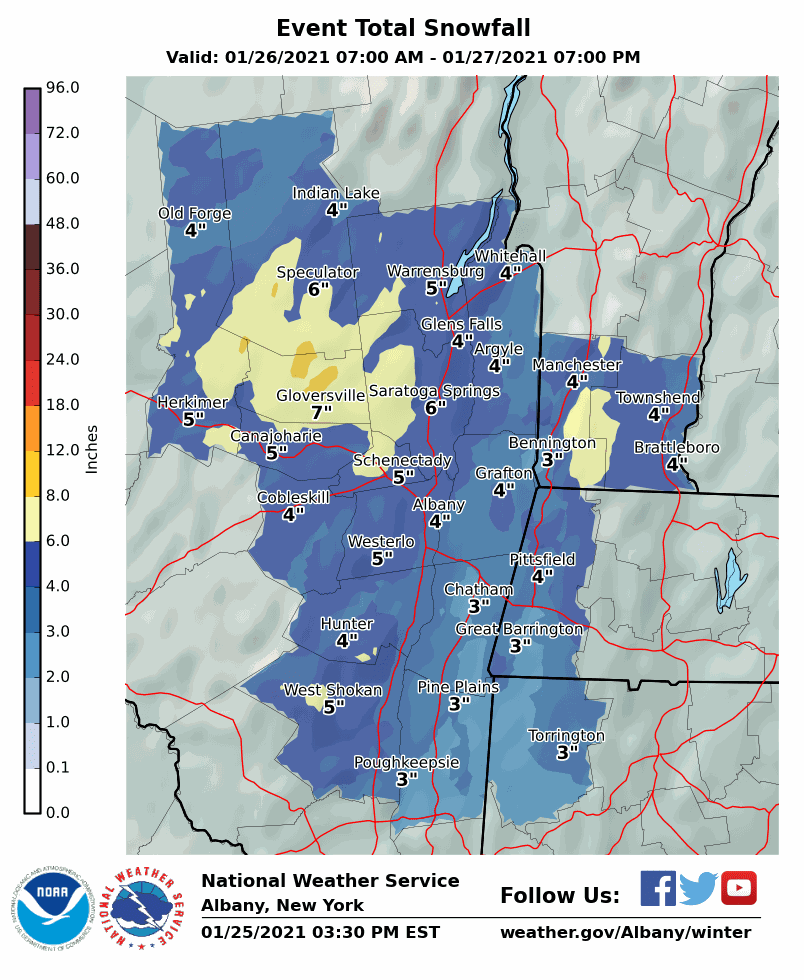 The government forecast's winter weather advisory is set to expire at 10 a.m. Wednesday.
The city of Pittsfield issued a snow emergency in effect from 7 a.m. Tuesday until 7 a.m. Thursday.
Residents are asked to use off-street parking, if possible. For street parking, alternate-side regulations will be in effect.
From 7 a.m. Tuesday through 7 a.m. Wednesday, vehicles can be parked on the even side addresses of the street. For the following 24 hours, until 7 a.m. Thursday, they should be parked on the odd side.
Temperatures are likely to remain in the 20s throughout the storm. Light snow may persist until Wednesday night.
On Thursday, the leading edge of Arctic air should send readings into free fall, plummeting toward zero at night with fierce winds sending wind chills toward 15 to 20 below zero. The coldest air mass of the season is expected to ease by late Saturday, followed by another potential snowfall Sunday into Monday.