So far, COVID-19 vaccinations in the Berkshires have taken place largely in hospitals and long-term care settings.
Come Monday, that effort will begin to expand into the community — and local officials say they are ready.
Large-scale COVID-19 vaccination sites have sprung up across the county in preparation for the start of first responder clinics this week and later stages of vaccine distribution to a larger swath of the Berkshire community.
On Thursday evening, health officials, first responders and volunteers ran through a test of the North Adams site at the St. Elizabeth of Hungary Parish Center. Local officials acted as vaccine recipients for the simulation — though no doses of the vaccine were present — to help prepare staff and volunteers for the upcoming clinics.
"We're looking at what went well and what did not go so well," said Amalio Jusino of the Northern Berkshire Emergency Planning Committee, the site's coordinator. "And a list of improvements we have to get done."
Jusino told The Eagle that the North Adams location will likely serve as a vaccination site throughout the rollout, and that other sites are expected to be added in later phases.
The first responder vaccination sites, which have been listed online by the state, are not open to the general public.
Pittsfield officials held a similar walkthrough last week at their location, according to Laura Kittross, director of the Berkshire County Boards of Health Association. Staff at the Great Barrington site were already prepared for the clinic because they use the facility for flu shots every year, she said.
Pittsfield vaccinations will take place in the field house at Berkshire Community College, while Great Barrington will use W.E.B. Dubois Middle School, according to the state.
As of Friday afternoon, more than 600 first responders had signed up for the vaccination clinics, Kittross said.
To register employees, each fire, police and EMS agency had sent a current roster to the health boards association and noted which staff members wanted a vaccine, Jusino said. The association then sent out sign-up links to all employees on those rosters and requested doses from the state.
Staff were able to register for slots via an online portal that went live on Thursday. First responder vaccination clinics are expected to last a week, with each facility operating for several days. Employees can get vaccinated any of the three clinics depending on their schedules, Jusino added.
"With firefighters, police, EMS, if there are any side effects, we want to make sure they have that time off, that they're not going back to work," Jusino said. "We're rotating everybody."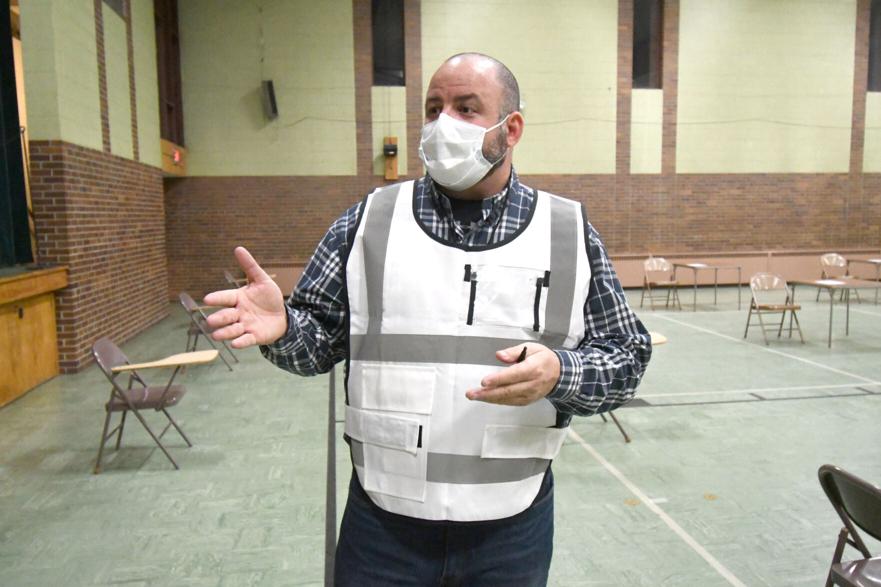 North Adams drill
The North Adams site came together almost in the blink of an eye. Trucks rolled up with supplies, and a small group led by Jusino put everything into place within two hours on Thursday.
"The complexities here are the social distancing," Jusino said. "Not the fact that we're doing vaccinations."
On Thursday evening, local leaders — including North Adams Mayor Tom Bernard, Williamstown Town Manager Jason Hoch and chiefs of various public safety agency — worked their way through the process. They signed in, sat in classroom chairs 6 feet apart, and lingered as if waiting for side effects, as volunteers went through the procedures step by step.
Staff wore vests that prominently displayed their roles — including "public information officer" and "logistics section chief" — while Adams Town Administrator Jay Green carried a bullhorn to direct the flow of traffic inside the building.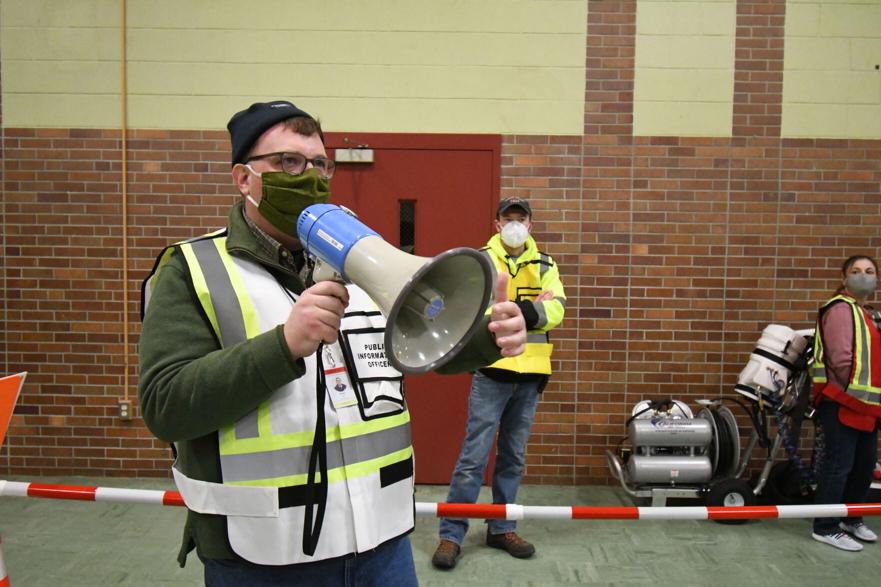 The goal was to make sure that everything would run smoothly when first responders began to trickle in on Monday afternoon, Jusino said. The drill included a "hot wash" at the end, where volunteers and staff met to discuss any necessary fixes.
One issue became clear pretty quickly, Jusino said: They were missing trash cans.
There were also other details absent from the demonstration. During the real vaccinations, an ambulance will be parked nearby, in case of a rare severe allergic reaction. Detail officers will also be stationed around the building for safety, though Jusino does not expect any security or medical issues.
Jusino said part of his goal in the drill was to make sure the clinic could scale up, from a limited number of first responders in this phase to the general public in the final phase of the rollout.
"With first responders, we've got a pretty good grip on those numbers even before you request the rosters," he said. "But the general population, when it comes time, you look at, 'Do you have an adaptable plan to take on a larger surge of people?' And we feel comfortable, with this group, we can make that happen."
A collaborative effort
Bernard credited Jusino and local agency chiefs for their work and said that the setup would not have been possible without strong interagency cooperation.
"It's only easy because of the planning, coordination and collaboration and trust that exists between these communities," he said.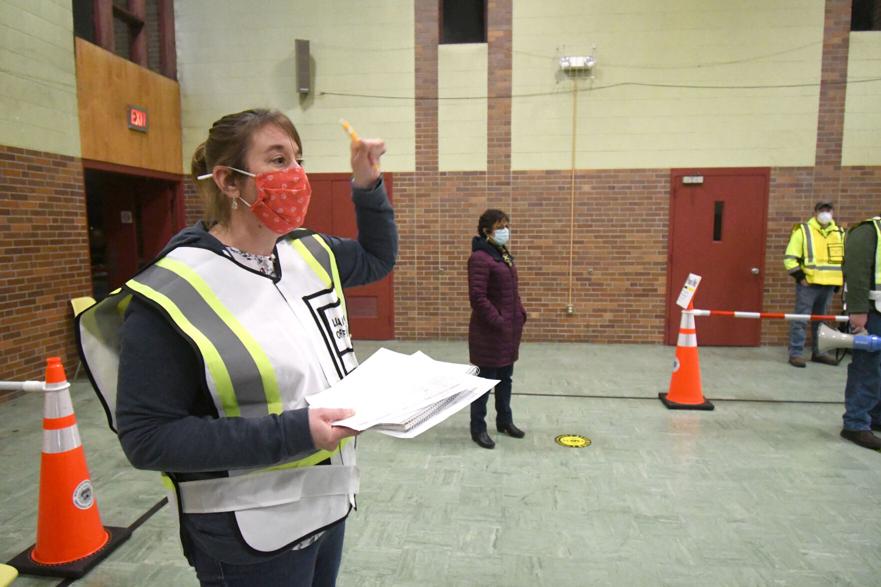 As one example of that collaboration, Jusino pointed to the efforts of Northern Berkshire EMS Chief John Meaney. Over the last week, Jusino said, Meaney had helped train more than 40 of his staff to serve as vaccinators during the clinic.
"So the same people vaccinating are the people who have been treating and transporting patients during the pandemic," he said.
Bernard said he hoped that the initial demonstration would help bolster public confidence in the vaccine rollout on the local level.
"We're doing this walkthrough so the community can see, one, that the vaccination process is beginning, in accordance with state priorities," he said. "But also so that people can see and understand what it's going to look like — and who is and is not eligible at this point."
The state has not released many details about vaccine distribution for Phase Two and Phase Three. Older adults, adults with one or more comorbidity, and essential workers all fall into Phase Two and should expect to receive vaccinations beginning sometime in February.
Kittross said that the online registration system purchased by the state has functioned well so far. In response to concerns from older residents without computers, she said an alternate registration method would be provided, though no other details were available yet.
"We are definitely aware of the issue, as is the hospital and the medical practices, and something will be arranged," she said.