PITTSFIELD — Bjorn Somlo, owner of The Lantern Bar & Grill in Pittsfield, knew this day was coming.
So, when he learned Thursday that the city would shut down in-person dining, he and his staff were prepared to make the switch to takeout.
"We're going back to something we've already done," Somlo said.
Lantern's management already had planned for in-person services to be "incredibly COVID-19 sensitive," he said. When in-person dining restarted after closures in the spring, the restaurant set up just five tables and counter service so it could adjust along with public health regulations.
"We put together a plan that works in Phase 1; it works in Phase 2," Somlo said, referring to earlier phases of the reopening plan. "The assumption we had is that this was coming."
Restaurants across the city reacted with a mix of frustration, dismay and understanding to Mayor Linda Tyer's announcement Thursday that the city would revert to Step 1 of Phase 3 of the state's reopening plan.
The new restrictions pause table service "until further notice" but allow takeout sales to continue. In her announcement, Tyer cited "large get-togethers in restaurants" as one of the primary reasons for the virus surge over the past three weeks.
Even before the order, at least six Pittsfield restaurants already had shut their doors temporarily or returned to takeout only, either because of a potential exposure or as a precaution.
Restaurant owners and managers told The Eagle they already had been buckling down for a decline in revenue this winter. Some said they had been prepping their indoor dining spaces and were caught off guard. Several felt they were being punished because other restaurants acted irresponsibly. But, restaurant principals also expressed relief that, unlike in the spring, they were well-equipped this time to switch to takeout only. They also were hopeful that the order would help save lives.
At Lantern, Somlo said, its flexible reopening plan means the restaurant can keep all of its current employees on board, even with this new restriction. And while he knows that his finances will take a hit — the restaurant already had expected to be down 58 percent this year, compared with last year — he supports the order. But, he hopes the closure ends quickly.
The danger of dining
Public health experts have warned that reopening in-person dining can lead to new spikes in COVID-19 infections, and research backs up the risk.
Data published this week in the journal Nature shows that crowded indoor venues, including restaurants, were responsible for eight out of 10 infections in several major metro areas. And a Centers for Disease Control and Prevention study published in September found that adults who tested positive for the virus were "approximately twice as likely" than people who did not test positive to report having eaten at a restaurant.
Dr. James Lederer, chief medical officer and chief quality officer at Berkshire Medical Center, told The Eagle that indoor dining clearly poses a far higher risk than outdoor dining and can bring you into close, maskless contact with a potentially infected individual.
"It just doesn't make sense, when there's high transmission rates in the community, to take that risk," he said.
Gina Armstrong, the director of public health for Pittsfield, said the restaurant gatherings that led to COVID-19 spread in the city appeared to be in compliance with state safety standards. But, even compliant indoor dining "presents an opportunity for people ... of various households to be in close contact for an extended period and without the protection of masks," she said.
In South County, the Tri-Town Health Department that serves Lee, Lenox and Stockbridge also noted a rise in cases countywide and has asked restaurants to voluntarily reduce maximum table sizes from the state-mandated 10 people to just six.
'A lot of takeout'
At some Pittsfield restaurants that had so far avoided any COVID-19 cases, the frustration over the mayor's order was palpable.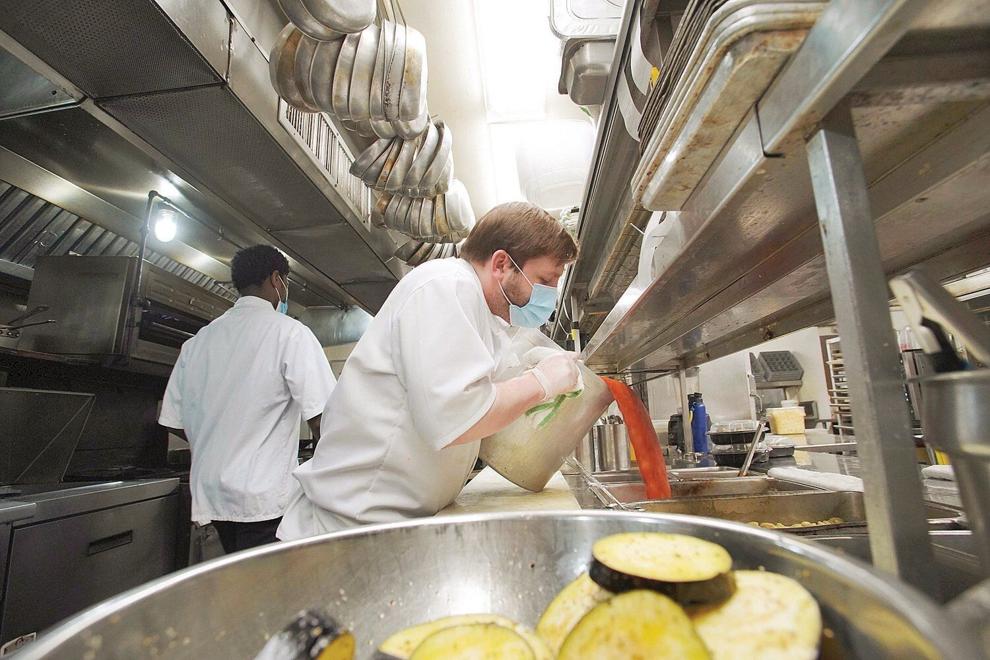 "I'm not happy about it," said Tony Mazzeo, who co-owns Mazzeo's Ristorante with his brother, Michael. "I'm getting shut down for stuff I didn't do."
Mazzeo said the order means a major financial hit, since he serves about 150 customers each night — twice that on the weekends — across several indoor and outdoor spaces. And unlike during the shutdown in the spring, he added, the restaurant is not operating on a "level playing field," because customers can drive to other parts of the county that still allow in-person dining.
"I don't think it's doing the area any good," he said. "It's just not going to help if Berkshire County is not all on the same page."
He was especially worried about not being able to give front-of-house staff a concrete return date, since the order is indefinite.
"The waitstaff, the bartenders that depend on this, they're getting hurt the most," he said.
At The Proprietor's Lodge, General Manager Candace Lyon said the lakeside restaurant had been doing its part to keep staff and diners safe.
"We're hoping to stay afloat during this difficult time," she told The Eagle. "But, with the new guidelines, we're all going to take a pretty big hit."
Lyon said staff just had finished remodeling the restaurant's upstairs event venue into a dining space for the winter, with 12 to 15 feet of space between each table, for diners who felt uncomfortable at the recommended 6 feet, and disposable menus, napkins and tablecloths.
"There was a lot of money invested in the renovations," Lyon said. To make up those expenses, she added, "We'll have to sell a lot of takeout."
Miguel Gomez, owner of the Colombian restaurant La Fogata, agreed that the halt to in-person dining would take a toll.
"I worry about my business," he said. "But, I worry about the people also."
Gomez spoke with The Eagle on Thursday, while juggling La Fogata's last night of in-person dining — for now. He said he was frustrated with other restaurants for allowing get-togethers, and with people who attended the "large private gatherings" at residences that the mayor also cited as a reason for the increased restrictions.
"I'm upset people don't understand the risk," he said. "But, what can we do? We have to follow the rules and we have to survive, you know?"
Like other restaurants, he pointed out, La Fogata already has weathered one shutdown.
"My people supported me very well," he said. "So, I hope, this time, they do the same thing."
After a pause, he added, "They will. They will."