PITTSFIELD — The wheels are turning on a project to build a bike skills park in the heart of the Berkshires.
"There's nothing like what we're hoping to build in the region," said Alison McGee, president of the Berkshire Chapter of the New England Mountain Bike Association.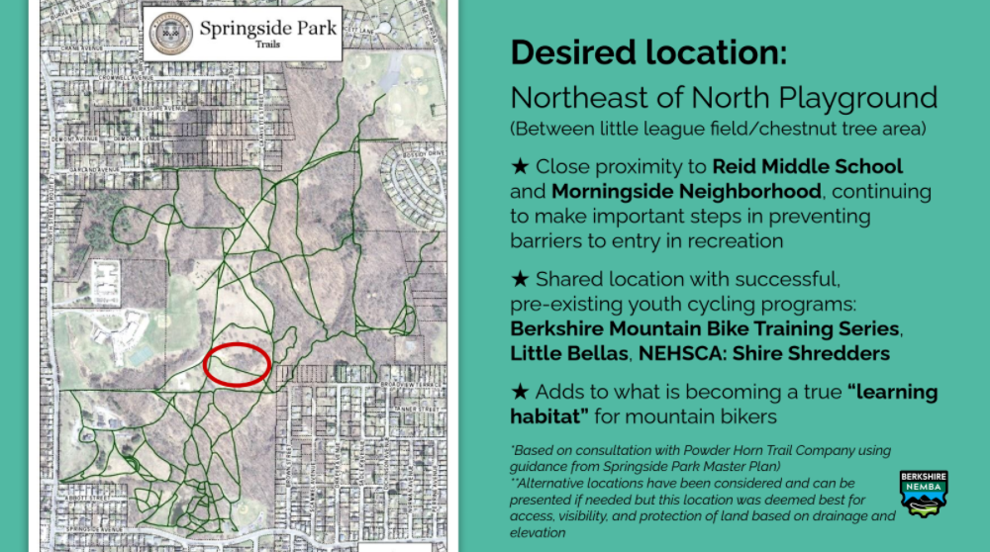 McGee brought the proposal to construct a bike skills park at Springside Park, not far from Reid Middle School, to the Parks Commission last year. Commissioners approved the concept in November and, after a subsequent site visit, signed off in January on the location — about an acre, or a bit more, in Springside Park, just north of North Playground.
Pending final approvals, the skills park will feature a paved pump track good for beginners, intermediates and advanced riders to practice bike handling by navigating a series of sloped corners.
A smaller track would cater to youth riders, alongside training grounds for cross-country bike skills, a jump track and, possibly, a dual slalom course. It would be the first professionally built bike skills course in the region, according to proponents.
Before deciding on Springside Park, McGee said, stakeholders considered a number of other prospective sites. But, a pocket of the largest of the city's public parks system not far from Morningside Elementary and Reid Middle schools stood out for a few reasons, as McGee said they set out to build a bike skills park for all ages and skill levels, free to use and accessible.
"A lot of the kids in those neighborhoods don't have access to a vehicle to drive to other locations to ride in, and making it accessible to low-income populations was important to me," McGee said.
Springside also is home base for the Berkshire Mountain Bike Training Series and the Shire Shredders, led by Garrett Pulley and Kevin Delaney, respectively, which teamed up with the Berkshires NEMBA to bring the skills park to reality.
Recently, they met their $5,000 fundraising goal for design plans from Powder Horn Trail Co., with the bulk of the money donated by the community and bicycle-maker Shimano pledging the rest, McGee said.
McGee said the Springside Park Conservancy group voted unanimously in favor of the project in August, and feedback from nearly 100 people who responded to a recent survey about the project was overwhelmingly positive.
"I think it's going to be a huge asset to the whole community," McGee said.
The park would be unique in another way: The bike associations will fundraise $400,000 to cover construction and related costs, and will be responsible for maintenance and upkeep, sparing city resources, said Parks and Open Space Director Jim McGrath.
McGrath said the agreement will be formalized in a memorandum of understanding with the city.