PERU — A former member of the Peru Select Board is running a write-in campaign to regain a seat on the town's top board.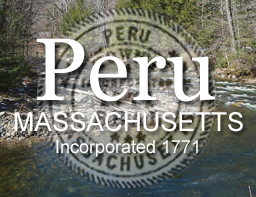 Douglas A. Haskins is seeking to wrest a three-year term from the incumbent, Edward F. Munch Jr.
Haskins did not seek reelection when his most recent term on the Select Board ended in June 2014. He now serves on the Planning Board and the Zoning Board of Appeals.
That is the only contest in Saturday's annual town election in Peru, which will be held from 10 a.m. to 4 p.m. at the Peru Community Center, 3 East Main Road.
Munch said he is asking voters to let him continue working on key projects, including an effort to secure state money for repairs to East Windsor Road. He also wants to find the best approach to repairing Town Hall.
Munch said that while the current three members of the board don't always agree, they work together well.
"I think we're really rolling now," he said. "We've got all these projects, and the COVID year was kind of a nonyear. We're going to push these projects ahead."
Munch said that despite several years of work, the board hasn't yet landed money to fix an approximately 3-mile section of East Windsor Road, an important route connecting Peru to Route 9. The project will cost in the neighborhood of $1 million, more than Peru can afford using Chapter 90 road money.
"I don't understand why we're not getting it," he said of the additional state grant being sought. "It's a hazardous road, and it cuts down on our time for emergency service vehicles.
As for the Town Hall work, Peru already has set aside money to pay for an engineering study of the building's needs, which Munch called an important first step.
Haskins could not be reached for comment on his write-in candidacy.
There will be one other write-in candidate for the day, but for a seat that has no opponent. Kimberly Wetherell sits on the Planning Board and is seeking a new five-year term. Though she took out nomination papers, she wasn't able to return them, according to Town Clerk Kim A. Leach.
Leach said the town was not encouraging candidates to go door to door to get signatures, given the coronavirus pandemic.
Leach is an unopposed candidate for a one-year term on the Finance Committee, to fill out the term of someone who had to leave the panel.
"Nobody else took out papers for it," said Leach, who also is the only candidate for her elected position as town clerk, aiming for a new, three-year term.
Peggy L. White is seeking reelection to the Board of Health, for a three-year term, and as a constable, for a two-year term.
Samuel P. Haupt is unopposed for a new three-year term on the Finance Committee.