At the Fall Foliage Parade in North Adams, you won't find many first-timers.
Take Billie Allard, for instance. She's been coming to the parade since she was a newborn baby. She sits in the same spot on the street every year now, setting up chairs hours in advance of the parade. The chairs were there this year at about 8:30 a.m. The first steps forward in the parade route didn't happen until 1 p.m.
It's a special spot for Allard, her children and her grandchildren, who gather every year on the street corner. The spot is just in front of the First Congregational Church on Main Street. Allard can point to any nearby street corner and tell you what it means to her, from her first job working at the Mohawk Theater to her days as a cheerleader at Drury High School participating in the parade.
For Allard, North Adams is a special place — and the Fall Foliage Festival is a special time to be there.
"Every square inch of this entire town is in my heart and soul forever," Allard said.
The 66th annual Fall Foliage Parade was held on Sunday in North Adams, which saw 82 groups march or drive a little over a mile on its planned route from the intersection of State Street and Old State Street to the intersection of Ashland Street and Washington Avenue.
Participants in the parade included local businesses, four marching bands from nearby schools, youth organizations such as the Northern Berkshire Girls Softball League and Northern Berkshire Youth Baseball, and veterans' groups and first responders from the North Adams Police Department and North Adams Fire Department, among others.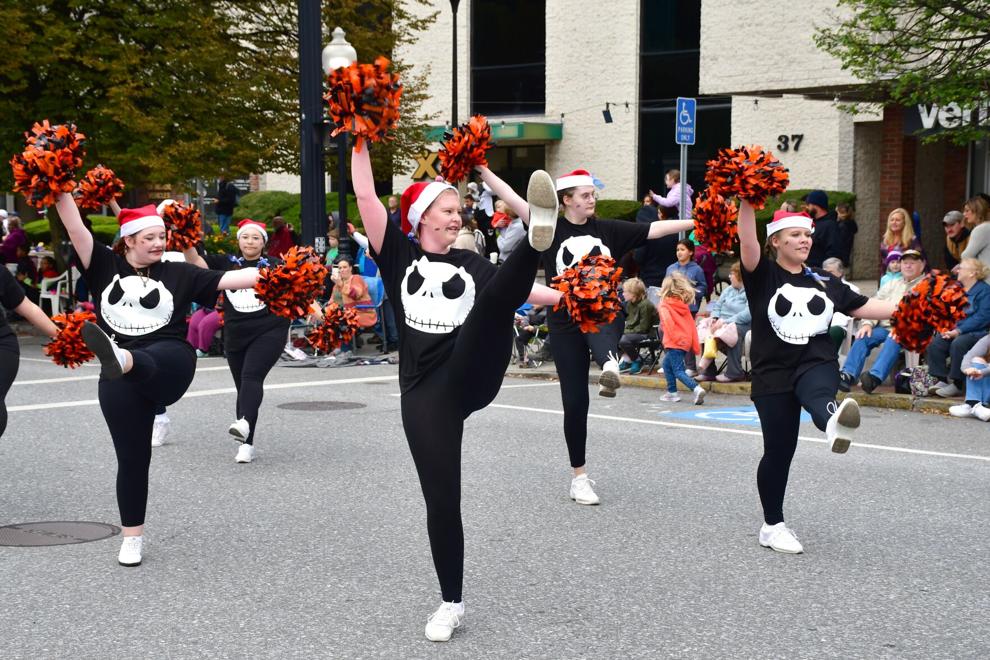 The parade's theme this year was "Holidays on Parade," which saw floats themed after Halloween, Christmas, Mardi Gras and Dia de los Muertos (Day of the Dead). Renditions of Michael Jackson's "Thriller" were commonplace as the parade snaked through downtown North Adams, as well as "This Is Halloween" from "The Nightmare Before Christmas" and the theme from "Ghostbusters."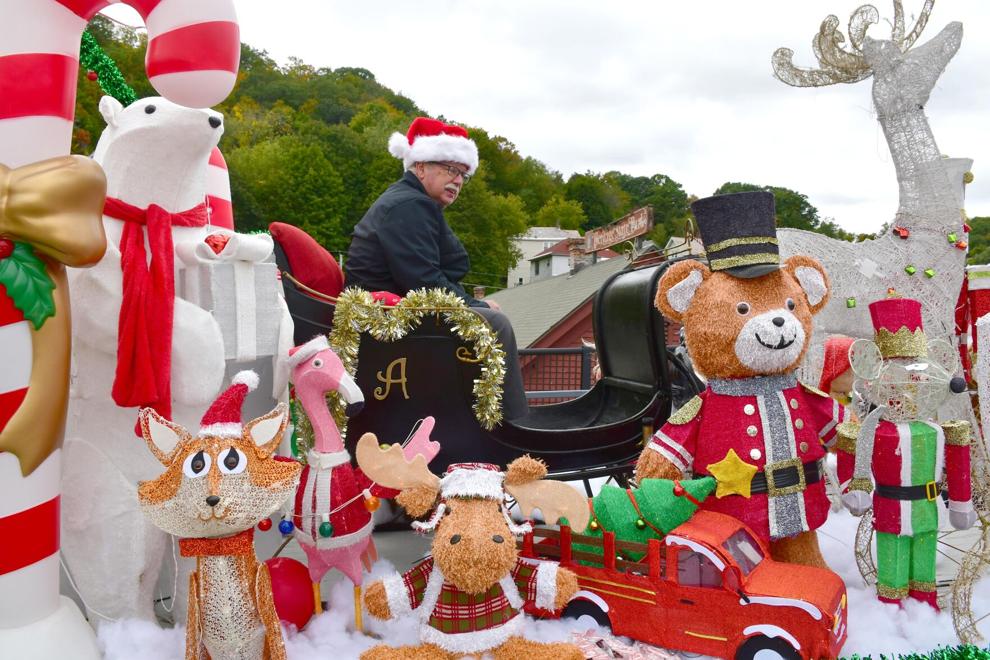 Floats in the parade included a giant witch's hat and a Halloween scene put together by Clarksburg Elementary School, as well as a scene from a Charlie Brown holiday special made by Optimal Healing LLC and ROOTS Teen Center.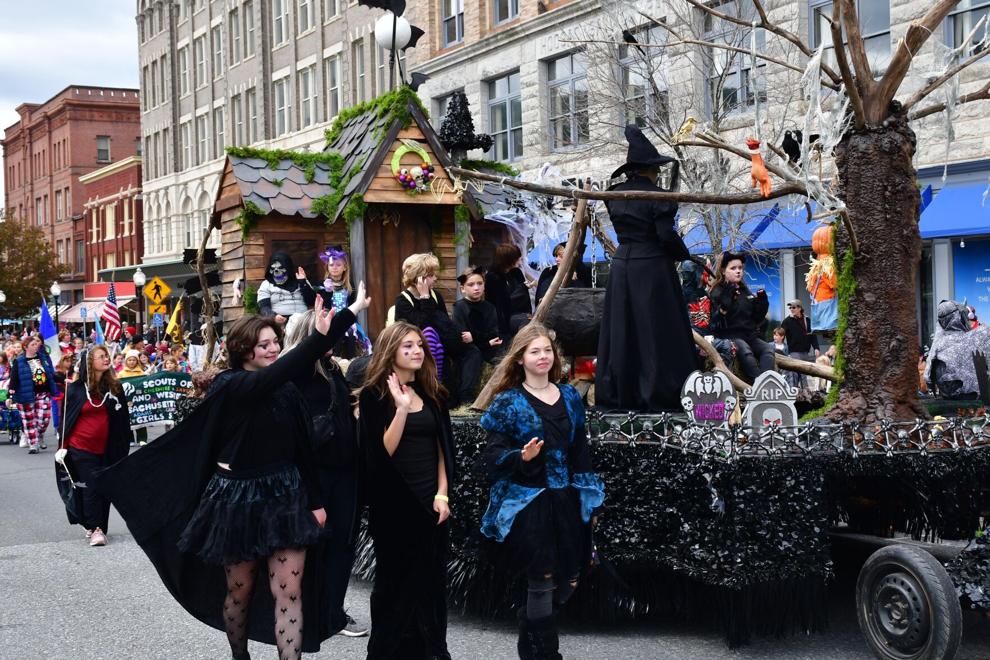 The pageantry was all new for Jodi Easton, one of the local troop leaders for the Girl Scouts of the USA who marched in the parade. Each of the girl scouts were able to wear an outfit representing whatever holiday they chose, as they proceeded through the parade.
"I thought it was awesome," Easton said. "It's really cool to see all these kids and families out together."
Other long-tenured visitors to the parade were lining the streets as well, each with different reasons for being there.
John Samson and his wife Tammy have been coming to the parade for over 30 years, first bringing along their son Nate, then their four foster children, Willy, Ruben, Wesley and Anthony. Anthony, the oldest of the four, was playing trumpet in the marching band for Hoosac Valley High School.
Dave Stimpson has been coming to the parade for 38 years. He recalls when the parade used to be closer to four hours long.
He was supervising three kids with Britney Gamache, his son's girlfriend, as they made up a new sport off a side street involving a plastic samurai sword and a bright orange ball they bought from one of the parade's vendors — one of many ways to pass the time as they waited for floats to arrive near the end of the parade's route.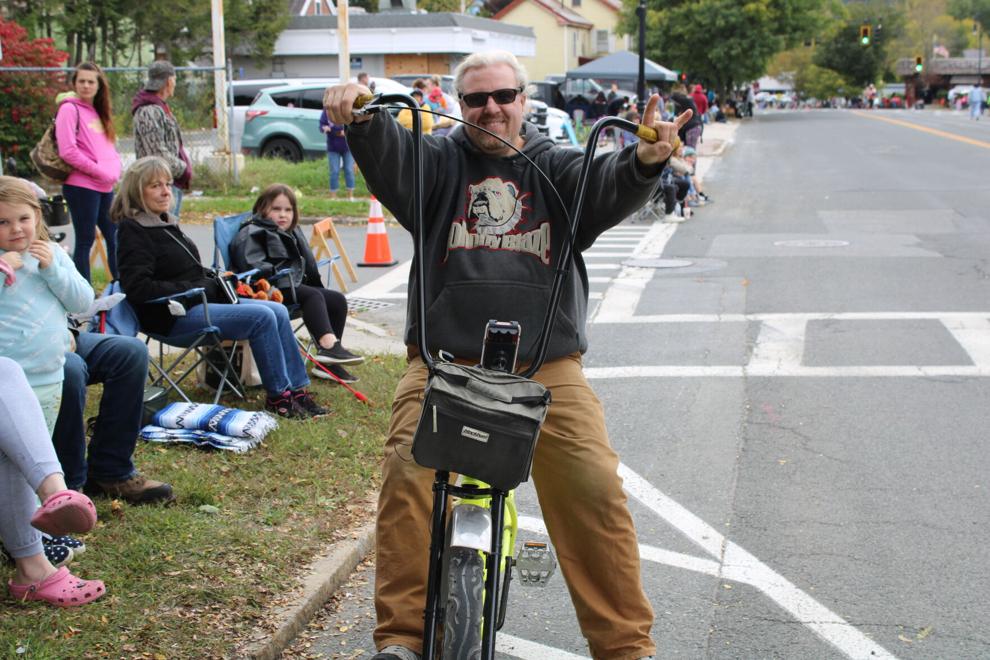 Paul Mazzrillo was at the parade on his West Coast "Chopper" bicycle, taking advantage of the opportunity to cruise on the town's streets before the parade arrived at the end of its route. He's been coming to the parade for as long as he can remember.
Sharon Huban and her daughter Shana Skratt couldn't quite remember how many years they had been coming to the parade — somewhere between 30 and 40 years, they guessed.
"It's been a tradition — something we've looked forward to every year," Huban said.
Huban's favorite part of the parade is the floats — one of her favorites this year was the Clarksburg float with the witch's hat. Skratt, on the other hand, enjoys the marching bands.
On Sunday, PHS band's mile-long trek in the Northern Berkshire Fall Foliage Parade in North Adams will treat audiences to 1980s classics, including Michael Jackson's "Thriller" and the theme from "Ghostbusters."
"It's so cool that all these little towns come together," Huban said.
After a long few years with the COVID-19 pandemic, it's also just nice to see everyone out and about again, Skratt said.
"We need happy events after what we've been through," Skratt said.