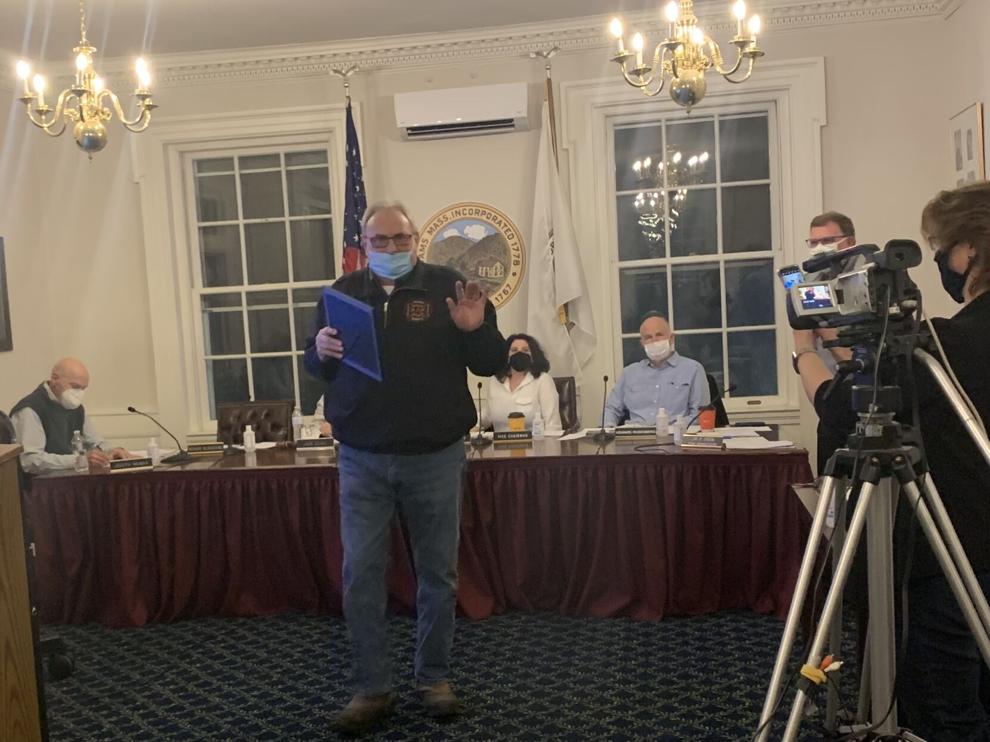 ADAMS — The Adams Select Board on Wednesday honored longtime Emergency Management Director and Forest Warden Chief Richard Kleiner, who is stepping down from his leadership position.
Kleiner has worked in emergency management for the town for 29 years and will remain in a consulting role, Town Administrator Jay Green said.
Green reassured those at the meeting that "Dick's not going anywhere."
"He's going to remain in a consulting position, probably being No. 2 in the Rolodex for any forest warden issues and emergency management issues for quite some time," Green said. "So I want to be very clear, this is not a goodbye to Chief Kleiner, but he has recognized it is time to pass on the torch."
Select Board Chairman John Duval presented a public service award to Kleiner, and board members all offered their praise.
"You're a man of few words, but what you do say, you're well instructed in your views, and you're able to articulate them well," member Joe Nowak said. "No time can I remember that we asked you a question that you didn't have a precise answer."
Green credited Kleiner's team with aiding the town's response to the pandemic.
"I'm proud of the public safety infrastructure that we have here in the town of Adams, and the reason why we were able to be so resilient and respond, I thought, fairly well to unknown and unchartered territory over the last two years of this health pandemic is because of the foundation and the support that I receive as town administrator from these folks," Green said.
Christine Hoyt, who vice chairs the board, added, "When it came time for the clinics, your team showed up, always showed up with a smile on their faces, and it didn't matter the weather."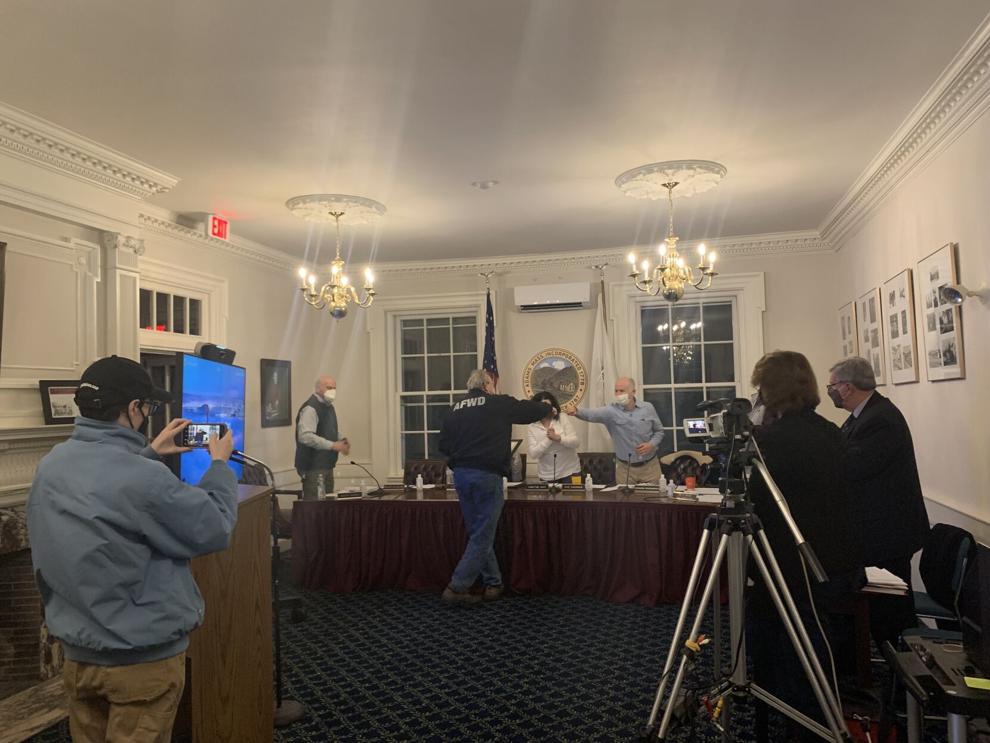 Five ratified for new positions
Emergency management director and forest warden chief have been separated into two positions, which will be filled by two people who worked closely with Kleiner.
Amalio Jusino, who chairs the Northern Berkshire Emergency Planning Committee, will serve as emergency management director. Jusino works at Williams College, where he is assistant director of campus safety and security, emergency preparedness and accreditation.
Griffin Willette, who was assistant forest warden chief and has volunteered with the department for over 10 years, will take over as forest warden chief.
The board voted unanimously to ratify Jusino and Willette, and they also unanimously approved three Adams residents for new positions with the town.
Adam Jangrow will work as a skilled laborer with the Department of Public Works, Peter Celentano will serve as a wastewater treatment plant operator, and Izzy Bellizzi will be the Council on Aging administrative assistant.
Nine named to government review committee
The board unanimously voted to approve nine people that Green identified to serve on the committee for the town's government review process. They are Tim Burdick, Carrie Burnett, Jonathan Butler, Carol Cushenette, Virginia Duval, Jeff Grandchamp, George Haddad, Don Sommer and Leah Thompson.
Nowak said that while he respects everyone named to the committee and believes they are "going to do a great job," he said he is concerned that town committees are not including a wider range of people.
"It appears to me the direction of the town is being taken by the same people," said Nowak, who voted to approve the committee members and said he finds them all to be knowledgeable. "I think as a community we should be more inclusive and bringing other people to the table."
Duval said that government experience is valuable for the committee because its task relates to government documents.
"You see the same names because there's only so many people who will volunteer," he added.
Parks commissioners needed
The Parks Commission is back up to three members after Kayla Farry joined, but Farry has informed the town that she does not plan to run for a full term on the commission, Green said.
So, when her term runs out in May, only two seats among the five on the commission will be filled, and the commission needs at least three members to meet.
Anyone interested in filling a spot on the commission should contact the town through the Select Board at 413-743-8316, ext. 170, Green said.
The primary role of the commission is to manage demand for use of town fields, which primarily are used by youth for sports and other activities.