FLORIDA — Within an hour Wednesday, the town of Florida is poised to clear its slate of 12 properties taken over the years for non-payment of taxes, when all go to auction at the senior center on Route 2.
It will be quite an accomplishment for local officials — those who pursued the plodding task of gathering real estate and tax records, waiting out legal procedures and securing ownership through the state Land Court. If the properties are bought and redeveloped, the town stands to see investment in blighted properties as well as add to its tax base. One of the properties is the former Giovanni's Ristorante and Motel, a longstanding Mohawk Trail eyesore.
Each of the four buildings up for sale, and eight separate tracts of vacant land, became owned by the town for a different reason. That's evident in the packets assembled for Wednesday's sale by Strategic Auction Alliance, the company handling the 1 p.m. event.
Take, for instance, the 41 Tilda Hill Road home of the late Anthony "Tony" Huttle, who was born 115 years ago in North Adams, attended local schools and worked for 40 years as a loom fixer for the former Hoosac Cotton Mills on Union Street.
Huttle died over two decades ago, in 2000, at the age of 94, after outliving all of his six siblings, including Harry and Margaret, who at one time shared the small, wood-frame house that goes up for auction Wednesday.
"Everyone knew them in town," said Frances Bedini, a neighbor on Tilda Hill whose sons, Michael and Alfred Jr., used to do chores for the Huttle siblings.
Tony Huttle had no children of his own, according to his obituary in The Eagle. Even before his death, he parted ways with Tilda Hill, living in at least two nursing homes.
Bedini recalls seeing the Huttles often. Margaret helped keep her brothers fed. "She ran the house and did all the cooking," Bedini said Wednesday in an interview at her home.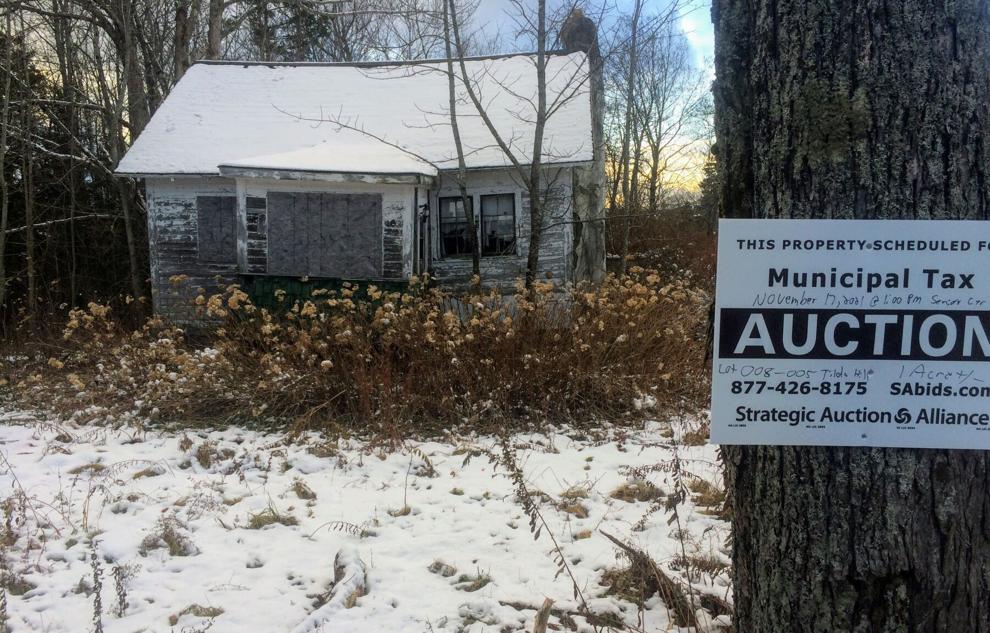 According to real estate and assessors' records, Huttle bought the 630-square-foot house — described as a "cottage" — in 1946 from Thomas Horrigan. The cottage was but 15 years old.
Huttle was 40 at the time and 16 years from retirement at the mill, where his skill at fixing looms would have conferred a special status. He had gone to work there at age 16, according to dates in his obituary; he lived on Tilda Hill Road in retirement for about 30 years, close to his favored hunting and fishing grounds, before ending up, in his late-80s, at Sweet Brook Health Care Center in Williamstown.
Life in a nursing home slowly but surely drains a family's assets. That, plus the fact that Huttle had no immediate heirs, helps explain why the building stands empty and neglected today.
The home on Tilda Hill, shorn of Huttles, began a slow ruin. Both Sweet Brook and another nursing home, Willowood of North Adams (now North Adams Commons), went after Huttle in court to recoup money owed for his care. Willowood won a judgment in May 1995 against Huttle for $24,792.
The state's Division of Medical Assistance put a lien on the Tilda Hill Road home the next year, "against all property and rights to property" owned by Huttle, as the law allows, to recover money paid through Medicaid.
The system came for Tony Huttle's cottage in the woods, his refuge.
It was more than a decade later, eight years after Huttle's death, that the town filed the land-taking claim that paved the way for Wednesday's auction. At the time, officials said the property was $663.75 behind in tax payments for the 2006-2007 year.
Time passes. In 2014, the town filed to foreclose. It was just this past August that the Land Court declared that "all rights of redemption [by the property owner] are forever foreclosed and barred."
In documents prepared for Wednesday's sale, bidders are advised that the cottage, now 90 years old, is valued at $7,200 and is in "very poor" physical condition. The land is worth $24,100.
Bedini says people have been asking about the property up the street, quizzing her husband, who knows buildings, about what kind of new home might be created there. For 75 of its 90 years, that story belonged to Tony Huttle.