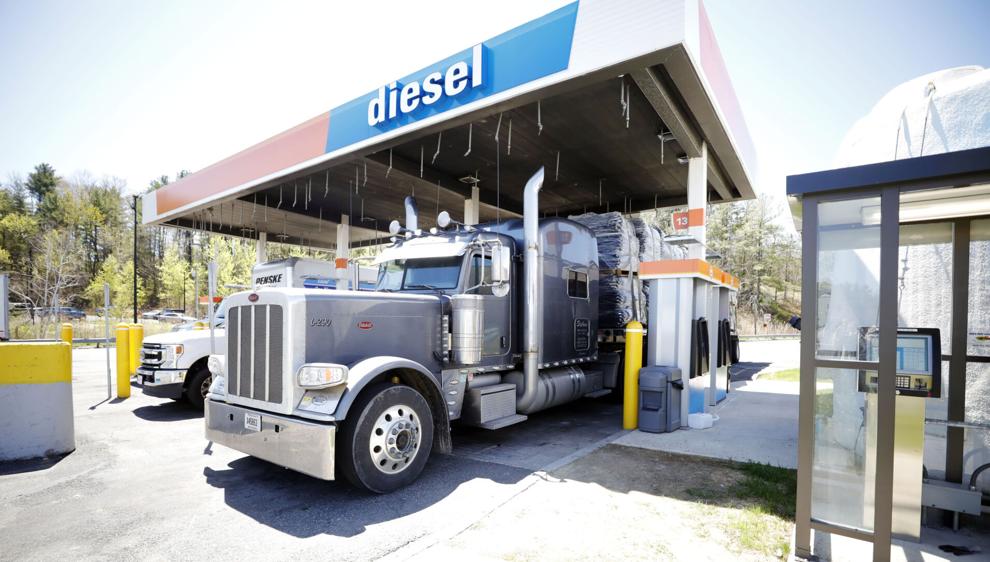 At a rest stop along the Mass Pike in Lee, tractor-trailer driver Ryan Garrett was filling just one of his two 150-gallon diesel tanks.
As a long-haul trucker, the Kentucky resident has fuel costs taken out of his paycheck after a run is complete.
Naturally, he's careful about how much he spends. But diesel was selling for $6.42 a gallon at the I-90 Gulf station, leaving him little escape.
"I'm only filling one tank 'cause I'm broke," said Garrett, as the pump ticked toward $700.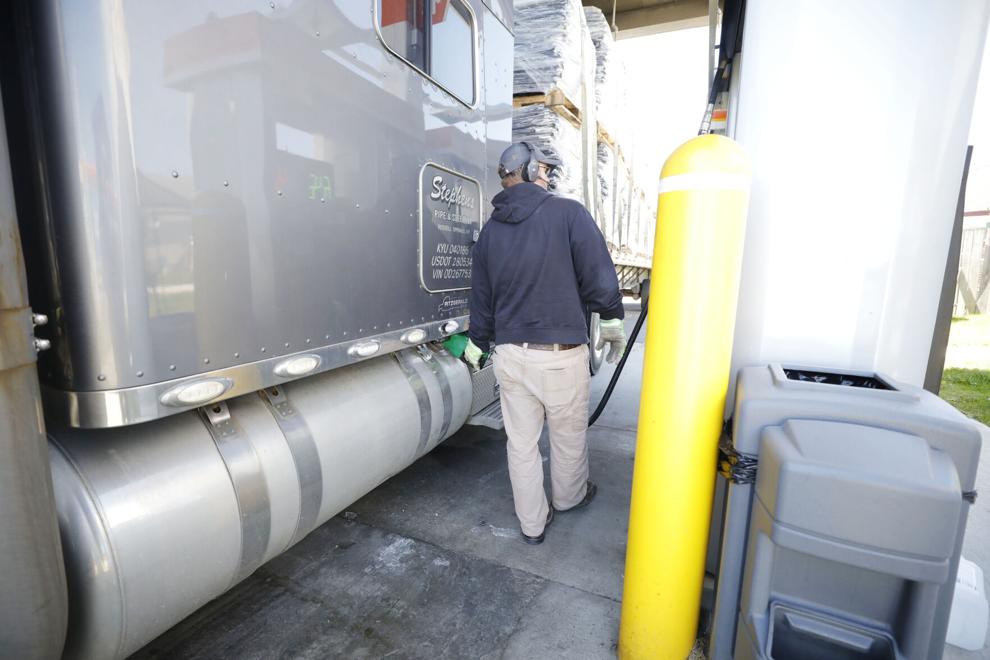 Soaring fuel costs are pinching family budgets, big time.
Jim Maselli Sr., of Adams, often pulls into Cumberland Farms in North Adams to save 10 cents a gallon on gas with a pre-paid card. But he lets his allegiance stray with rising gas prices.
If Racing Mart down the street in Adams has gas for less per gallon, he stops there instead. "It's really stressful," Maselli said Tuesday morning at the Cumberland Farms on Curran Highway.
Seniors in particular are feeling the pinch, Maselli said. "It's not just gas prices, but everything."
On average, regular gas was selling for $4.37 per gallon on Tuesday, 26 cents higher than a week ago, according to data from AAA.
Berkshire residents say they are watching their dollars go.
"Economically, it's affecting people," said Jose Madrigal, who stopped to fill up his Toyota Yaris. He commutes from Williamstown, near the Vermont border, to North Adams, where he works as a teacher's assistant at Drury High School.
Between his commute to and from work, plus errands, he is "constantly going." He estimates he spends $60 per week on gas. "It's expensive," he said.
Thankfully, Madrigal said, he drives a car with relatively good gas mileage. Compared to driving in Boston, where he used to live, he feels he gets better mileage in the Berkshires, with less stop-and-go traffic.
Volume discount helps Pittsfield — a bit
You won't see a city of Pittsfield dump truck pulling up next to you at the pump. The city purchases its gas and diesel directly from suppliers and city vehicles and equipment fuel up from the municipal supply. Commissioner of Public Services and Utilities Ricardo Morales said that buying in bulk saves the city a little on its fuel bill, but rising prices are being felt in city coffers as well.
At the beginning of each year, Pittsfield purchases 70,000 gallons of diesel at a negotiated rate — this year it purchased that supply from Mirabito Energy Products at $2.88 a gallon. That amount of fuel should have lasted the city a year, but work this winter burned through those gallons quicker than expected.
The city's now buying additional diesel at market rate — Morales said last week's diesel purchase came in at about $5.60 a gallon. Gas is a slightly different story, it's purchased as needed from O'Connell Oil Associates at a slightly reduced rate.
With anywhere between 80 and 120 vehicles on the road at a given time, the city typically uses 120,000 gallons of gasoline in a year. Last week's disbursement of gas for the fleet came in at $4.17 a gallon.
City officials budgeted about $7,000 a week for fueling costs for Pittsfield's fleet vehicles and pieces of equipment. Morales said the weekly fuel bill for the fleet is now around $9,000 a week. He added the way prices are trending, the city is building in a 20 percent increase in its gas and diesel budget for next year — for a total of about $400,000 for the whole year.
The city's in a hard spot. The driving done by the city inspection vehicles, police cruisers, fire trucks and excavators that rely on the city's supply of gas and diesel isn't really the type of driving that can be cut down to wait out high prices. And city officials are wary of encouraging carpooling as coronavirus rates tick back up.
"What service do we stop offering?" Morales said. "We still have to work on all of our potholes as we are doing now, we still need to go and fix catch basins or manholes, we still need to clear up clogged pipes, or respond to sewer and water calls."
The same goes for Brian Andrews, president of County Ambulance in Pittsfield, who said costs are up between 30 and 40 percent.
"It's definitely a challenge for us because not only do we do local [runs] but we do [runs] to Springfield and Boston, too," he said. "When they go to Boston they have to pay turnpike prices for gas. ... It stinks."
It hurts even more, he said, because "we had to absorb a significant increase in medical costs because of COVID 19."
Business bite
Rising gas prices are also hitting small businesses and their employees.
"It affects their bottom line; it comes out of their overhead," said Keith Girouard, regional director of the Berkshire office of the Massachusetts Small Business Development Center Network in Pittsfield. "I have a manufacturer for example that services stores throughout the New England area and beyond, and it's really impacting his bottom line, both his gross profit and his net profit."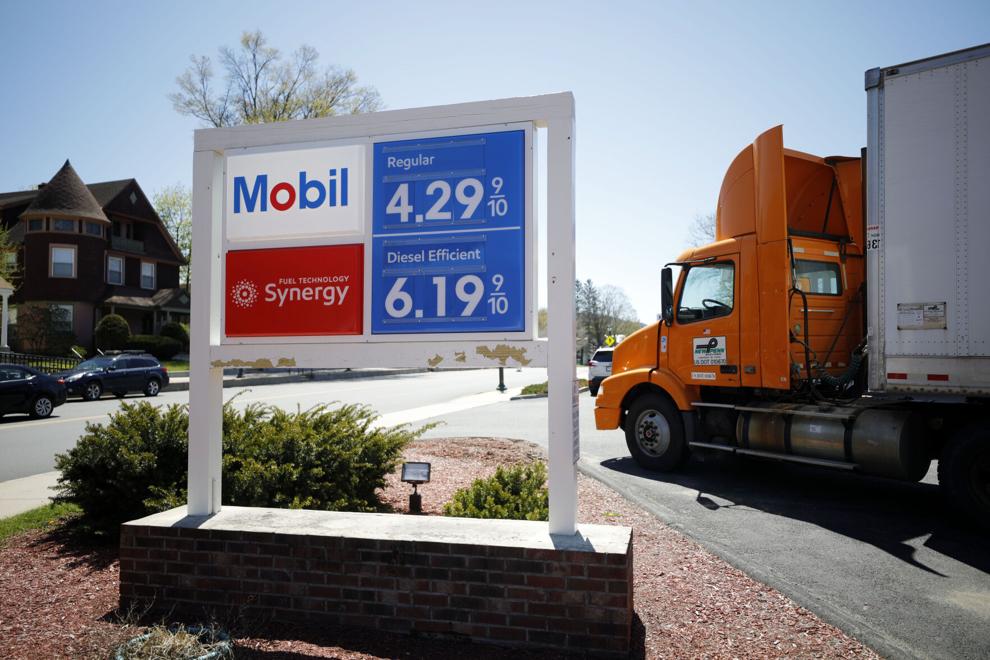 County Rainbow Taxi recently raised rates from its $2.50 base fee to $3.50, with the added eighth of a mile cost climbing from 30 to 40 cents, according to general manager James Regan.
"We had to raise our rates because the drivers are independent contractors and with the gas prices so high — add on 8 percent inflation — we had no choice to increase our pricing. They were making zero money, zero," Regan said.
He added, "it is impacting the company's bottom line, of course."
Regan worries gas prices will continue to increase. He also worries that if the business has to hike prices again, it will lose riders.
But he adds, "The guys that drive the taxis also have to survive."
Like taxi drivers, Michelle Shafto spends hours in her car each day. She is an independent contractor delivering The New York Times and The Berkshire Eagle in Williamstown. She spoke while sitting in her car at Cumberland Farms on Ashland Street before filling it up.
With rising gas prices and inflation, she switched from grocery shopping at Big Y to Aldi, a discount chain. "We try to cut back on any extra driving," she said.
Some people buy gas for their hobbies.
David Pecor was putting gas Tuesday into a container at the Mobil station on Curran Highway to fuel his dirt bike. He drives from Becket to BRO MX in North Adams to ride, and he's hearing from other dirt bikers frustrated with gas prices. "We're all complaining," he said.
In a normal outing, he will use two or two and a half gallons of gas to ride for a few hours. His racing bike requires the highest octane gas, which is more expensive than the regular option at the tank. He is semiretired but does some work on home renovations, where he's seen building costs increase as well.
"I'm not very happy with the oil companies. They live on a profit margin," he said. "Companies are just gouging."
And like others, the fuel costs come on top of prices rising generally.
"It's everything," Pecor said. "It's not just gas, it's food."
Staff writers Meg Britton-Mehlisch and Tony Dobrowolski, and staff photographer Stephanie Zollshan, contributed reporting.