Under the dome of the Capitol, in the building that Officer William Francis Evans once protected, Billy's family watched the nation's leaders remember him.
On a black podium at the heart of the Capitol Rotunda, Evans lay in honor, his casket draped in an American flag.
When President Joe Biden took the podium during the congressional tribute, he turned to the family in mourning.
"I didn't know Billy," he said. "But, I knew Billy."
Evans was the kind of person who would jump into a fight, no matter the odds, Biden said.
"You're outnumbered three to one, he'd still jump in, knowing you'd both get beat up," he said. "He was the one who always kept his word. If he said he'd be there, he'd be there. He was the one who, just like the folks I grew up with, was incapable of saying no when you needed him."
Evans, 41, a North Adams native, was killed April 2, when a vehicle rammed into him and another officer at a barricade 100 yards from the Senate side of the Capitol.
On Tuesday, he became the second officer to lie in honor at the Capitol in recent months, a distinction usually reserved for presidents, members of Congress and other dignitaries. His body arrived to the Capitol surrounded by a throng of motorcycles and cars, lights flashing blue and red, as his fellow officers saluted him.
Throughout the hourlong ceremony, attended by Capitol Police officers and members of Congress, Evans was remembered for his dad jokes, dedication to his work and love for his family.
Senate Majority Leader Chuck Schumer, D-N.Y., described Evans as "a fellow of infinite jest, who wrung joy and laughter out of life's smallest moments."
Schumer opened his remarks by speaking about the lost tourists who approach Capitol Police officers every day.
"If you were one of the lucky ones, you'd bump into Officer Billy Evans," Schumer said. "'Excuse me,' they'd say. 'Can I ask a question?' Billy would flash his wide smile, eyes full of mirth, and say, 'But, you already did.' "
Not all of Evans' jokes were winners, Schumer continued.
"He had his share of bad dad jokes," he said. "Some were just random. If a fellow officer asked Billy what he was up to, he'd be liable to reply, 'Just thinking about my ideal weight if I were 8 feet tall.'"
But, when those tourists approached him, Schumer continued, Evans would follow up his jokes with a question: "How can I help?"
Schumer said those four words summed up Evans' life mission.
"And on an unseasonably cold day in early April, that innate impulse to ask, 'How can I help?' had Billy running toward danger," Schumer continued. "A reflex, as natural and as automatic as breath, to put the safety and happiness of others before his own."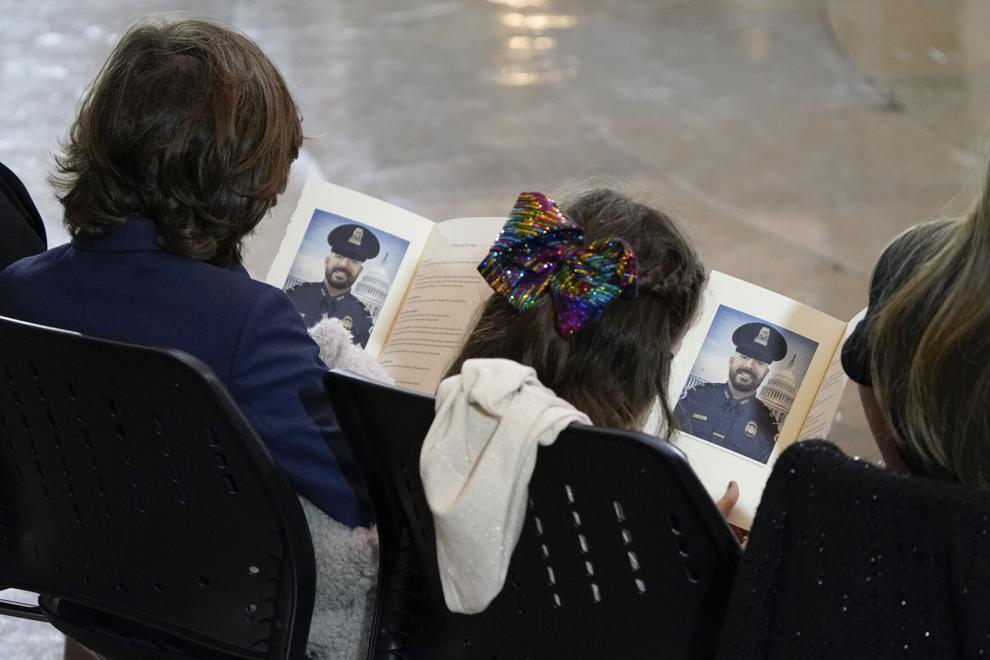 In her remarks, House Speaker Nancy Pelosi, D-Calif., turned to the words of those who knew Evans.
"He carried the badge everywhere," she said, echoing words childhood friend Jason LaForest told The Eagle the day Evans died. "He was just so proud."
But, his biggest pride, Pelosi said, was his family.
"His absolute devotion to his family was legendary," she said. "Many of us have heard Billy's friends talk about how his favorite part of the day was returning home from work to see his children's faces light up with joy. How Billy loved sharing with them his love for sports, particularly Boston sports. How he made each day an adventure, whether play-fighting with lightsabers … building cities of Legos and enjoying the magic of the Harry Potter series."
Pelosi told his children, Logan and Abigail, that she hoped it would help them to know that their father was known and honored so widely.
"We hope it's a comfort to you that so many now know about your dad, and know that he is a hero, that his name will always be on our lips and his memory in our hearts," she said.
As she spoke, the C-SPAN camera panned to Biden, who had retrieved a toy model of the Capitol from the floor and was passing it back to Abigail.
"And that the president of the United States is picking up one of your distractions," Pelosi added, in the ceremony's lightest moment.
When it was his turn, Biden spoke only briefly to the room at large before turning to address the family directly, his gaze resting on Evans' mother, Janice, his kids, and their mother, Shannon Terranova.
He reminded Janice that he had buried two of his own children, and told her that the time would come when "a memory, a fragrance, a scene, a circumstance, the way his son tilts his head the way he did when he was that age" would bring back the memory of getting the phone call that Evans had passed.
"And there are going to be people celebrating Billy's life," he said. "And as much as you appreciate it, all of you, it also is hard. You relive everything again."
He told the family that they would make it through "by holding each other together, most importantly by holding Logan and Abigail as tightly as you can. Because as long as you have them, you've got Billy."
The day will come, Biden assured them, when the memory of Billy brings a smile before it brings a tear.
"I promise you, it's gonna come, it just takes awhile," he said. "It takes awhile. But, when it comes, you'll know because he's still with you, he's still in your heart. Losing a son, daughter, brother, sister, mom, dad, is like losing a piece of your soul."
But, he added, "It comes back."
The president finished by addressing Evans' family once again.
"Your son, your husband, your brother, your dad was a hero," he said. Then he walked over to put his hand on Evans' mother's shoulder and spoke directly to his children for several quiet seconds, passing a presidential challenge coin to Logan, who was wearing his father's police hat.
A few moments of silence passed before the U.S. Army Chorus Quartet began to sing.
At the close of the song, Abigail pressed her face to her mother's in a masked kiss. As the final words echoed through the Rotunda, past the statue of Abraham Lincoln and the president of the United States, over her father's casket, she reached one small hand to her mother's cheek and wiped away tears.
"Like a bridge over troubled water," the men sang, "I will lay me down."