NORTH ADAMS — For the first time in more than two years, tables at the First Congregational Church will fill Monday with people eating a Berkshire Food Project meal together.
Since the pandemic's onset, the Berkshire Food Project has been distributing meals and groceries entirely to-go several times a week from the church.
A Thanksgiving meal Monday will help the project transition back to in-person dining. "This is a big, joyful experiment we've been waiting for for a long time," said Mark Rondeau, executive director of the project.
Since taking the helm more than a year ago, Rondeau has wanted to restart indoor dining, but it has been difficult with waves of COVID-19.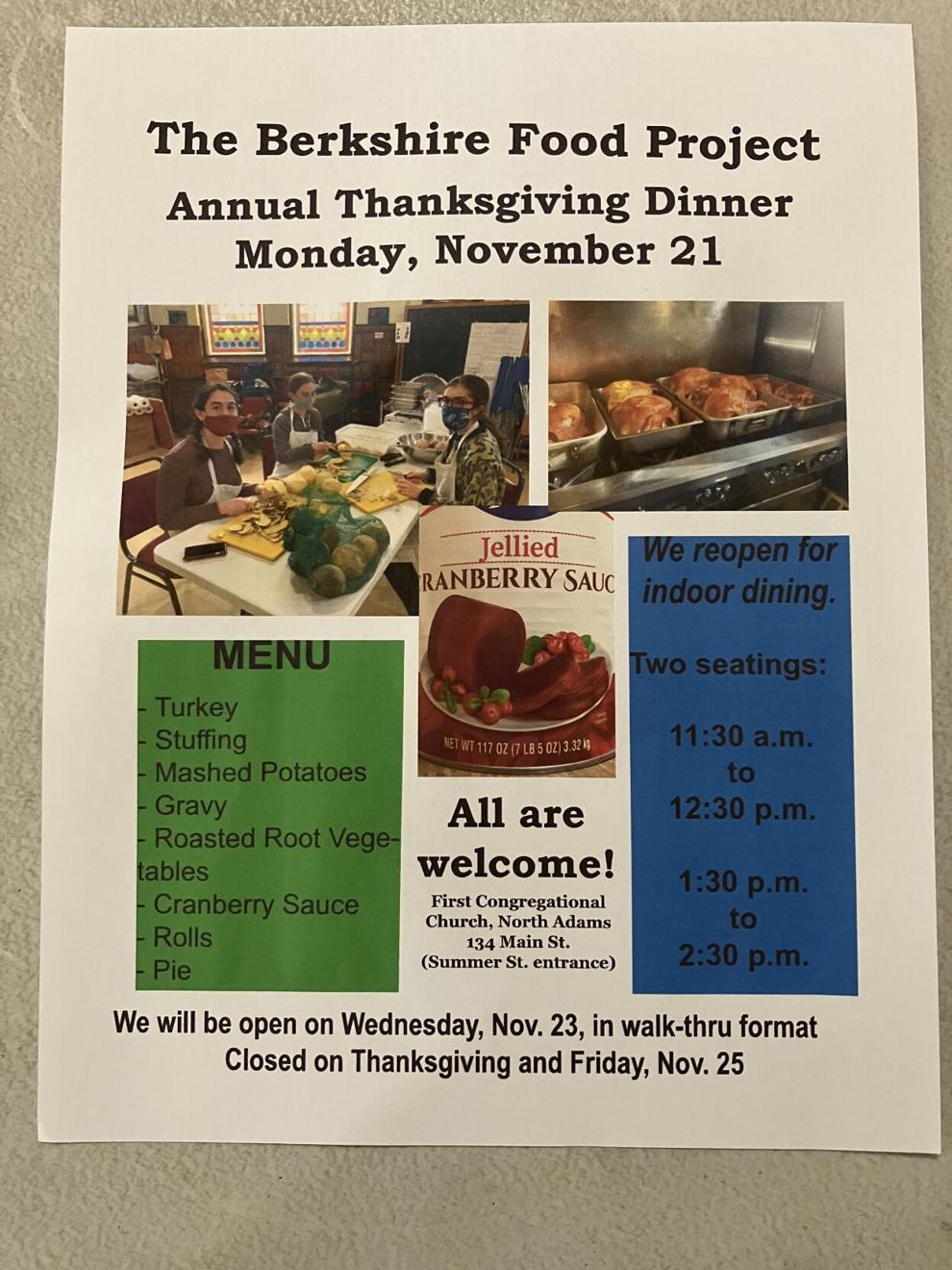 After Monday, the organization is not yet sure when all its meals will be in-person again. "We're on the path to re-opening dining," Rondeau said, standing in the church Wednesday. About half a dozen volunteers stuffed paper bags with food for people to pick up. The smell of chicken and rice wafted from large trays in the kitchen where people were washing dishes before the lunch rush.
So far this year, the project has provided about 82,000 meals. The group's mission is to feed the community, and also to address social isolation, which in-person gatherings help, Rondeau said
Thanksgiving meals on Monday will be served from 11:30 a.m. to 12:30 p.m. and 1:30 p.m. to 2:30 p.m. The organization is expecting a crowd — last year, it served about 250 to-go meals, according to Rondeau.
The team behind Chingón Taco Truck — a food truck that operates seasonally in the Mass MoCA courtyard — will be cooking turkey for the meal. "In-house dining has not happened since March of 2020 and we are super excited to work with the BFP to ensure all of our neighbors get the holiday meal they deserve," Mariah Forstmann, one of the truck owners, said in an email.
Alongside turkey, there will be other traditional Thanksgiving favorites, like roasted vegetables, stuffing, cranberry sauce and pie.
The organization is looking for volunteers for the holiday meal and beyond, Rondeau said. To help, send an email to director@berkshirefoodproject.org.